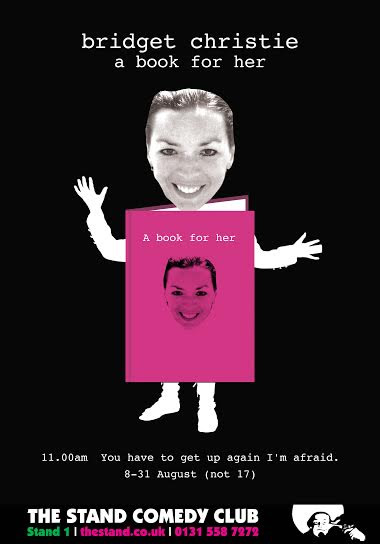 A Book For Her – The Show debuted at The Stand from the 8th – 31st August (not the 17th) at 11AM.
It's a brand new show to launch multi-award winning Christie's literary debut A Book for Her * (*and for him, if he can read).
Come and enjoy 50 minutes of new material followed by a 10 minute book signing.
An autumn London run took place at the Leicester Square Theatre, from the 16th November – 2nd December, and was featured in a Top 10 of Comedy in 2015 by The Guardian & named Critic's Choice by Time Out with more dates added into 2016 and a national tour to follow.
---
Press For A Book For Her
Bridget Christie on equality for women – and turning serious issues into comedy gold WOW 247, 12th May 2016

Bridget Christie: A Book For Her Tour (2016) Moody Comedy, 29th April 2016

When Stand-Up Comedy Meets Feminist Literature (West Yorkshire Playhouse) Pursued By Bears, 16th April 2016

'I'm glad there's misogyny – it turned my career around' Irish Times, 4th April 2016

I Don't Think I'll Ever Retire The List, 16th March 2016

Guardian Top 10 Comedy 2015 The Guardian, 15th December 2015

Book Of The Quarter Left Futures.org, 29th November 2015

A Book For Her, London. Chortle, 23rd November 2015

I reserve the right to give all politicians a good kicking The Evening Standard, 17th November 2015

The Independent Recommends… The Independent, 14th November 2015

Riding Along on the Crest of Fourth Wave 500 Books, 8th November 2015

Bridget Christie Books Into Leicester Square Theatre Londonist, 28th October 2015

"I was paralysed with fear to write about feminism" Stylist.co.uk, 17th October 2015

Funny in all the right places Irish Times, 19th September 2015

The best standup gigs and tours in autumn 2015 The Guardian, 8th September 2015

A Book For Her ★★★★ The List, 24th August 2015

Period Pieces The Independent, 19th August 2015

A Book For Her ★★★★ The Skinny, 19th August 2015

A Book For Her ★★★★ Time Out, 18th August 2015

A Book For Her ★★★★ Broadway Baby, 17th August 2015

Edinburgh festival 2015 comedy review The Guardian, 16th August 2015

A Book For Her ★★★★ Ed Fest Mag, 15th August 2015

The Stand Comedy Club, Edinburgh Festival ★★★★ The Times, 14th August 2015

A Book For Her ★★★★★ Herald Scotland, 14th August 2015

One of the funniest things I've heard this August ★★★★ The Telegraph, 13th August 2015

Bridget Christie on being a good stand-up The Scotsman, 13th August 2015

A Book For Her ★★★★ Fest Mag, 13th August 2015

A Book For Her ★★★★ The Arts Desk, 13th August 2015

Bridget Christie's feminist frontline Penguin Platform, 12th August 2015

The "feminist comedian" finds new targets ★★★★ The Indepedent, 11th August 2015

Sparkling political outrage ★★★★ The Guardian, 11th August 2015

Bridget Christie: A Voice of One's Own Fest, 9th August 2015

Q&A G2, 4th August 2015

Girl Power Red Magazine, 1st August 2015

A Book for Her by Bridget Christie Beyond The Joke, 1st August 2015

Bridget Christie: The Absurdity of Ideas The Skinny, 31st July 2015

A Book for Her (pictured) Three Weeks, 29th July 2015

Bridget Christie: a woman in a man's world ★★★★ The Telegraph, 22nd July 2015

A hybrid of writing and performance The Observer, 20th July 2015

Bridget Christie: the stand-up who made feminism funny The Telegraph, 18th July 2015

Watch it, hear it, read it! Radio Times, 14th July 2015

The genesis story of a woman in comedy The Independent, 10th July 2015

How do you make feminism funny? The Guardian, 10th July 2015

Patti Smith should present Top Gear… The Pool, 7th July 2015

A Book For Her Sunday Express, 6th July 2015

A Book For Her The Independent, 4th July 2015

Opinion: Bridget Christie on freedom of speech The List, 3rd July 2015

Book review by Steve Bennett Chortle, 3rd July 2015

July's Must Read New Books Penguin Platform, 2nd July 2015

Penguin Twitter Takeover Penguin Twitter Takeover, 2nd July 2015

A Book For Her Preview Hello Magazine, 26th June 2015

A Book For Her Preview Grazia, 26th June 2015

---