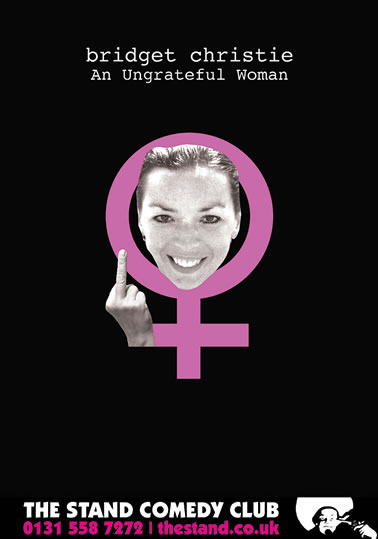 Why did people praise Michael Gove on 25 February 2014?
What made Bridget lose control of her emotions at a casting for a yoghurt commercial?
And which national newspaper genuinely mistook Bridget for King Charles II?
There was also a recording of the first episode of series 2 of "Bridget Christie Minds The Gap" up at the fringe on the 24th August at BBC Potterow.
The show ran every day at The Stand, at 11.10am again, just like last year, and went on to tour the UK & run at the Soho Theatre, London between November 2014 & January 2015 (extra dates were added again, taking the show into March & May of 2015, too.)
It was named as one of the Top 10 shows of 2014 in The Guardian, one of the Top 5 shows of 2014 in The Telegraph and one of the Top 10 shows of 2014 in Time Out.
---
Press For An Ungrateful Woman
An Ungrateful Woman ★★★★ The Mail On Sunday, 16th November 2014

'It's trickery, hiding serious bits within a comic framework' The Guardian, 29th August 2014

An Ungrateful Woman ★★★★ The Sunday Times, 24th August 2014

An Ungrateful Woman ★★★★ Morning Star, 21st August 2014

An Ungrateful Woman ★★★★★ The Metro, 18th August 2014

An Ungrateful Woman ★★★★ Exeunt Magazine, 18th August 2014

An Ungrateful Woman ★★★★ The Edinburgh Reporter, 14th August 2014

An Ungrateful Woman ★★★★★ The Arts Desk, 13th August 2014

An Ungrateful Woman ★★★★ Broadway Baby, 12th August 2014

Bridget Christie, The Stand: 'Laser focussed and brilliantly sustained' ★★★★ The Indepedent, 11th August 2014

Gravitas with giggles by the barrel load at the Edinburgh Festival Fringe ★★★★ The List, 10th August 2014

Bridget Christie's fantastically funny feminism The Guardian, 10th August 2014

An Ungrateful Woman ★★★★★ Herald Scotland, 9th August 2014

An Ungrateful Woman ★★★★★ Chortle, 9th August 2014

An Ungrateful Woman WOW 24/7, 8th August 2014

Clownish Exaggeration Finds Fresh Angles The Standard, 8th August 2014

An Ungrateful Woman: 'pretty much flawless' ★★★★★ The Telegraph, 8th August 2014

Another utterly brilliant marriage of comedy and politics from Bridget Christie ★★★★1/2 London Is Funny, 8th August 2014

Bridget Christie makes you laugh more in one hour than a lifetime spent watching Michael McIntyre DVDs ★★★★★ The Big Issue, 8th August 2014

An Ungrateful Woman ★★★★ Time Out, 7th August 2014

Bridget Christie – The Stand ★★★★ The Times, 6th August 2014

Bridget Christie's fantastically funny feminism ★★★★ The Guardian, 6th August 2014

An Ungrateful Woman ★★★★★ The Mirror, 5th August 2014

Bridget Christie's Edinburgh fringe show is a bold and bravura campaign against FGM The Guardian, 5th August 2014

Bridget Christie: saving stand-up from its sexist reputation The Times, 27th July 2014

Edinburgh Picks 2014: The bringers of buzz Such Small Portions, 25th July 2014

Edinburgh Fringe 2014: seven comedy acts not to be missed MSN News, 24th July 2014

A-Z of Edinburgh Fringe 2014 comedy highlights Time Out, 23rd July 2014

'For now, there's still plenty to be "banging on" about' The List, 22nd July 2014

Edinburgh Comedy Awards 2014: Past winners reveal what the top comedy prize means to them The List, 15th July 2014

Show Us The Funny The Sunday Times, 6th July 2014

Why Should I Be Grateful? Men Aren't Are They? Stylist Magazine, 1st July 2014

Best stand-up comedy shows at the Edinburgh Festival Fringe 2014 Laugh Out London, 25th June 2014

Edinburgh festival 2014: the unmissable standups The Guardian, 24th June 2014

40 Best Edinburgh Shows 2014 The Times, 7th June 2014

Edinburgh Fringe Preview: Bridget Christie, Camden Head Beyond The Joke, 7th June 2014

---