Bridget Christie: the stand-up who made feminism funny
---
The feminist comedian Bridget Christie got to the top the hard way, and is only just getting into her stride
Written by Louise Carpenter in The Telegraph on July 18th, 2015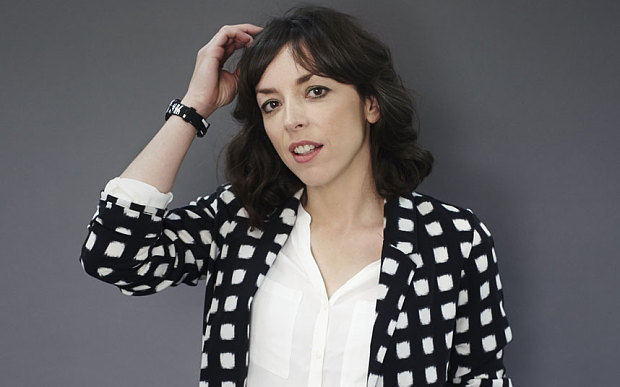 Bridget Christie: 'I want to be a really good stand-up. I don't know how long it's going to take' Photo: Hana Knitzova
The fact that tens of thousands of fans are now buying tickets to see Bridget Christie's stand-up shows – after years when barely anybody would turn up – is, she jokes, 'a bit inconvenient given that I now have small children'. Christie, 43, is acclaimed for her feminist material, which manages to swing deftly from light to serious in a heartbeat, so she laughs when she points out the irony of her late-found success coinciding with the bone-weary tiredness of motherhood. 'I love being with them so much,' she says of Luke, eight, and Daisy, four, her children with her fellow comedian Stewart Lee. 'They are brilliant company and why [at the Edinburgh Festival Fringe] I have to have my show at 11am. They're always waiting for me at the end of the show and then I have them for the rest of the day.'
Christie grew up the youngest of nine children in a working-class Irish Catholic family in Gloucester. 'Nine didn't seem like a lot,' she says. 'It was normal.' There were six girls and three boys (at one point the six girls were all in the front bedroom). She left school early, at 15. 'I matured much quicker because of my siblings and I struggled at school. I knew what I wanted to do: be a comedy actor.' She has said in the past that as the youngest of nine she was never given a line in the family plays (the lack of a voice in a large family of older siblings is a common story among successful creatives).
Knowing she wanted to act – 'It seemed like a really easy way to make money and I thought I'd be good at it, especially as I'd played the part of "tree" and "box" so well in family plays' – Christie learnt shorthand and typing at college so she would have something to fall back on. After eight years of working in various offices in Gloucester and London, at 23 she won a Gloucestershire County Council grant to attend the Academy of Live and Recorded Arts in Wandsworth, where she studied for three years and was one of a only handful of students to pick up an agent. Just as she was graduating, she lost her mother to cancer in 1997. 'The last thing I wanted to do was play Margery Pinchwife in The Country Wife for our final-year show,' she says. 'It seemed like such a pointless and disrespectful thing to do, but my family and college all thought I should.'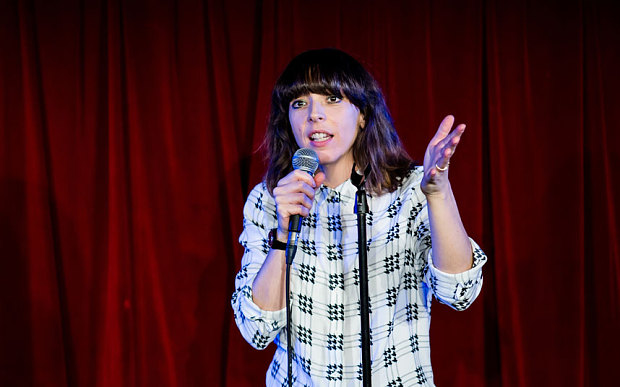 Christie on stage at the Soho Theatre earlier this year. PHOTO: Camera Press
She was then plunged into years of unsuccessful castings and auditions – including one for Neighbours, during a period in Australia – and a couple of successful advertisements. In 2003 she fell into stand-up because it seemed to be the only theatrical thing she could do while still holding down an office job to cover the bills (the comedy didn't pay). 'It was about having some kind of control,' she says. 'As an actor you're waiting to be picked all the time. As a writer and stand-up you have much more control over your career and the direction you want to go in, both creatively and financially.'
That was when she met Lee, one of Britain's foremost stand-ups. 'I really felt that I had found my thing and that there were loads of people who I felt really comfortable with and could relate to,' Christie says. They married in 2006, the year she did her debut solo show at the Edinburgh Festival.
Success remained elusive for Christie. More often than not she would perform in front of audiences barely into double figures. People often didn't laugh. 'I thought, I must be doing something wrong here. Nothing really worked out. I calculated that my babysitter was getting paid more than I was.' But she persevered, doing nightly shows in clubs around the country, and going to Edinburgh each year.
By 2013 she had stopped trying to second-guess what her tiny audiences might want. She was enjoying her two small children, and made the decision that she wasn't going to slog relentlessly around the club circuit. It was a stepping-back of sorts, 'not completely, just developing fewer shows for a bit so I could be with the children,' she says. It worked: that year Christie became only the third solo woman to win the prestigious Edinburgh Comedy Award since its inception in 1981. Her winning show, A Bic for Her, was full of feminist material – gleaned, in part, from years of sexism she had encountered in the long haul upwards – that caught the zeitgeist. It was named after a ballpoint pen in pastel shades with a 'comfort grip' that was marketed exclusively to women. 'I expect that's why the Brontes were so s*** at writing,' she said in her act. 'Their pens were so uncomfortable and drab.'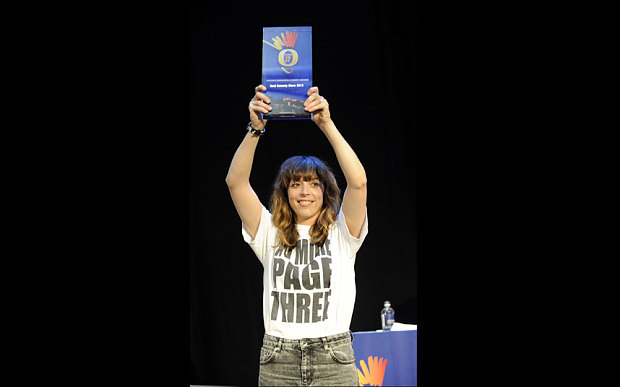 Christie with the Fosters Edinburgh Comedy Award 2013. PHOTO: Richard Davenport
'If I'd written it earlier, who knows what would have happened,' Christie says now. 'That show coincided with a general feeling that something was happening. [Saying that] I didn't think there would be a market for it, or that it would be popular. These were things I just thought myself. It was luck.'
The material did not suit everybody (there was a section where she played farting sounds, relating to how she once went into the women's studies section of a bookshop and found it stinking as a result of a male assistant hiding up there to break wind) but it established her distinct voice. The show had an extended sell-out run at the Soho Theatre in London and was followed in 2014 by An Ungrateful Woman, which also went to the Soho and sold out each of the four times the run was extended (more than 15,000 people have now seen her there, outstripping the theatre's previous records). Further laurels followed, too: a South Bank Sky Arts Award, a Rose d'Or International Broadcasting Award, and four Chortle awards.
Now she has written A Book for Her, essentially Christie's take on feminism – from a stand-up's viewpoint. The book is like her comedy, veering from heavy to light and back again. She admits that she was at first nervous about entering the arena of zeitgeisty feminist publishing. 'I am not an academic,' she says. 'I'm not a journalist. I'm not an author. I cry all the time… Who the hell am I?'
She believes that the starting point for all women should be to have to opt out of feminism, rather than declaring yourself 'in'. Christie's contribution, she worked out, is that she uses her work to try to exert some influence through laughter (her audiences are a 50/50 split male/female). She campaigns against female genital mutilation (FGM), for example, having taken part in a charity show for Manor Gardens Health Advocacy Trust, where she met Leyla Hussein, a psychotherapist and FGM survivor and campaigner. 'We have the same sense of humour and outlook on life,' Christie says, 'the perfect comedy relationship.'
Hussein suggested they make a film together to raise awareness about FGM. The result is a clever, funny short film in which Christie plays an ignorant TV interviewer who gets muddled up with the terminology and details and asks if culturally FGM is like morris dancing. Hussein's acted patient bafflement is as much a delight as Christie's persona of ignorance. The film, which has the backing of anti-FGM campaigners, is now being used to educate police officers, GPs and children.
Some subjects are off limits, particularly her relationship with Lee. She refuses to budge when I ask her about the challenge of being married to a person who is so successful in your own line of work. 'It is a fascinating subject,' she says, 'and there's so much to say about it, but it's easier for me to do a blanket ban [on talking about him]. I've deliberately dissociated myself from him.' There is no mention of Lee in the book, not even in the acknowledgements. 'I don't think a male comedian is ever talked about in relation to the career of his more famous wife.'
Her marriage has brought with it professional headaches. Because of it, Christie believes, she has been constantly subjected to negative reviews, criticism and sexism (by men and women) based on the idea that she is in some way riding on Lee's coat-tails. 'As if stand-up even works like that,' she says. One male reviewer pondered, 'Anyone watching Christie would wonder who you had to f*** to get on in this business.' As she says, nobody would write that about a man and, anyway, it was unfair.
In A Book for Her, she recalls, 'I thought about all the feelings of shame and humiliation and self-loathing and failure I felt until I did my next gig and it went OK and everything reset to zero again; the years of circuit gigs; the seven Edinburgh shows I'd written and performed. I thought about all the sex I hadn't had during that time, and wasn't having. But worst of all, I felt disgusted with myself for being so angry about it. It was just a stupid t***'s sexist comment, nothing I hadn't read about myself countless times before.'
What she will say is that she and Lee share the child care and that their life together as two comics on the circuit requires meticulous planning to ensure that one of them is at home with the children at any given time. Honing material ready for the Edinburgh Festival, which she is in the process of now, requires working every night in comedy clubs throughout the summer months. 'Yes,' Christie says, 'I do it every night and then I'm up at 6.45am with the children. Working in offices during the day for 20 years was tiring, but not like now.'
Because she hates being away from the children for weeks on end, she will tour for only four days, then return, then go again. Lee's absences are longer and more intense. 'But we don't have nannies or childminders,' she says. 'We do all the pick-ups and drop-offs and tea and homework and bed, and then the babysitter will arrive and do the evenings for us. There's a lot of handing over to one another. We have to plan really far in advance to make sure there is always one of us at home.'
She still feels she has a long way to go in terms of stand-up; the idea that she has cracked it already is anathema – 'People think I am preaching to the converted. I die all the time with this material.'
She concedes that she is getting into her stride now, but only just. 'Comedy wasn't something I just "fancied" doing. It was always in me. I think if something is in you, you do keep going. I want to be a really good stand-up. I really don't see it as a stepping-stone to other things. The end point for me is standing in front of people and that's all I want to do. I don't know how long it's going to take. Maybe I'll be 60 or 65. But if people are coming to see me, then it is going in the right direction.'
Written by Louise Carpenter in The Telegraph on 18th July 2015.
Filed Under: A Book For Her (The Book), Interview, Book
---
Sign Up For Bridget's Newsletter