Because You Demanded It / Mortal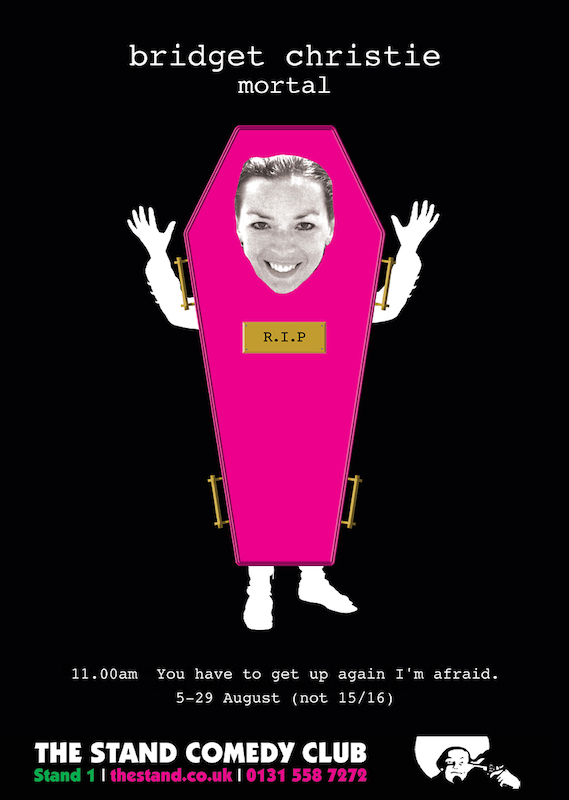 Bridget's 2016 Edinburgh show was originally called Mortal, but in the month before it's debut, it went through substantial changes, and was renamed 'Because You Demanded It' for the tour that followed.
Here's the blurb in the Fringe guide…
Brand new work in progress show from the stupid idiot and multi award-winning stand-up, Guardian columnist and author of A Book for Her. Bridget is going to die, but what will she leave behind? This and many other things will be discussed, including bigots, the Tories, Motörhead vibrators, aging, water massages, magic eyelift stickers and legacies.
'Current queen of crusading UK comedy' Guardian.
'A cherishable comedian' Telegraph.
'Queen of satire' Evening Standard.
'A kind of genius' Jon Ronson.
'A cool, clear glass of sane' Caitlin Moran.
'Laser focused and brilliantly sustained' Independent.
'A revelation' Observer.
'Very funny' Radio Times.
---
Press For Because You Demanded It / Mortal
'I hate what this country looks like now' iNews, 13th February 2017

How Bridget Christie found the funny side of Brexit The Guardian, 3rd February 2017

More than any other show I've done, this one has been the most divisive The List, 31st January 2017

Comedy Pick Sunday Times, 29th January 2017

BBC This Week BBC This Week, 26th January 2017

Show Of The Week ★★★★ Mail On Sunday, 15th January 2017

The 50 funniest films… chosen by comedians The Guardian, 18th December 2016

Bridget tops Brian Logan's top 10 comedy of 2016 The Guardian, 13th December 2016

Bridget Christie: Because You Demanded It ★★★★★ The List, 1st September 2016

Raging disbelief about Brexit ★★★★ iNews, 23rd August 2016

Edinburgh comedy 2016 – what to see ★★★★ The Telegraph, 22nd August 2016

Bridget Christie Mortal ★★★★ The Edinburgh Reporter, 22nd August 2016

Edinburgh comedy: Fringe therapy The Times, 21st August 2016

Mortal ★★★★ ScotsGay, 18th August 2016

Fringe Comedy reviews ★★★★★ Herald Scotland, 17th August 2016

Bridget Christie: Mortal The Stand Comedy Club ★★★★★ The Scotsman, 16th August 2016

Bridget Christie: Mortal ★★★★★ Broadway Baby, 16th August 2016

Bridget Christie @ The Stand ★★★★ The Skinny, 15th August 2016

Bridget Christie, The Stand ★★★★★ The Arts Desk, 15th August 2016

Bridget Christie: Mortal ★★★★1/2 Chortle, 14th August 2016

Comedy at the Edinburgh Fringe The F Word, 14th August 2016

Mortal ★★★★★ Fest, 13th August 2016

Edinburgh Fringe Review: Bridget Christie, The Stand ★★★★ Beyond The Joke, 13th August 2016

Bridget Christie at The Stand ★★★★ The Times, 12th August 2016

Bridget Christie ★★★★★ – an electrifying Brexit tirade The Guardian, 11th August 2016

Bridget Christie: Mortal ★★★★★ Bouquets & Brickbats, 11th August 2016

Crisis comedy Herald Scotland, 6th August 2016

Brexit and the Edinburgh fringe: 'Selfishly, it was a bit of a godsend' Guardian, 4th August 2016

The five unmissable comedians to catch at this year's Edinburgh Fringe Stylist.co.uk, 3rd August 2016

'I ate strawberry-flavoured edible pants with baked beans and potato waffles' The Guardian, 29th July 2016

Review: Comedy Garden: Bridget Christie, etc Bristol 24/7, 1st July 2016

---