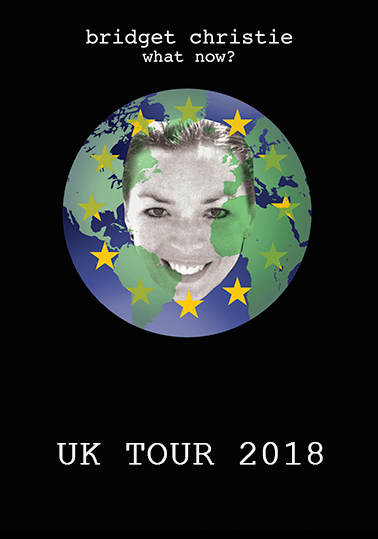 Is rolling news affecting your ability to enjoy the simple things in life?
Like baking, gardening and autoerotic asphyxiation?
Then this brand new show from multi-award winning member of the metropolitan liberal elite and star of her own Netflix special is for you. Join Bridget for a night of hope and despair.
---
Press For What Now?
Clever, funny, angry stand-up. ★★★★ ShortCom, 8th November 2018

Domestic dramas meet political crises in hilarious show ★★★★ The I, 7th November 2018

Live Review: Bridget Christie – What Now? ★★★★.75 Comedy To Watch, 12th October 2018

Political meets personal for her funniest show yet ★★★★ Evening Standard, 27th September 2018

What Now? review: freewheeling gags and first-rate grumbling ★★★★ The Telegraph, 22nd September 2018

'I was even on the same side as Peter Stringfellow…' Chortle, 4th September 2018

Brighton Festival review – politics through a domestic lens ★★★★ The Arts Desk, 21st May 2018

Bridget Christie: What Now? ★★★★ Chortle, 21st May 2018

Bridget Christie at the Brighton Dome ★★★★ The Times, 21st May 2018

Bridget Christie: Gleeful in trashing the label that defined her ★★★★ The Guardian, 20th May 2018

Brighton Dome Concert Hall, Brighton Festival Beyond The Joke, 19th May 2018

BRIDGET CHRISTIE | INTERVIEW Buzz Mag, 15th May 2018

Bridget Christie – Interview On Magazine, 1st May 2018

Bridget Christie at the Liverpool Playhouse – 24 March 2018 Nerve Writers, 14th April 2018

Bridget Christie: A Book For Her and What Now? Old Rope Blog, 31st March 2018

BRIDGET CHRISTIE – WHAT NOW? Bido Lito, 13th March 2018

Someone from our Brexit negotiating team needs to be caught having deviant sex The List, 13th March 2018

Interview: Bridget Christie on her Glasgow Comedy Festival show The Scotsman, 12th March 2018

Bridget Christie is bringing her 'smorgasbord' of a show to the Glasgow Comedy Festival Sunday Post, 1st March 2018

Top stand-up Bridget ponders the future in new show Derbyshire Times, 24th February 2018

I am a white, able-bodied, heterosexual woman. Do I have a right to be angry? Yes! The Guardian, 23rd February 2018

"My children's lies are similar to Trump's" Brighton Argus, 23rd February 2018

---