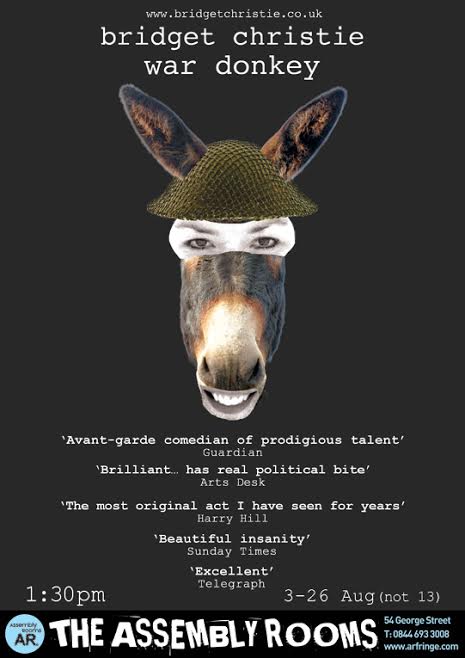 What are Tory feminists?
How did Hitler choose soups in restaurants?
Why isn't there a Spielberg blockbuster about donkeys, and why did Colonel Gadaffi hate them?
Bridget Christie knows. And will wear stilts. Baffling stand-up and grotesque manifestations from someone who's been on Radio 4's News Quiz, E4's Cardinal Burns, Sarah Millican's Support Group and Harry Hill's Little Internet Show.
War Donkey did very well in Edinburgh. It received 10 4 star reviews and was featured on BBC2's Culture Show as one of Sue Perkins' Top 5 Edinburgh shows.
It ran between the 3rd – 26th August 2012 (not 13th) at The Assembly Rooms (Studio 2), Edinburgh during the 2012 Fringe, before touring the UK & Ireland in Autumn 2012.
---
Press For War Donkey
War Donkey ★★★★ Female Arts.com, 11th March 2013

GETTING TO KNOW BRIDGET CHRISTIE Soho Theatre, 5th December 2012

War Donkey ★★★★★ Three Weeks, 31st August 2012

War Donkey ★★★★½ Funy Women, 24th August 2012

War Donkey ★★★★ Spoonfed, 21st August 2012

War Donkey ★★★★ London Is Funny, 20th August 2012

War Donkey ★★★★ FringeReview.co.uk, 20th August 2012

War Donkey ★★★★ The Arts Desk, 20th August 2012

War Donkey ★★★★ FestMag, 18th August 2012

War Donkey ★★★★ Fringe Guru, 14th August 2012

War Donkey ★★★★ The Skinny, 13th August 2012

War Donkey in GQ's 10 Essential Edinburgh Shows GQ, 13th August 2012

Bridget Christie: War Donkey ★★★★ ThePublicReviews.com, 11th August 2012

Donkey Punch ★★★★ Broadway Baby, 7th August 2012

---