A Book For Her was published by Century Random House on 2nd July 2015.
It details Bridget's 'feminist epiphany' – a fart in the Women's Studies section of a bookshop in April 2012 – and her subsequent journey from the bowels of stand-up comedy to one of the most critically acclaimed British standup comedians this decade. If you're interested in comedy & feminism, then A Book For Her is definitely for you.
If you hate both then you should probably give it a miss.
You can also download the book in Kindle or audiobook formats – all links are here.
A Book For Her Radio & Podcast Interviews.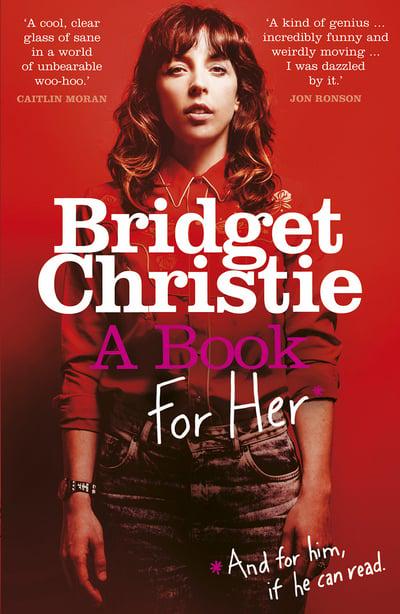 And here's an archive of 39 articles Bridget has written for various newspapers.
On my radar: Bridget Christie's cultural highlights The Guardian, 27th November 2021
'I see my flasher's penis all the time. But I can make horrible things amusing' The Guardian, 20th October 2021
Ritual Britain made me proud to be British The Guardian, 28th June 2021
I'm obsessed with a pair of pants I saw in a bush on my lockdown run iNews.co.uk, 1st May 2020
'I thought I'd hate it': Bridget Christie on loving the Last Night of the Proms The Guardian, 15th September 2019
Cheap razors are great but what if you're a hairy woman who doesn't shop in Tesco? The Guardian, 3rd January 2017
No one wants to talk about Brexit – and if we don't, it will just go away. Right? The Guardian, 27th August 2016
David Cameron is under pressure. Could that be sympathy I'm feeling? The Guardian, 27th February 2016
I have seen the future of sex education – and it's privatised The Guardian, 20th February 2016
Showing off your luxury goods? That's so last year The Guardian, 13th February 2016
Why does George Osborne make me so angry? Let me count the ways… The Guardian, 6th February 2016
Where do millennial dads get the energy for affairs? The Guardian, 30th January 2016
The trouble with mobile phones The Guardian, 23rd January 2016
Parenting advice? From a man who left his daughter in a pub toilet? The Guardian, 16th January 2016
Who needs self-help gurus? Here's my free advice for decluttering your mind The Guardian, 9th January 2016
The greatest gift of Christmas? A social media truce The Guardian, 19th December 2015
Hilary Benn and the trouble with audiences The Guardian, 12th December 2015
Now we have proof, at last, that the midlife crisis is real The Guardian, 5th December 2015
Feminism is off the syllabus – so the battle is won, right? The Guardian, 28th November 2015
Oh, to be Jeremy Clarkson! Clearly, I've been playing to the wrong crowd The Guardian, 21st November 2015
Want to avoid other people's music? May the force be with you The Guardian, 16th November 2015
650m reasons to dislike Andrew Lloyd Webber The Guardian, 7th November 2015
Feminine products a luxury? Hardly. At least Jeremy Corbyn understands The Guardian, 31st October 2015
What does a rapist look like anyway? The Guardian, 24th October 2015
Jilly Cooper's first lesbian sex scene? I can't wait The Guardian, 6th October 2015