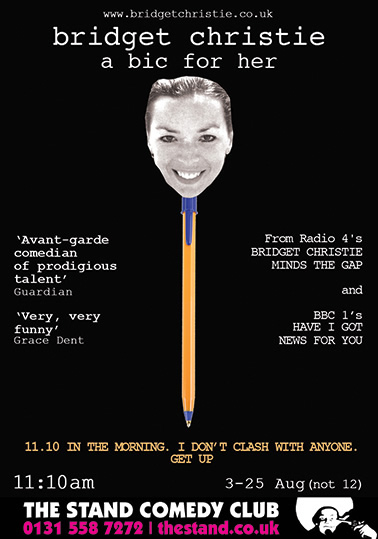 Bridget starts the day by eroticising waterproof jackets and roller coasters, ridiculing biro manufacturers, and destroying the patriarchy.
And all at 11:10 am in a Gloucester accent.
Includes some shouting.
The only stand-up to have been billed alongside both Lionel Blair and Naomi Wolf.
A Bic For Her ran at The Stand at 11.10am every day during the Edinburgh Fringe & won the Edinburgh Comedy Award.
From November 2013, it ran at London's Soho Theatre where it broke Box Office records for the venue. Extra dates were added for Jan / Feb / March 2014!!!!
In January 2014, Bridget won the Sky Arts South Bank Award for Comedy with the show, and she show also won a Hospital 100 Award 2014 for Theatre.
---
Press For A Bic For Her
Bridget Christie on success and becoming an unlikely feminist icon The List, 24th February 2014

Bridget Christie: 'I'd love it if I were to get properly heckled' The Independent, 15th December 2013

Bridget Christie, Soho Theatre ★★★★ The Evening Standard, 11th November 2013

Bridget Christie, Soho Theatre The Arts Desk, 8th November 2013

'Even if they disagree with me on absolutely everything, I can't really lose' Time Out, 5th November 2013

"Pretty Funny" Vogue, 1st November 2013

Why feminism has never been so funny The Guardian, 3rd September 2013

Picks of the 2013 Edinburgh Fringe Various Publications, 31st August 2013

Britain's got talent – but how to find it? The Telegraph, 30th August 2013

A woman has made feminism funny. Now over to the men… The Telegraph, 29th August 2013

A Bic For Her ★★★★★ The Skinny, 28th August 2013

Bridget Christie: 'I've a long way to go' The Guardian, 28th August 2013

A Show I Just Had To Do… The Independent, 25th August 2013

From Donkey & King to Laughter Queen Herald Scotland, 25th August 2013

Feminist wins Edinburgh comedy award with show poking fun at sexism The Observer, 24th August 2013

A Bic For Her ★★★★ Edinburgh Evening News, 19th August 2013

A Bic For Her ★★★★★ The Sunday Times, 18th August 2013

Edinburgh 2013: Women get the last laugh at last at the Fringe The Independent, 16th August 2013

Comedy of the week: Bridget Christie, The Stand, Edinburgh The Independent, 16th August 2013

A Bic for Her, The Stand The Telegraph, 15th August 2013

A very funny and wholly committed hour about feminism ★★★★ The List, 13th August 2013

Bridget Christie on feminism and her new show Edinburgh Festivals.com, 12th August 2013

No Bic For Bridget ★★★★ Three Weeks, 11th August 2013

Edinburgh fringe comedy round-up The Observer, 11th August 2013

Heard the one about the rapist? Not now the Fringe has gone feminist Herald Scotland, 11th August 2013

A Bic for Her ★★★★★ One 4 Review, 10th August 2013

Just what we need – a pen of one's own ★★★★★ The Independent, 10th August 2013

A Bic For Her ★★★ Fest Mag, 9th August 2013

Bridget Christie at The Stand ★★★★ The Times, 8th August 2013

A Bic For Her ★★★★★ The Independent, 8th August 2013

A Bic For Her ★★★★ Time Out, 7th August 2013

Comedy Review – A Bic For Her ★★★★ The Metro, 7th August 2013

I think the phrase is 'tour de force' ★★★★★ London Is Funny, 7th August 2013

A Bic for Her, The Stand – comedy review ★★★★ The Standard, 6th August 2013

A Bic For Her Herald Scotland, 6th August 2013

A Bic For Her ★★★★ The Guardian, 6th August 2013

A Bic For Her ★★★★★ Edinburgh Festivals, 6th August 2013

A Bic For Her ★★★★ Chortle, 6th August 2013

My Edinburgh: Bridget Christie – on Arthur's Seat with a blanket and cattle The Guardian, 5th August 2013

She's Got To Be Joking The Times, 4th August 2013

Bridget Christie on how everyday misogyny drives her on The List, 29th July 2013

Edinburgh Fringe interview: Bridget Christie Laugh Out London, 24th July 2013

Corporate Greed & Human Rights – Edinburgh's new political punch The Observer, 23rd July 2013

No Bic For Her Three Weeks, 1st July 2013

---