Bridget Christie: a woman in a man's world ★★★★
---
Stand-up Bridget Christie's autobiographical call-to-arms for gender equality is as hilarious as it is committed, says Mark Monahan ★★★★
Written by Mark Monahan in The Telegraph on July 22nd, 2015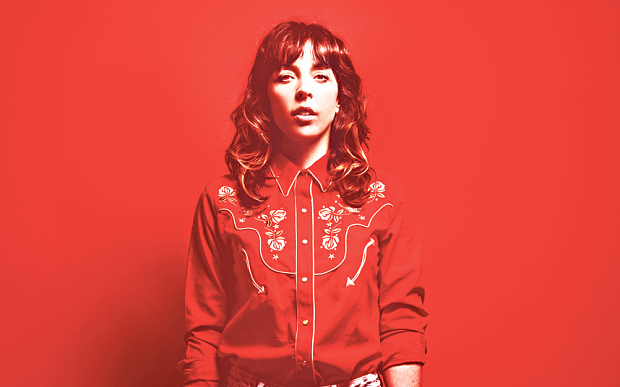 Bridget Christie, An Ungrateful Woman, Edinburgh fringe 2014...BridgetChristie_04_photosby_IdilSukan_DrawHQ.jpg mail_sender PixResearch DT mail_subject Fwd: Press pictures - Bridget Christie, An Ungrateful Woman, Edinburgh fringe PIC 1 mail_date Mon, 11 Aug 2014 14:06:55 +0100 mail_body ---------- Forwarded message ----------From: Amanda Emery Date: 2014-08-11 14:01 GMT+01:00Subject: Re: Press pictures - Bridget Christie, An Ungrateful Woman,Edinburgh fringe PIC 1To: PixResearch DT -- Features Picture DeskDaily/Sunday Telegraph
Bridget Christie is a comedian who once dressed up as (among other things) an ant to convey her feminist beliefs. As it happens, that formic routine had its moments – "I'm sick of the 'Are ants funny?' debate," she bellowed, ridiculous DIY antennae and legs dangling all over the place. 'It's so tedious.' But few people noticed.
A decade or so into her career, Christie didn't seem to have much of a career at all. Then, in 2013, she ditched the costumes and served up a new, still unapologetically feminist show for the Edinburgh Fringe called A Bic for Her. Nominally inspired by the patronising Biros-for-women on sale in Ryman's, it won her the coveted Foster's Edinburgh Comedy Award.
The following year, not only sticking to her guns but also upping the ammo, she delivered a further hour-long broadside against misogyny, An Ungrateful Woman, that was better still.
Christie's first foray into publishing, the neatly titled A Book for Her, is a selective autobiography in which the 43-year-old from Gloucester explains what inspired her recent shows and also pilfers and develops her past material.It reads very much like a stand-up routine, from the running gags and callbacks, to the conversational tone and frequent mention of her "fictitious husband" (she is, in fact, married to fellow comedian Stewart Lee).
And that's just fine. For, exactly like her live shows, the book delves into a complicated subject that you might have thought would be comic poison but which – in her hands – is anything but.
"Every feminist became a feminist because they were so fat and ugly that she couldn't get a man," she declares, adding – marvellously – that even her being "a cook in the kitchen, a cook in the bedroom and a cook in the living room" wasn't enough for her to bag a fella.
In fact, Christie is very beguiling in person, and these are very Christiean declarations: she loves twisting things 180 degrees off-kilter in order to suggest the right way. It takes tremendous skill to wring involuntary laughs from topics such as anti-rape pants or the achievements of Malala Yousafzai (shot in the head by the Taliban at the age of 15 for wanting an education), but Christie does so repeatedly. "It's all very well for her [to become] the youngest person ever to win the Nobel Peace Prize," she says, "but let's not forget, I was the oldest person to win two Chortle Awards in one year."
And that's another thing. Yes, the book is a fierce call to arms for gender equality, and one from which men don't emerge too perfumed. But Christie is also happy to train her sights on herself and her fellow crusaders, and on women full-stop for pandering to male expectations. As for pop star Beyoncé's suggestion that feminism be rebranded as "bootylicious", she reasonably retorts that the matter in hand is the subjugation of an entire sex for millennia, not "a new ass-flavoured bubblegum".
In an echo of her 2014 Edinburgh show, the section lightest on laughs is the lengthy, revelatory and troubling one about Female Genital Mutilation, but Christie is well aware that you can be only so amusing when discussing such barbarity. She should, though, have been more explicit about exactly why so many people (of which some are women) advocate and practise FGM, not least as these reasons might have fed even more potently into her central argument about male control.
Other carps? I'd question her (I think, sincere) blanket assertion that girls are reared from birth to be passive; the sense of being lectured does creep in from time to time; and Christie's unfailingly Left-wing politics won't be to everyone's taste.
On which subject, while my complimentary-but-critical Telegraph review of her 2013 Edinburgh show gets a less-than-favourable mention (with the material I disliked again given too much airtime), my five-star rave of the following year's is conveniently forgotten. Oppression!
Still, this is Christie's tome, and she can put in it whatever she likes. In essence, it makes a simple, valuable and unarguable point – that women deserve the same crack at the whip as men – and does so with charm, passion and gallons of wit. Funny books seldom come so committed, nor committed books much funnier.
Written by Mark Monahan in The Telegraph on 22nd July 2015.
Filed Under: A Book For Her (The Book), Book, Review
---
Sign Up For Bridget's Newsletter