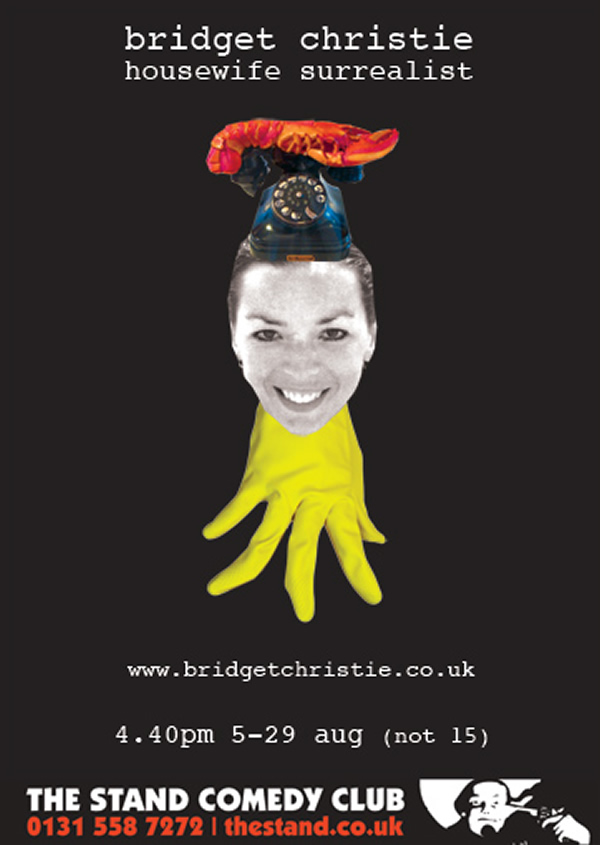 In her first three solo Edinburgh shows Bridget was childish and silly, portraying historical characters and inanimate objects such as Charles II, a cheese roll, Guido Fawkes, Oliver Cromwell, The Fire of London and The Great Plague, using terrible costumes and without so much as a nod to the fourth wall.
The following year she wrote an autobiographical show about her old job at The Daily Mail.
Some critics thought it lacked ambition, just because she wore normal clothes.
Then last year they liked her again because she pretended to be an ant.
This year, the 39 year old Catholic mother views everyday housewife life through her trademark Bridget Christie Lens of The Absurd™.
The HOUSEWIFE SURREALIST discusses transubstantiation, the British class system as applied to animals and insects, Ken Clarke's shoes, priests, getting her teeth knocked out, and horrible bitchy mothers.
Her 7th consecutive Edinburgh show also features an uninvited weed comedian, Nick Clegg doing an interpretive dance in simulated fire, a seductive Nicholas Sarkozy capering like Pan with the hind legs of a goat, and a battery-powered re-enactment of The Ascension.
Housewife Surrealist ran at The Stand, Edinburgh at 4.40pm daily during the 2011 Edinburgh Fringe.
---
Press For Housewife Surrealist
Press Round Up Various, 31st August 2011

Bridget Christie: Housewife Surrealist ★★★★★ Chortle, 25th August 2011

Bridget Christie: Housewife Surrealist ★★★★★ ScotsGay, 24th August 2011

Bridget Christie: Housewife Surrealist ★★★★ Funny Women, 13th August 2011

Housewife Surrealist The Skinny, 11th August 2011

Housewife Surrealist ★★★★★ British Comedy Guide, 11th August 2011

Bridget Christie is surreal, silly and superb with heavenly show STV, 10th August 2011

Bridget Christie, Superstar ★★★★ Broadway Baby, 10th August 2011

FRINGE PREVIEW – Bridget Christie: Housewife Surrealist Edinburgh Spotlight, 25th July 2011

---