Bridget Christie on being a good stand-up
---
Bridget Christie is not an activist or an academic, she just wants to be the best comedian she can be, writes Claire Smith
Written by Claire Smith in The Scotsman on August 13th, 2015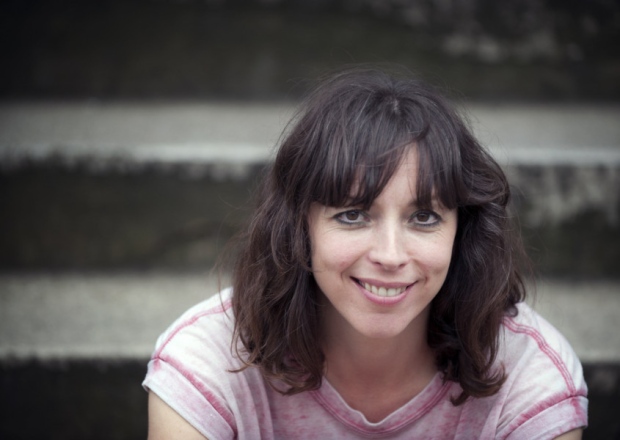 Bridget Christie is focused on being the best comedian she can be. Picture: Jane Barlow
AS I am saying goodbye to Bridget Christie I notice a church in Newington Green with a banner that reads: "The Birthplace of Feminism."
Before cycling off, she points out a Banksy-style graffiti stencil of Mary Wollstonecraft, on the side of the chapel, where the 18th-century ­feminist founded her school for girls.
"It was put there on International Women's Day. I cried when I saw that," she says.
Over coffee in the patisserie next door, the award-winning comic tells me she is not Mary Wollstonecraft.
"I'm not Simone de Beauvoir either," she says. She is, she says, not an intellectual, not an activist, not an academic.
But Christie has written a fantastically funny book about inequality – a modern comic ­feminist classic, A Book For Her – which is also the title of her Edinburgh show.
A Book For Her layers irony upon irony – building an unequivocal argument that to oppose the equality of the sexes is ridiculous and absurd.
"I wanted to make it like a 'Ladybird Book of Feminism'," she says.
Whether she is ranting about the inane nonsense propagated by yoghurt adverts or railing against rape convictions, plastic surgery and female genital mutilation (FGM), Christie's humour makes this a book which is easy to read – but her logic stays with you.
"This book sits in the humour section of bookshops – it is not in the women's studies section."
A Book For Her grew out of her Radio Four ­series Bridget Christie Minds the Gap.
"I had the idea that it was about how a stand-up comedian writes about feminism. The ­nature of the book is about finding a way to write this particular book."
She must have had a bit of an idea about what to write, I say. She looks at me with utter ­seriousness: "Some of the fart stuff I had."
The book begins with a fart in the women's section of a bookshop – and the motif continues throughout, with Christie fretting about whether the fart was a deliberate act of misogynistic sabotage, while her inner critic worries that she's talking about farts too much.
It was important for Christie to find her own way of talking about feminism and comedy – "I deliberately didn't read [Tina Fey's] Bossypants or Amy Poehler's book [Yes Please]. I didn't want to be influenced by somebody else."
Finding a way to talk about women's issues and be funny was an end in itself.
When she imagined her ideal reader Christie thought about her five sisters and three brothers. "I didn't want someone to feel they had to know loads about it. That is really important. I'm not an academic, I'm not an activist, I am a stand-up writing about feminism.
"I didn't want to alienate anyone. But politics and feminism affect every person in society."
One person who did influence her greatly was Leyla Hussein, the film maker and campaigner who is a survivor of FGM and founded the organisation Daughters of Eve.
Hussein and her mother read the chapters of A Book For Her where Christie talks about FGM before they were sent to press.
Christie was afraid she might say the wrong thing – or strike the wrong note – but Hussein convinced her it didn't matter how you spoke about FGM or how people reacted. The important thing was to let people know about it.
It was an insight which has helped her as a comic. "When you accept you will be hated and loved in equal measure that is extraordinarily freeing and liberating.
"You can't appeal to everybody. If you let it get to you when people hate what you say and the way you say it then you would never do or say anything."
She originally thought she might not do a proper Fringe show this year but a kind of "book launch". But the book launch has now evolved into a stand-up show.
It will start at 11am – at The Stand Comedy Club – which has become a tradition for Christie.
"I really love doing a show at 11am because it goes against nature, it goes against what people expect a stand-up show should be.
"My shows have been getting earlier and earlier. People come in with a coffee. Some of them have a pint of lager – but not many." The doors of The Stand open at 10:30am. After her show Christie's husband and two children are generally hanging around York Place and they go off and have lunch and see some shows.
In A Book For Her, she refers to her spouse as her "fictional husband".
"It's a device a lot of people use. The husband or the wife people talk about on stage is not really the husband or wife – it is a fictional device."
However, she has decided from now on she will never mention her husband, comedian Stewart Lee, on stage or in print – because people keep writing silly speculative things and "I'm really sick of it."
She is also "off the internet until September" – so she can avoid below-the-line discussions about her book, her views or her life and just get on with the work.
Before winning the Edinburgh Comedy Award in 2013 with the show which took as its starting point the invention of a special pen for ladies to write with, A Bic For Her, Christie had seriously started to wonder whether it was worth bringing an hour-long show to Edinburgh every year.
In her early shows she adopted some extraordinary comic personas – dressing up as Charles I, as the pope, a donkey – and in 2010 in a huge, unwieldy ant costume.
It has been said her career only really took off when she started wearing her own clothes and started talking about feminism, but Christie disagrees. "Even in my early shows which had characters in them, in between the characters I was myself." The feminist theme began when she was dressed as an ant.
"The beginning of it was A Ant – because that was really about female comedians. You had to know a lot about comedy to appreciate it.
"It didn't matter if the Ant died on stage; if the audience didn't like the Ant it just proved they didn't like Ant comedians. Whatever happened it worked for the Ant."
When she started stand-up she was appalled by the level of casual misogyny.
She thinks it is less acceptable now, on the comedy circuit, to make jokes about violence against women. In the wider world she is not sure if things are getting better or worse. She likes it when people come away from her shows and say: "I hadn't realised that."
Although it has worked well for her as a subject she wouldn't say that feminism is now her thing.
"What really motivates me is becoming a really good stand-up. I never know what I am going to be talking about from year to year.
"If I get something wrong or have a bad show that is part of that.
"I hope the audience will come back because they like to hear the way I talk about things. Being a good stand-up. That is the point."
Written by Claire Smith in The Scotsman on 13th August 2015.
Filed Under: A Book For Her (The Show), Interview
---
Sign Up For Bridget's Newsletter