Funny in all the right places
---
The comedian give us insights into parenting, breasts and wallpaper. She is an ecumenist, bringing us Mary Wollstonecraft, Katie Price and Margaret Atwood
Written by Anthea McTeirnan in Irish Times on September 19th, 2015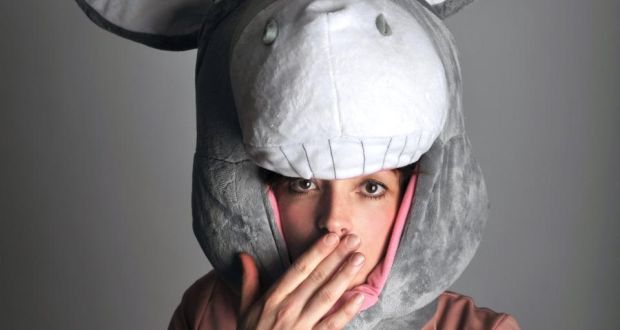 Are women funny? Over to you, Bridget Christie. The award-winning comedian, who took the Foster's Edinburgh Comedy Award home in 2013, has received rave reviews for this year's offering. Between cementing what the Guardian called "her reputation as one of the funniest political comics on the circuit", Christie has written A Book for Her. And it's not bad. Reconstructed men are welcome to turn the pages of this roaming polemic too, of course.
The uberfeminist Germaine Greer has said she doesn't think women are as funny as men; Christie has "never heard anything as ridiculous" in her life. Christie hasn't written a book to prove Greer wrong, but somehow or other, between the jigs, the reels and the squeals, she does. And you can't but sign up to Team Christie when she relates the following true tale.
"A western female journalist had travelled to Afghanistan to talk to the women there about their lives. She noticed that all the women were trailing behind their husbands, so she asked one of the women why, after years of struggling to try to change the old regimes, was she now happy to go back to the old customs and walk ten paces behind her husband again. And the Afghan woman said, 'Landmines'."
Even the most oppressed women in the world can be funny, says Christie. And she's right. Finding the LOLs among the landmines is a case in point.
Stand-up Christie recalls the audience's disappointment when her "point of view and her X chromosomes" arrived on to any stage. The absence of guffaws on her arrival in the comedy spotlight is put down to her material of choice and the weird costumes that included Christie's attempt to look like Japanese knotweed.
Hard-hitting
But Christie revisiting her stand-up material merely reminds us how damn good it was. It was funny and hard-hitting. Christie's idea to base a portion of her show on the idea of Samuel Pepys, the 17th-century diarist, returning to the modern day and reading from the inane blogs we now devour didn't catapult her into the stratosphere, but it should have.
Dressing up as an ant to deliver a sardonic commentary on the dominance of the bee was a thing of insect beauty. "I'm sick of the 'Ants aren't funny' debate. It's so tedious. Some of us are funny, and some of us aren't. It's a simple as that. Critics complain that ants only ever do whimsy or relationship stuff, but that's just not true. There's loads of us ants on the circuit now, doing all types of stuff . . . We're all different. No one ever talks about bee comics like this. The fact that they are bees isn't even mentioned."
Christie is full of self-deprecation and self-doubt, namechecking, quoting and appreciating the waves of women who went before her. Her humility sucks you in and makes you laugh.
Christie has no wish to be a jenny-come-lately to any feminist party, and she has no sense of entitlement, just a sense of discovery as she falls in love with feminism. And you will fall in love with Christie.
"I have absolutely no idea why we do the things we do. I'm not a feminist academic. I'm not even a feminist. I'm Bridget Christie. I heard that comedy needed some feminism in it and I pretended to understand it. And now I'm up to my neck in it. I shouldn't be doing comedy about the complexities of women's minds. I don't even know my own mind."
She knows her mind enough to give us insights into parenting, breasts and wallpaper. She is an ecumenist, bringing us Mary Wollstonecraft, Katie Price, Margaret Atwood, The Only Way Is Essex and women with dictatorial tendencies (Catherine the Great, Boudicca and Elizabeth I get shout-outs).
Christie ends the book with Maryam Sheikh Abdi's poem about female genital mutilation. There are some things that a funny girl like Christie does not attempt to make funny. Because they aren't. Yet Christie should be commended for letting others speak.
The woman nominated by the Leicester Mercury as comedian of the year in 2006 did not win. She deserved to. She is funny in all the right places.
Anthea McTeirnan is an Irish Times journalist
Written by Anthea McTeirnan in Irish Times on 19th September 2015.
Filed Under: A Book For Her (The Book), Book, Review
---
Sign Up For Bridget's Newsletter