A Show I Just Had To Do…
---
Foster's Comedy Award winner Bridget Christie: 'I was standing in a bookshop when I realised that this was a show I just had to do'
Written by Veronica Lee in The Independent on August 25th, 2013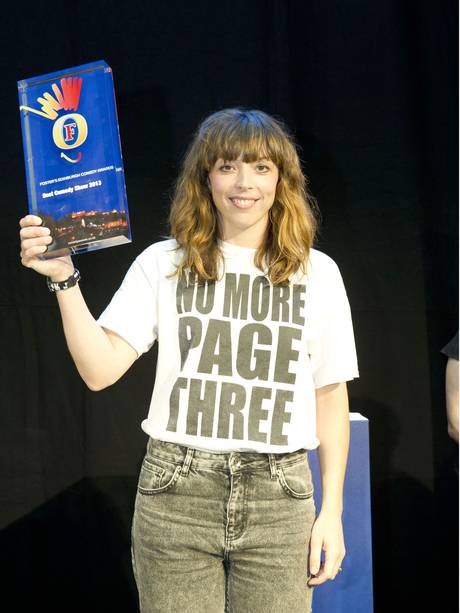 It's the morning after the night before, and Bridget Christie is still absorbing the impact of becoming only the third woman to win the Edinburgh Comedy Award in its 33-year history. "I'm not sure if it's a zeitgeist-y thing," she says, "but this award does feel like it's part of something bigger."
Christie's avowedly feminist show A Bic For Her has wowed audiences for the past month and on Saturday the award previously known as the Perrier – now sponsored by Foster's – was handed to a woman who says that the F-word is simply about human rights. In ridiculing everyday sexism, her highly entertaining hour-long show couldn't be more timely. A new feminist wave appears to be upon us. Women such as Stella Creasy MP and historian Mary Beard are naming and shaming Twitter trolls, the No More Page 3 campaign is gathering force, and there is growing resistance to male comics who tell rape jokes.
It's a moment of change for Christie, too, who has been doing stand-up for nine years and who has found her voice as a comic, doing material about a subject she feels passionately about. In her previous shows, her material was often a bit fey or surreal; she did routines dressed in daft animal costumes. But no more playing an ant or donkey. A Bic For Her is accomplished and often hilarious comedy that she plays very much as herself.
The show's title comes from a ballpoint pen – "in pastel shades and with an easy grip" – which is marketed just at women. There is an inspired section about how the Bronte sisters may not have been able to write their masterpieces without it, and she links Sir Stirling Moss's recent fall down a lift shaft with his disobliging comments about female racing drivers.
The show's wry tone is set out in her opening joke: women were invented years ago – when God realised Adam needed an audience for his jokes.
Taking exclusively to The Independent yesterday, Christie, a warm and engaging woman, talks about what sparked her change of direction as a stand-up. "I've always been a feminist," she says, "which I think is simply about human rights. But a light bulb went on in my head and I knew I had to do a show about it.
"A few things happened on the same day. I had a really nasty review that said quite baldly that I had got gigs because of who I am married to," she says, referring to the leading comic Stewart Lee. "And then I read a news story about the early mortality of women in several African countries and it so depressed me." But what capped it was a suitably comedic, if noxious moment. "I was in a bookshop in the women's section and a man farted," Christie recalls. "It just summed up how so many men think of women."
Christie, who is 41, was born in Gloucester to Irish parents; her father worked in a factory and her mother in a care home. She is one of nine children. She left school at 16 and did menial jobs for a few years before she won a place at The Academy of Live and Recorded Arts in Wandsworth. Her acting and comedy career was up and running and she met Lee – whose many credits include co-authoring the controversial musical Jerry Springer: The Opera – several years ago at the Leicester comedy festival. They often gig at the same venues, but Christie says they never speak about each other's work and rarely give interviews, although she may find that that may change after her Edinburgh award.
They live in Hackney, east London, with their two children, a girl aged two and a boy aged six. Christie isn't keen to talk about their home life, and wittily but firmly bats off any questions about it. When I ask if two comedians living together equals a domestic gagfest, she deadpans:. "It's like a morgue. I mean, an atheist and a feminist sharing a house…."
Home may not be a laugh a minute, but the couple's honeymoon, by contrast, was pure comedy. They went to the Shetlands in December. "It was closed," says Christie drily. "People thought we were going to the Seychelles and said it would be lovely, but it rained all the time and was light for about two hours a day. I've excised it from my mind, it was so ghastly."
The couple share childcare and the logistics of having two performers in the family and looking after a young family almost derailed A Bic For Her at this year's Fringe before it started. "I was going to sit this one out and look after the kids, but then I thought, this was something I had to do. Offhand remarks, or a pat on your bum are just the small things that I think connect directly with much bigger issues around the abuse of women, and we need to make those connections.
"It's a very complicated thing but historically we haven't addressed this issue, and we're pathetically grateful for any small advances we make. Hopefully we are entering a new phase as we see women fighting back."
It was noticeable at the Fringe this year that far fewer male comics were doing rape jokes, and several female comics have been doing material subverting the genre. "I'm not saying you can't talk about rape, or even include it in a comedy show, because comedy reflects life after all," says Christie. "Sarah Silverman, for instance, has clever routine about rape but it's when men do rape gags, and that's the whole point of the joke, it's just not funny. It's nasty and threatening, and I think people are beginning to say they don't want to hear this kind of comedy."
While she is clearly delighted and even surprised at receiving the award, which comes with £10,000 cheque, Christie expresses disappointment that she was the only woman on the award's shortlist of seven comics – and that she is only the third women to win the award after Jenny Eclair in 1995 and Laura Solon 10 years later. "I'm very grateful for the panel [of judges] including me," she says, "but we have some way to go. There were loads of women doing really good shows this year and they didn't get recognised."
Christie's Radio 4 series about feminism, Bridget Christie Minds the Gap, returns for a second series next summer, when her book on the subject will be published. A Bic For Her will have a three-week run at the Soho Theatre in London later in the year. Much else surely beckons.
I tell her that she sounds like a one-woman campaign against misogyny, and Christie laughs loudly at the notion. "Yes," she says, "that's me. I will keep doing this until it stops."
Mind the gap: Filling the blanks
Age: 41
Born: 1972 in Gloucester City as one of nine children. Father worked in a factory and her mother in a care home.
Educated: St Peter's High School, Gloucester. Left school at 16. She then took a series of menial jobs before joining The Academy of Live and Recorded Arts in London six years later.
In 2009 Christie played Lady Teazle opposite Lionel Blair's Sir Peter Teazle in Richard Brinsley Sheridan's The School for Scandal. By 2010 she became a regular cast member in Broadway hit Celebrity Autobiography, both in Edinburgh and the West End.
Board member of The Alternative Comedy Memorial Society and was nominated for a Chortle Award in the Best Breakthrough Act category in 2009. Her BBC Radio 4 series about feminism, Bridget Christie Minds the Gap, was broadcast in March 2013.
Written by Veronica Lee in The Independent on 25th August 2013.
Filed Under: An Ungrateful Woman, Interview
---
Sign Up For Bridget's Newsletter