Edinburgh fringe comedy round-up
---
Written by Stephanie Merritt in The Observer on August 11th, 2013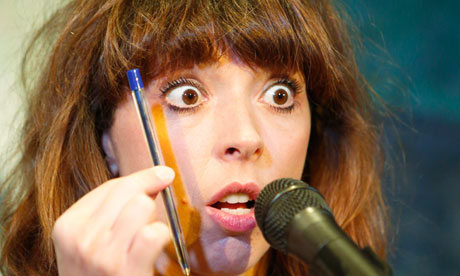 The possibility of discovering a new comedy talent at the beginning of their career is part of what makes the fringe so exciting, but there can be just as much of a thrill in seeing a seasoned performer take a new direction. One of the most talked about shows so far is Bridget Christie's A Bic for Her (the Stand). Christie has always been a likable and engaging performer, though in past shows she's tended to hide behind a kind of surreal whimsy (dressing up as Charles II, an ant or a donkey) that's not to everyone's taste.
But this year she's stripped away the silly costumes and emerged as a superb standup with a powerful voice and something to say. Feminism may sound like a po-faced subject for comedy, but Christie is fully aware of potential pitfalls, hamming up her outrage at trivial matters – among them the "female-friendly" pen of the title – in order to smuggle less amusing truths past her audience. ("I expect that's why the Brontës were so shit at writing," she declares, indignant, "their pens were so uncomfortable and drab.") The result is a tight, smartly written set loaded with sharp lines and delivered with conviction.
It's nothing short of a revelation, and I look forward to much more where this came from (including her forthcoming book).
Written by Stephanie Merritt in The Observer on 11th August 2013.
Filed Under: An Ungrateful Woman, Review
---
Sign Up For Bridget's Newsletter