The greatest gift of Christmas? A social media truce
Written by Bridget Christie in The Guardian on December 19th, 2015
It's time for the Twitterati and Instagramati to take a rest, even if a mother does buy too many presents for her family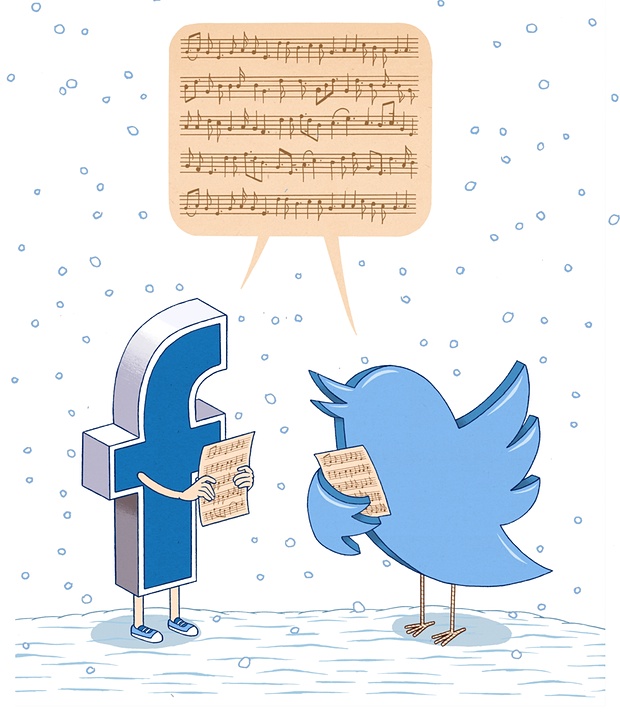 Last year Sainsbury's recreated one of the most famous moments of the first world war for its Christmas ad, the 1914 Christmas Day truce, when British and German soldiers laid down their rifles and shared gifts of Sainsbury's Taste the Difference tobacco and Sainsbury's Taste the Difference German sausage. The men swapped stories and played football, and when it was all over, sang Christmas carols to each other. No man's land, normally filled with horror and death and hopelessness, rang instead with the lyrics of Silent Night, a carol of such simple perfection it destroys me every time.
The ad premiered during an episode of Coronation Street and received a mixed response. But if British and German troops could manage a Christmas truce, is it too much to ask social media to do the same? The answer, sadly, is yes.
One of the first festive casualties of this year's shaming war was Emma Tapping, 27, from the Isle of Man. Her abhorrent crime against humanity wasn't paedophilia, genocide or camel toe. Instead this Manx mother of three posted on Instagram a photograph of all the Christmas presents she had bought for her children and husband. The photo was then reposted by someone who took offence, and went viral.
Tapping was duly accused of being "delusional", "present-bragging" and insensitive towards families going without this year, especially those in Cumbria affected by the floods. It's not clear how many, if any, of Tapping's Instagram followers live in Cumbria and might have seen her private post as rubbing their wet noses in all her dry gifts. But this is social media; it doesn't matter. All that matters is that the Twitterati and the Instagramati have a festive-themed public flogging to engage in.
Even Holly Willoughby, from ITV1's This Morning, got involved. In an interview via Skype, the presenter (who narrowly missed out to Evan Davis when he became the new host of Newsnight), put it to Tapping that, "You've had some very serious accusations, that your children are suffering some form of abuse because they are being paid for their love in gifts and presents." She could have added: "Didn't you think your photograph would be upsetting for any Syrian refugees, anorexics, rape victims, parents of the 200 schoolgirls kidnapped by Boko Haram, those affected by the King's Cross fire of 1987, the deaf or bunion sufferers that might see it?"
In an admirable display of self-confidence, Tapping brazened it out, just like Max Mosley after the News Of The World falsely accused him of taking part in a "sick Nazi orgy". Mosley successfully sued for £60,000 and came out of it with his dignity intact – sort of. Tapper responded to her own invasion of privacy by saying, "Will I post another pic of my tree? You bet your grandma's nipples I will. Seeing as my picture has gone viral (without my consent!) here is my tree." Maybe Mosley and Tapper should get together and set up a public-shaming resistance company. They could host workshops for the broken, and sell merchandise bearing their company logo, "Max and Emma Say F*** Off".
I wouldn't buy my children 85 presents each, as Tapping did, mainly because I couldn't be bothered with all the wrapping. As the ninth child born to working-class Irish Roman Catholic parents, I learned to appreciate what I was given, and to see the inherent value in small things. I remember bolting downstairs one Christmas morning and seeing the most magnificent, life-sized white bear under the tree, only to learn that it was intended for my older sister, Maggie – and that the far smaller bear was mine. It taught me a great life lesson: that whenever someone older than me is around, they will get the bigger bear.
Because I have eight brothers and sisters, I also have 20 nieces and nephews. In the 1980s, it was collectively agreed that we wouldn't be buying any more presents. My sister bucked the trend one year by buying us all toothbrushes (manual), and we were very grateful; but after that, we never missed getting presents at all.
Without wanting to sound like a Ukip councillor, I do think we're in danger of losing the true meaning of Christmas. We don't all have to go to church, or share a sausage with a German – but we could just not be dicks to each other on social media for a couple of days. Because it's the small things, the little random, spontaneous, acts of humanity towards each other that invoke the true meaning of Christmas. And then, in the New Year, we can get back to shattering ordinary people's lives again, for fun.
Bridget Christie appears at the Leicester Square theatre, London, on 2 and 8 January 2016.
---
---
Sign Up For Bridget's Newsletter