Edinburgh Fringe Review: Bridget Christie, The Stand ★★★★
---
★★★★
Written by Bruce Dessau in Beyond The Joke on August 13th, 2016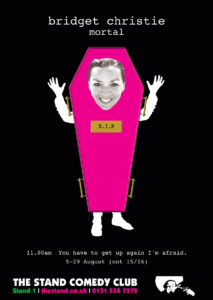 Maybe you should ignore the picture that accompanies this review. Bridget Christie's show was supposed to be about death, but after the Referendum she ripped up the script and wrote a new show. There is still a small sub-section about mortality, but that is not the meat of the hour. The new material is boxfresh, sharp and relevant and feels more alive than a lot of shows that have been toiled over for months and months.
Christie jokes at the outset that she has reinvented herself as a gardening-based comic and starts to talk about the fuschia she is brandishing, explaining that it is a foreign plant that settles very comfortably into English soil. While it soon becomes clear where this is going it is the way that Christie spins out the metaphor, totally straight-faced, that makes it so funny.
Inevitably though she keeps getting distracted by Brexit and British politics. "Labour are liars and the Tories are bastards" My notes are a bit messy here as she was speaking so fast. It could be the other way round but I'm not sure if it matters, the main thing is that she despairs of all politicians apart from Nicola Sturgeon – nice way to butter up the locals.
After three shows linked by a feminist theme* this set feels as if she is venturing out into new ground. Not surprisingly Christie has plenty to get her topical teeth into here. And despite the fact that everyone on the Fringe has a Brexit routine she still comes out with a new angle. For Christie it's the most heated issue since the white-gold/blue-black dress debate: "If only Nigel Farage was an optical illusion…"
As with previous shows there are some deftly plotted running gags. The main one is the story of a voter with swastika tattoos being interviewed by a BBC reporter who never mentioned his tattoos. This is just one of a number of stand-out riffs. Her Ladybird Book Of Brexit deserves to be published immediately. And discussing the gullibility of voters she also gets brilliant mileage out of the old story of the Mail Online printing a photograph of Christie dressed as Charles II thinking it was actually Charles II – apart from the fact that she is wearing a curtain over her shoulders (and is a woman) they didn't have cameras in the 17th Century.
There is a lot of talk among comedians about how far in advance one should write an Edinburgh show. The advice is usually to start writing for the next Fringe when they are taking down your posters at the end of August. Christie's furiously funny report from the post-Brexit frontline shows that – as with school homework – sometimes it is better to leave it until the last minute. Although it probably helps if you are as smart as Christie.
Until Aug 28, tickets here. And by the way it's an early 11am start.
*there is a bit about feminism here too if you want that.
****
Written by Bruce Dessau in Beyond The Joke on 13th August 2016.
Filed Under: Because You Demanded It, Review
---
Sign Up For Bridget's Newsletter