The 50 funniest films… chosen by comedians
---
For Sarah Millican it's the Coen brothers, while Stewart Lee laughs out loud at Festen. From the canonical to the controversial, and in no particular order, we asked 10 standups to pick 50 movies that make them giggle
in The Guardian on December 18th, 2016
Bridget Christie
In 2013, after years on the comedy circuit, Bridget Christie won the Edinburgh comedy award for best show with her feminist-themed A Bic for Her. Christie, now 45, studied at the Academy of Live and Recorded Arts in Wandsworth and later fell into standup. Her debut book, A Book for Her, was published last year and her live show, Because You Demanded It, is at Leicester Square theatre 31 January to 11 February then touring until June. Details at bridgetchristie.co.uk.
21 Best in Show
Christopher Guest, 2000
I love this mockumentary comedy film so much I can watch it again and again. It's laugh-out-loud funny but also profound and moving. And it has dogs in it. It follows five entrants (four couples and one man) as they travel to, and compete in, a dog show with their beloved pets. Knowing that much of the dialogue was improvised makes it all the more impressive. Eugene Levy and Jane Lynch are especially sublime, but all the performances are glorious.
22 The King of Comedy
Martin Scorsese, 1982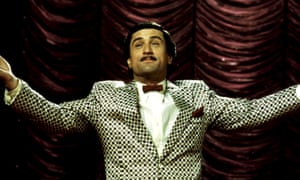 This black comedy stars Robert De Niro as Rupert Pupkin, an aspiring, unsuccessful standup comedian and fantasist. Pupkin, a stage-door autograph hunter, briefly meets the famous comedian and talkshow host Jerry Langford (Jerry Lewis) when he is mobbed by fans. Pupkin sees this chance meeting as his "big break". He turns up at Langford's offices with a tape of his standup begging for a slot on the show. After constant rejections from Langford, Pupkin becomes increasingly psychopathic and eventually kidnaps him. It's equal parts hilarious and horrifying and Sandra Bernhard is outstanding.
Also picked by Tim Key, who says:
Scorsese and De Niro have a crack at comedy here and it turns out pretty well, actually. The lengths our hero goes to to make his dreams come true are hilarious and underneath it all there's a grim prescience of the celebrity-worshipping times we are stuck with now. One of their greatest collaborations.
23 This Is Spinal Tap
Rob Reiner, 1984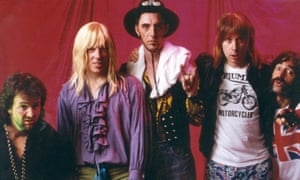 A satire on the behaviour of heavy metal bands and a parody of rock documentaries of the time, this classic follows a fictional British heavy metal band, Spinal Tap, on tour. Mainly improvised, and directed by Rob Reiner, it is a comedic masterpiece from start to finish. My family and I were obsessed with it in the 1980s. My brother, who I rarely see because he lives in Sweden, will send a text now and then just saying: "Who's in here? No one" or: "These go to 11" or: "Do you wear black?" I'll probably quote Spinal Tap on my deathbed.
24 The Aristocrats
Paul Provenza, 2005
The Aristocrats is a documentary comedy in which 100 comedians tell variations on the same joke that's been told by comedians since the vaudeville era. The set-up (a family pitching an idea for an act to a talent agency) and the punchline – "We call the act The Aristocrats" – leaves the middle section free for the comedian to think of the worst, most obscene, offensive and taboo act they can imagine. I laughed so much watching this film I was exhausted and covered in sweat by the end; Gilbert Gottfried's decision to tell the joke at the 2001 roasting of Hugh Hefner is one of the most awe-inspiring pieces of standup I've ever seen.
25 Men in Black
Barry Sonnenfeld, 1997
While Men in Black certainly isn't the most hilarious film ever made, Vincent D'Onofrio as Edgar the Bug, an alien bug who crashes on to Earth and steals a farmer's skin, is the funniest piece of physical comedy I've ever seen. It is astounding how in control of his body D'Onofrio is and how he manages realistically to convey a bug alien trying to get to grips with the human form. While I'm in awe of how superb and hilarious his performance is, I am also jealous I wasn't asked to do the part.
For the full list, please click here.
The Guardian on 18th December 2016.
Filed Under: Because You Demanded It, Feature
---
Sign Up For Bridget's Newsletter