Bridget Christie: saving stand-up from its sexist reputation
---
When you're as self-effacing as Christie, it can be hard to learn that you're the hottest property in comedy. She tells Sathnam Sanghera why she hates fuss, avoids TV panel shows and could talk about feminism for ever.
Written by Sathnam Sanghera in The Times on July 27th, 2014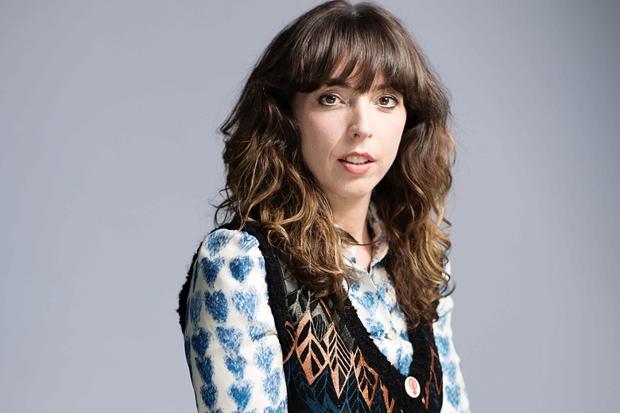 The first time I meet Bridget Christie is over lunch at last year's South Bank Sky Arts Awards at the Dorchester hotel when we're both up for prizes, me in the literature category, she in comedy. We've not come across each other's work, but we have a lovely chat, discussing, among other things, social networking (she likes Facebook, fears Twitter), journalism (she used to work at the Daily Mail as a PA and talks about the surrealness of walking past former colleagues on the red carpet), lunchtime drinking (she'd like to, but has two kids, aged 3 and 7, to go back to), and the agony of forever losing awards.
But then, just after I've predictably failed to win, pretending for the TV cameras to look like I don't care, Christie is walking on stage to collect her trophy.
And as she makes a funny and charming acceptance speech, I feel like a prat. Not only have I not worked out that Stewart Lee, whom she thanks and who is sitting on my left, is her husband, but that she is the hottest property in comedy, with The Times calling A Bic for Her, her Edinburgh show last year, "ironic, impassioned, terrifically funny".
She also trotted off with nothing less than the Foster's Edinburgh Comedy award, an honour previously bestowed on Frank Skinner, Steve Coogan and Dylan Moran. She is only the third woman to win it since it began in 1981.
I'm still feeling pretty foolish about my ignorance when we meet several months later, in a cafe in Stoke Newington, north London, but the feeling subsides as I listen to Christie talk. For it turns out that not only does the 42-year-old have a policy of generally avoiding TV panel shows, meaning that lots of people have probably not come across her work, but she is so pathologically self-effacing that she seems to want not to be noticed.
About her award-winning show, she says: "I thought it would be the end of me. I did previews to two people." About the offers that have come her way since: "I'll never be a mainstream success… if I've got more than ten people in an audience I think there's some sort of mistake." About all the prizes she has won: "It's nice to be endorsed, but you can't let it affect the way that you see yourself."
Eventually she notices what she's doing, puts down her cappuccino and apologies. "It's annoying, isn't it, when people keep going on about how they don't think they're very good?" She whispers this across the table, in case anyone hears her talking about herself, even though it's a Monday morning and there are only two other people in the garden area and they're 20ft away.
It all comes down, she says, to her allergy to "any fuss". And, looking physically pained, she forces herself to concede some positive points. "The show did well when it ran at Soho after Edinburgh. And then I got a few other, ahem, awards as well." She pats my hand sympathetically. "And more people seem to be coming to see me now."
This is still something of an understatement. For her show, in which Christie constructed an elaborate fantasy about the fate of Sir Stirling Moss, who famously suggested that women "lack the mental aptitude" for Formula 1, and explored why Beyonce might be more popular than the Pakistani schoolgirl campaigner Malala Yousafzai, has been deemed that rare thing for a comedy show: important.
Coming a few years after hideous rape "jokes" became fashionable among male comics, it not only signalled the moment that comedy discovered feminism, but has been cited as a milestone in the increasingly high-profile battle for sexual equality. And if the preview I went to see is anything to go by, her new Edinburgh show, Bridget Christie: An Ungrateful Woman, will continue where she left off, with routines on the invention of anti-rape pants, female genital mutilation (FGM), and the way women are depicted in advertising.
In her warm Gloucestershire accent, she says that she wanted to do something about how women are either portrayed as passive or sexual, with actors in some ads for household cleaners seeming to be on the verge of orgasm. "In September, after I'd only just done the show, some journalists were asking 'You've done feminism, what's next?' Feminism is not a single issue, or a single theme. It's huge! I could talk about it for the next 25 years if I wanted to."
In the preview, Christie also discusses her experience of appearing onHave I Got News For You, which she did reluctantly because she says she "just doesn't have the right skills set for it", and which involved her getting online abuse for wearing an End FGM badge ("staggering"), and being introduced by the host, Jack Dee, with the line that she was a comedian who accepted her Fosters Award wearing a No More Page 3 T-shirt who "actually got a bigger round of applause when she took it off".
She asked the producers to cut the line, but they refused. "They said it was 'obviously ironic'. It was not obviously ironic because the British public don't know who I am. And the audience laugh was a laugh at me, not with me. They basically introduced me as a pair of tits. I'm not doing it again."
Not many comedians have the courage to decline invitations from important TV shows, but courage seems as much of a running theme in Christie's life as the self-effacement. Several years ago she had her front teeth punched out in a mugging in Brixton, after refusing to hand over £5 ("The caps cost me much more than that. I think I've got an attitude. I was bullied quite a lot when I was little").
In A Bic for Her, she confessed to so-called "ethical filing", taking misogynistic magazines off shop shelves and dumping them in bins. And she talks about how if she is on a bill at a comedy show she will "quite often kill the night" ("Because they've not come out to see me. I had a very bad gig in Glasgow not that long ago… I was pretty much booed off").
Though, needless to say, she makes her position as a pioneer sound like an accident. She credits her decision to go into comedy to being the ninth and final child in her family — "if you are the youngest, you have to shout louder, don't you."
She credits the nature of her comedy on her parents' Irishness (though she grew up in Gloucester). "Storytelling is a big part of Irish culture and, when we were little, my dad used to terrify us with ghost stories. I've got a really vivid imagination because of it." But it took many years of drifting before she found her voice. She worked in a series of menial jobs from milking cows to working in a card factory while she performed fairly whimsical comedy shows that involved her, at times, dressing up as animals and historical characters.
But then she had kids and realised that, with babysitting factored in, she was out of pocket. "I thought, I'm missing my kids, they don't want me to go, I'm 40 and losing money. Suddenly, there had to be a real point to the shows."
I ask her about one of the jobs she did during that time: working on the diary desk at the Daily Mail for five years, whether she feels that it compromises her comedy. (She turned the experience into a stand-up show My Daily Mail Hell, in 2009, and was quoted at the time saying: "I'm not political, I'm silly.") "No," comes the immediate reply. "They'd send me to parties if there wasn't anyone around. I was just temping, a PA to Nigel Dempster, then he got really ill so I stayed. I wrote maybe one story in my time there — a plug for somebody." But the paper was one of her targets in the preview for her new show.
Does she worry about becoming the subject of celebrity gossip columnists herself, given that she is half of a high-profile comedy couple? Though the days when she was continually referred to as Stewart Lee's wife seem to be over. "Yeah, that was a nightmare."
So does fame bother her? "Sometimes. It can be disruptive and just weird. There was a time when I was heavily pregnant and Stewart and I were having quite an intense conversation about something at a bus stop, and someone physically got me out of the way to say how good he [Stewart] is." She pushes her coffee away. "I'm going to look like a hypocrite because I need to sell tickets to my shows and so I do a certain amount of press. But it's uncomfortable and slightly nerve-racking. I have noticed this year that I've been criticised for things that I haven't even said."
Would she work with Lee? "I wouldn't rule it out; in 15 or 20 years it might be funny to do something together. We had a really bad honeymoon where we went to the Shetlands in December. But he hadn't seen my Edinburgh show till the end of March this year."
Do they discuss comedy at home? "Something might happen and we'll say 'Do you want that or can I have it?" but we try to keep work life separate as much as possible." And how do their kids feel about their parents' jobs? "They're not really aware of what we do. Though when our son was about 2 or 3, he heard a performance over a Tannoy in a dressing room, and said: Daddy's onstage talking, and no one's laughing'."
She laughs. And the mention of the child reminds her that she's nearly out of time. Before she heads off on the bike on which she arrived, child seat on the back, I ask about what she is working on besides the Edinburgh show. She mentions a new book (A Book for Her), another series of her Radio 4 show Mind the Gap, and a nationwide tour, which will combine her two feminism shows.
But she can't help adding: "I'm still finding my voice, which sounds terrible because I've been doing stand-up for ten years. You can't ever think you've cracked it, you never will."
Bridget Christie, the Stand, Edinburgh, Aug 2-25, and touring from Sept 10; bridgetchristie.co.uk
Written by Sathnam Sanghera in The Times on 27th July 2014.
Filed Under: An Ungrateful Woman, Interview
---
Sign Up For Bridget's Newsletter