Bridget Christie's Edinburgh fringe show is a bold and bravura campaign against FGM
---
Christie's material about yoghurt-advert rape fantasies and female genital mutilation is astonishingly complex and uproariously funny.
Written by Mark Lawson in The Guardian on August 5th, 2014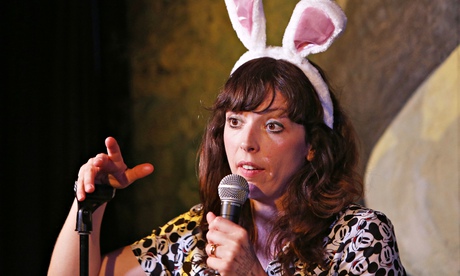 Photograph: Murdo Macleod for the Guardian
Such was the demand for the premiere of Bridget Christie's 2014 Edinburgh show – after her run here last year won Foster's, South Bank Sky Arts and Chortle awards – that around a quarter of this morning's audience at the Stand Comedy Club was forced literally to obey the name of the venue.
The press performance had been delayed, which can be often be a sign that previews have induced panic, but seems in this case more likely to be due to a touching but unjustified insecurity in the performer – between riffs, she consults a list of topics scribbled on the backs of her hands – and the tonal complexity of the show.
Standup incorporating material that seems unpromising for comedy has become a common genre: many shows in recent years have drawn on bereavement, cancer or addiction and even Jim Davidson – who is at the extreme opposite end of the spectrum from Christie in regard to jokes about women – is in Edinburgh this year with a show that switches between knob and fanny gags and his experience of being arrested (but not charged) by Operation Yewtree.
Even within that tradition, Christie is bold to attempt a set that will make the audience roar and applaud with laughter but also inform them about the national and international scale of female genital mutilation.
An Ungrateful Woman begins, though, topically – and, for the 2014 fringe, typically – with some jokes about Alex Salmond and the referendum. "That one went down better in Glasgow," Christie chides when a gag falls flattish. "With the real Scots." But then, with a mock-warning to Scots that they can't have independence until women finally achieve it, Christie turns to her signature theme of how sexism and inequality have survived decades of feminism.
Her great strength as a comedian is the seamless interleaving of character and campaigner, exaggeration and fact. Although there are no giveaway nudges of costume, the central comic persona is as much a construct as Dame Edna or Ali G. Christie presents herself as a parodic hardline feminist, who rolls her eyes sarcastically during sex as a protest against the commodification of the female orgasm by advertisers. She savages the man in her life as a sexist who is horrified that her career is going so well and who, she adds in an aside, is "a racist" as well.
Many in the audience are aware that she is in reality married to the comic Stewart Lee, who occupies the opposite of these positions; perhaps nervous of newcomers to her act Googling her personal circumstances and Twitter-trolling Lee, Christie acknowledges that she is describing a "fictional on-stage husband".
The bulk of the show, however, improbably but astonishingly combines an account of Christie's campaign against FGM with a depiction of an audition for a yoghurt advert at which she informs the mad men that their scenario – in which a woman is creamily pleased to find a strange man standing inside her fridge with a pot of yoghurt – is another example of the advertising industry's dramatisation of rape fantasies.
Leaving the venue, audience-members are handed a pamphlet and a poem about female genital mutilation. Jim Davidson would probably consider this gesture a right-on write-off, but it is an appropriate end to a show that combines standup and campaign rally, brilliantly demonstrating that that painful realities can be addressed through laughter so hard that it hurts.
Christie's 2013 show broke comedy box-office records at the Soho theatre in London, and any venues planning to take this one would be advised to extend either the building or the run.
Written by Mark Lawson in The Guardian on 5th August 2014.
Filed Under: An Ungrateful Woman, Review
---
Sign Up For Bridget's Newsletter