Edinburgh festival 2014: the unmissable standups
---
How will Luisa Omielan follow up last year's triumph? Who will be this year's Bridget Christie?
The Guardian - Brian Logan" target="_blank">in The Guardian on June 24th, 2014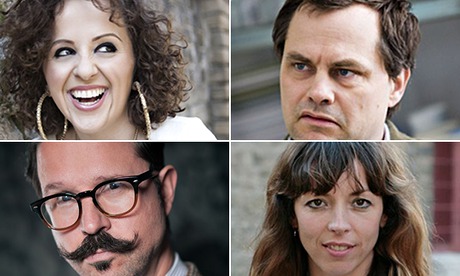 Clockwise from top left: Luisa Omielan, Jack Dee, Bridget Christie and Mr B the Gentleman Rhymer
The comedy website Chortle reported this week on "a hardcore comedy fan [who is] poised to set a record at the Edinburgh fringe," by going to see a grand total of 287 shows. He – David Chapple, ably supported by his wife, Carole – will be watching standup 10 hours a day for 27 days. "It's down to the fact that we have OCD," says the man himself: "Obsessive Comedy Disorder".
The Chapples' target far outstrips my personal best, but I certainly see six or more comedy shows daily throughout the festival. And that's a strange activity. More so than theatre-going, or going to gigs or concerts, comedy is a social activity. It's usually experienced with booze, joyful anticipation, and as a break from a routine. It's not meant to be the routine.
And yet, I love the Edinburgh festival to bits – and that shot of adrenaline when I first open the fringe programme never diminishes in strength. What will I be seeing this year? Which stars of tomorrow will I encounter for the first time – or (more likely, given my tastes) what brilliant, blind-siding acts will light up my comedy-going life but never get a sniff of stardom? Who – like Bridget Christie last year – will suddenly kick into top gear after years of near-misses?
This year, I'm looking forward to the follow-ups to Christie's A Bic for Her and to Luisa Omielan's What Would Beyoncé Do? – two of the biggest standup hits of the decade. Other returning heroes I'll be hurrying to see include Will Adamsdale and Adam Riches, both making their first appearance (or first as a comedian, in Adamsdale's case) since their respective Perrier/Foster's award victories in 2004 and 2011.
I'm looking out for Americans Al Lubel, after his weird nocturnal triumph in a cave last year, and Will Franken, after his weird nocturnal triumph in a cave the year before. Bigger names who are always high up my hit list include Sara Pascoe, Josie Long, James Acaster, Cardinal Burns and Sam Simmons.
What's increasingly exciting about Edinburgh comedy is the range of venues, and festivals-within-festivals, where mouthwatering comedy acts can be found. The overweening Edinburgh Comedy Festival brand is officially defunct now, and this proliferation of venues, far beyond the so-called Big Four, is a merry jig on its grave. In the mushrooming free festivals this year, you can see last year's best newcomer, the cheerful sad-sack John Kearns and his vanquished rival, lyrical and downbeat Liam Williams – both should be worth seeing. Also free, there's 2012 best newcomer nominee Cariad Lloyd in her new show with Louise Ford, Alternative Comedy Memorial Society supremo John-Luke Roberts, controversialist Josh Howie, Sunday Assembly co-founder Pippa Evans – and indeed Omielan.
I get most excited about the newcomers; the Fringe is the only time of year I get to binge on new, not-yet-established comedy acts. This year, much-touted Angela Barnes and Lucy Beaumont perform their first full Edinburgh shows. And I'll be catching several buzzy acts who I contrived to miss last year – Ivo Graham, Ursula Burns, Trygve (Squidboy) Wakenshaw, Phil Wang, Paul Currie. Then there are the Edinburgh favourites, still bubbling under, waiting for their well-merited big break – like my 2011 favourites, the sister double act Toby, who're back this year; or Nick Mohammed, in the guise of his camp, nerdy alter ego Mr Swallow.
I could go on – I haven't mentioned the "blasphemous" Aussie show Come Heckle Christ or Michael Gove's favourite novelty act Mr B the Gentleman Rhymer, back-from-the-dead veterans Jack Dee, Kevin Day and Andy de la Tour, sketch groups such as The Pin, Sheeps and Beasts, new formats such as Will Mars's schtick-swap night Joke Thieves, or this year's candidate for one-off, it-couldn't-happen-anywhere-else special event, Mark Watson's Comedywealth Games – all of which I'm hoping to catch.
Given this variety, and the never-quite-extinguished sense that you may be about to encounter something world-changing, even a diet of six or more shows a day leaves you wanting more.
The Guardian on 24th June 2014.
Filed Under: An Ungrateful Woman, Preview
---
Sign Up For Bridget's Newsletter