TV has always made the menopause a cheap joke – until now
---
Sitcoms and dramas have consistently failed to understand older women. That's why Bridget Christie's The Change is a revelation
Written by Liz Hoggard in The Telegraph on June 20th, 2023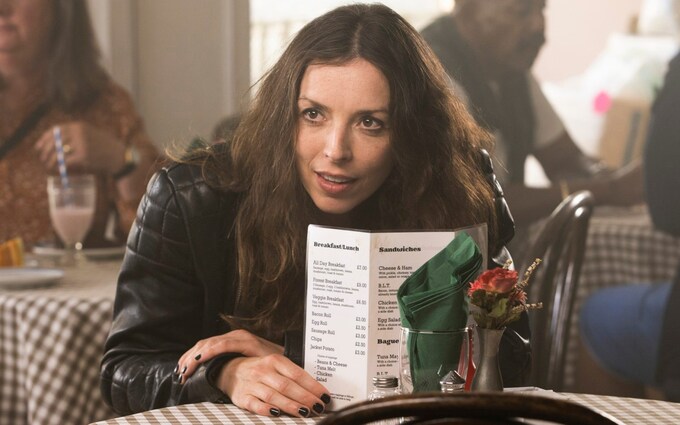 A breath of fresh air: Bridget Christie in The Change CREDIT: Jon Hall
"I've spent most of my life putting other people's needs before my own. I'm not going to do that for a bit and it feels so great," declares Linda, the 50-year-old heroine of Bridget Christie's new comedy-drama, The Change, when her doctor casually reveals she's going through the menopause.
Rather than weeping and wailing about her lost fertility, she dusts off her old Triumph motorbike from 30 years ago, leaves her husband and kids, and goes on a pilgrimage to reconnect with her childhood self in the Forest Of Dean.
It's a magical, eccentric opening episode and confirms what I have always felt: that far from being a time to mourn, the menopause is a chance to be a teenager again. You're free from your own biology – and others' expectations of you. With The Change, I felt like I was finally being seen – it has been a long time coming…
Back in 2001, I remember watching an episode of Absolutely Fabulous in which Edina and Patsy attend a "menopause support group". There were jokes about incontinence, hot flushes and "sweaty pubic sideburns". Ruby Wax appeared in wonky lipstick and a fright wig. Finally, Edina and Patsy fled the room in horror. Who on earth would want to be a menopausal middle-aged woman, the script implied?
I felt slightly humiliated. This was feminist alternative comedy. Why were we laughing at older women's bodies? I was only 39 at the time – but I couldn't help wondering what the generation above me felt. Don't get me wrong I adored Ab Fab, it gave us a language for female hedonism, but on this occasion the humour felt cruel, self-hating. I wonder if Jennifer Saunders (now 64) would write that storyline differently today.
Twenty two years later, I understand the episode better. Women's internalised shame about the body, and especially the menopause, is very real. It might seem easier to join the mean girls and joke about HRT and brain fog than talk honestly about yourself.
When I was growing up there weren't many positive images of female ageing on TV. The "old bags" were often played by men – Dick Emery, Les Dawson. But then with the arrival of punk and stand-up, female comedy exploded with French & Saunders, Victoria Wood, Jo Brand and Helen Lederer and their presence on TV changed how women were viewed.
Yet as I moved into my forties, I still wasn't seeing the complexities of my life reflected on the small screen. I longed for feisty menopausal heroines who would stride ahead and say: "This the path. It's new and complicated. But you'll never be bored. And it's better than the alternative (ie death)."
Why was youth still the only currency? And why was everyone, from advertisers to cosmetic surgeons, trying to make young women feel terrified about ageing?
Men have had so many great rackety characters in full-blown midlife crisis – from Reginald Perrin to Steve Coogan and Rob Brydon in The Trip. They looked funny and cool and unapologetic. Where were their female counterparts? I had to go to the theatre for that. I saw Tamsin Greig In April de Angelis's comedy Jumpy, about a middle-aged woman in meltdown three times. But on TV I rarely found the revolutionary older women I needed. The Golden Girls were fabulous and camp, a celebration of friendship. But there was a whiff of pantomime dame (with the jokes about "squishy thighs" and "the puffiness of going through the change"). It felt less funny as I moved inexorably towards that age group.
That other great all-female comedy-drama, Sex and the City, focused on the dating and mating years. By the time the second Sex and the City film came out in 2010, Kim Cattrall's Samantha, 52, was panicking about having her "hormone-enhancing drugs" confiscated in Abu Dhabi. But when she tried to talk about the menopause, Carrie et al rolled their eyes.
It felt like a message to our future selves. Shut up about hormones in freefall, nobody is interested in listening to an ageing hot mess (we had to wait more than a decade for Jennifer Coolidge in The White Lotus to make the ageing hot mess look exciting).
In 2019, Phoebe Waller-Bridge gave us a tantalising three-minute monologue about the menopause in Fleabag, when Kristin Scott Thomas's character raves about finally being liberated from her body. Women talked about it for months. But Waller-Bridge was in her early 30s when she wrote it (nursery slopes in comparison to navigating the twisty black run of the menopause). Where were the fiftysomething comedians telling their hot-flush truths? Why were we getting the supporting role, not the lead?
TV still seemed intent on reducing menopausal women to Karens (the entitled, middle-class, middle-aged woman stereotype) and spinster ladies. In her brilliant book, Hags, Victoria Smith writes about the new demonisation of middle-aged women, where our knowledge and experience is often dismissed. That by being "not young" we have committed some terrible crime. And yes, in some ways, we don't seem to have come very far from sitcom caricatures such as Sybil Fawlty, Mrs Slocombe and Hyacinth Bucket. As Smith writes: "Middle-aged women do not have to represent, include or step aside for every other person before we claim space for ourselves."
I am also wary of female celebrities taking ownership of the menopause. Davina McCall has done a valiant job in educating women about HRT (though that's not the only solution, by the way). But do we always have to dwell on the negative, and pathologise a normal rite of womanhood?
Which is why The Change feels so groundbreaking. Not only does it have a cool fiftysomething protagonist in Linda, it's a female Western. Christie – who bought a motorbike for her own 50th birthday – says she wrote the six-part show to celebrate the menopause as a new stage in women's lives, symbolising rebirth and a rejection of fear. Yes, there can be maddening physical symptoms such as memory loss and heart palpitations, but psychologically she found it a revelation.
And The Change is a bold, tender, witchy love letter to midlife. Christie has created a coherent comedy universe – from the eccentric community Linda encounters in the Forest of Dean (the show is filmed near where Christie grew up) to the music by veteran folk singer Shirley Collins. Although everyone assumes Linda is having an affair (well-trodden ground in everything from Butterflies to Shirley Valentine), she doesn't need a man to complete her. She is on a quest. And her love affair is with her fellow humans.
I found The Change liberating. It proves that, viewed through a different lens, the menopause is a second act. It's a chance to stop people-pleasing and think long and hard about the next 20 years.
In other words, it's comedy gold. And Christie has got there first.
Written by Liz Hoggard in The Telegraph on 20th June 2023.
Filed Under: The Change
---
Sign Up For Bridget's Newsletter