Bridget Christie: "I thought my menopause was early-onset dementia"
---
We meet the comedian and writer behind new comedy TV series The Change. Here, Bridget Christie reveals the five things she's learnt since turning 50.
Written by Paul Simper in Saga Exceptional on June 20th, 2023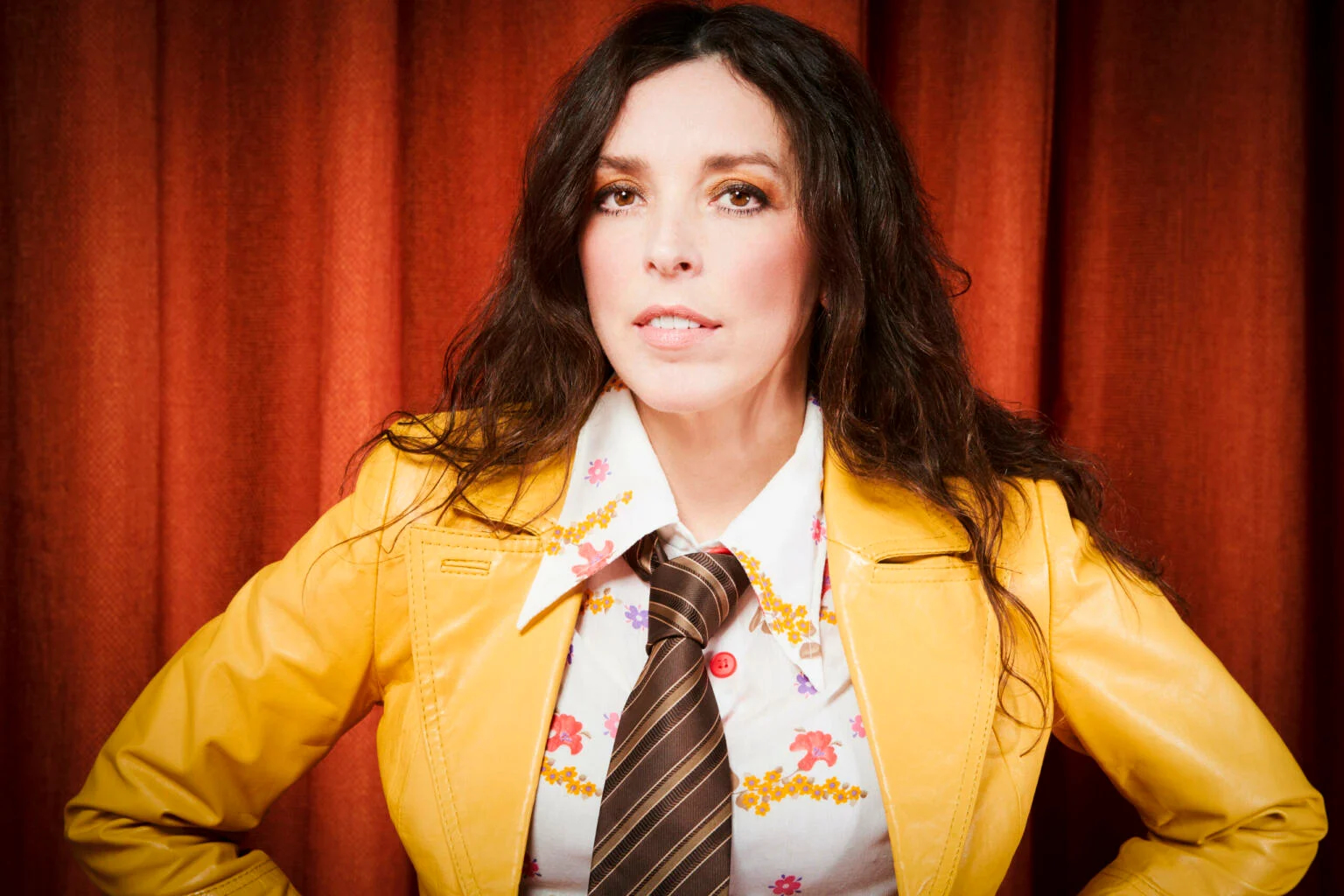 Bridget Christie made her mark as a stand-up comedian when she skewered pen company Bic for their range of pink and purple gender-specific biros called Bic for Her, as part of her award-winning 2013 Edinburgh festival show, A Bic For Her.
Following this came sell-out tours, her debut book, A Book For Her, a Netflix special, and being a host of BBC Radio 4 shows. That included Mortal, exploring birth, life, death and afterlife in lockdown with the aid of the family washing machine for cycle metaphors.
Christie was the runner–up in series 13 of the panel game show Taskmaster, and now her idea for a TV comedy drama series about British folklore and female visibility has blossomed into a glorious six-part Channel 4 series, The Change.
Exploring change, women's invisible labour and letting go of fear, the series is inspired by her own truths of turning 50 and entering the menopause. It features a cast of comedy royalty, including Paul Whitehouse, Tanya Moodie, Liza Tarbuck, Omid Djalili and Jerome Flynn.
Bridget Christie as Linda in new Channel 4 series The ChangeCredit: Channel 4
Bridget Christie as Linda, in Channel 4's The Change
Christie lives in north London (she hails from Gloucester originally) with her husband, fellow comedian Stewart Lee, and their two children. Here she reveals the wisdom and freedom she's discovered since turning 50.
1. "I've stopped being so scared of everything"
I got myself a massive Triumph Bonneville T120 motorbike for my 50th, even though I hadn't ridden one in 32 years. I used to ride motorbikes from when I was 15, and go to festivals and camp in the Welsh mountains – but now I've got kids and a job.
I didn't tell the guys in the Triumph showroom in Stockwell [south London], but I was so nervous I thought I was going to pass out.
Then I thought: "No, come on. You can do this. Stop being scared about everything."
So I got on it and rode it in rush hour. There is a horrible roundabout in Stockwell; it was dark and pouring with rain, and I didn't know where I was going. But I wasn't scared. Bus drivers were beeping and waving, and I was enjoying the attention.
I do think I've let fear dominate a lot of my adult life.
This is a way in which the menopause and turning 50 has been really good for me. You don't have time to be scared about things any more – you've got to just do them. I'm much more adventurous than I was before.
2. "I've learned to chill out and 'trust the process'"
When I was younger, I always had a want and a need for things to happen but now, I use the saying 'trust the process' all the time.
I started writing my TV show, The Change, seven years ago. It's about this middle-aged character, Linda, whose life hadn't panned out as she had hoped.
Now that character is seven years down the road so I could incorporate the menopause, as that was my reality.
Linda has that feeling of invisibility, but also that time has passed and she's not quite sure what she's done with it all. She's kept a chores ledger [detailing all the time she's spent on her family's household chores and life admin], which I never did, but I wish I bloody had. I only thought about it when I started writing the show.
3. "I went to the doctor because I thought I had early-onset dementia"
Like my character Linda, I didn't realise I was in the menopause at that point. I was getting people and things mixed up. I couldn't work out what a goose was. Or grass. I was doing that this morning, actually, and driving my daughter absolutely mad.
When I went to the doctor, I was worried about my heart. I was having palpitations and ringing in my ears. I would never have thought that that was the menopause.
Hot flushes are a weird thing to describe – it just creeps up your face and your neck… You become like a furnace.
I really do empathise with other women who are having a hard transition. I've found analysing what's happening to me really helpful. I know that sounds weird but it helps to see myself from an outsider's perspective, to be thinking: "My body is doing this. It's taking itself out of the game – isn't that an amazing thing?"
I feel really balanced now, which is ironic because I'm in the menopause. I feel like there is an equilibrium and a calmness to me and my life now that I didn't have before.
4. "Running clears my mind"
I run almost every day. But I found if I'm listening to something, it triggers memories and thoughts, and then I'll start planning and thinking. So now I don't listen to anything, and I try and clear my mind instead.
I listen to the wind, the wildlife and people's snatched moments of conversation. It's just my little hour – no phones, no keys, no headphones.
5. "I'm not scared of heights since I passed 50"
In fact, I've got plans to climb up Pulpit Rock in Norway.
Two things broke that fear [of heights] for me. One was when my son was too young to go on the adult Go Ape in the Forest of Dean [a treetop climbing experience], so I went on it with him.
The first time I went, I cried my way around it. But then I did it again, and as I was up high I was talking to myself, saying: "It's irrational that you're scared. You are attached to a harness that is attached to a wire. You literally can't fall." Then when I was really high up I told myself what a privilege it was to see the world from this perspective – to be above the trees. Only birds normally get to do that.
The second time was when I went for a weekend at Center Parcs with my daughter and there was a zipwire. You had to go up this tower that was wobbling because it was windy. I had a word with myself and said: "Look, it's been built by an engineer and people go up it all the time."
I was pretending it was good fun – and then suddenly, it was.
The Change is available to watch or stream on Channel 4 from June 21.
Christie's show Who Am I? is at the Edinburgh Fringe Festival from August 2-10, and then on tour. For details, visit: bridgetchristie.co.uk
Written by Paul Simper in Saga Exceptional on 20th June 2023.
Filed Under: The Change
---
Sign Up For Bridget's Newsletter