Latitude 2023 Reviews – Day Two
---
Written by Bruce Dessau in Beyond The Joke on July 23rd, 2023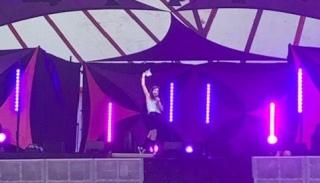 Bruce Dessau Latitude 2023
If there is such a thing as the perfect Latitude comedian it was probably Bridget Christie. Currently riding high with her Channel 4 comedy The Change there was a roar of appreciation when she came onstage, And not just from women of a similar age. Although there were clearly lots of them squeezing under the canvas. Christie hit the ground running with her chat about how women become invisible when they hit 50, to the extent that she had to write her own programme to get on TV. She also found time to have a playful swipe at Davina McCall who she suggests is her main rival when it comes to being TV's Ms Menopause.
Christie's style is to make very serious points by being sarcastic and silly. There was a sublime story about her mother being forced to give birth to her at home because the hospital was dismissive when she rang up. The deadpan pay-off is positively priceless. Another highly relatable section of her performance was about the brain fog that means she forgets the names of famous actors and even the name of "orange extract" when trying to bake a cake. Her efforts to find the right word while getting increasingly flustered had the entire audience in hysterics and large swathes nodding in recognition.
I don't know how you get the freedom of the city but if it's doing good deeds that everyone agrees with, after this set maybe Bridget Christie should get the freedom of Latitude.
Written by Bruce Dessau in Beyond The Joke on 23rd July 2023.
Filed Under: Uncategorised
---
Sign Up For Bridget's Newsletter