Comedian Bridget Christie on her TV breakthrough and her return to the Edinburgh Fringe
---
Bridget Christie has united generations of fans with new TV comedy The Change, but live comedy remains her first love, writes Jay Richardson.
Written by Jay Richardson in The Scotsman on July 24th, 2023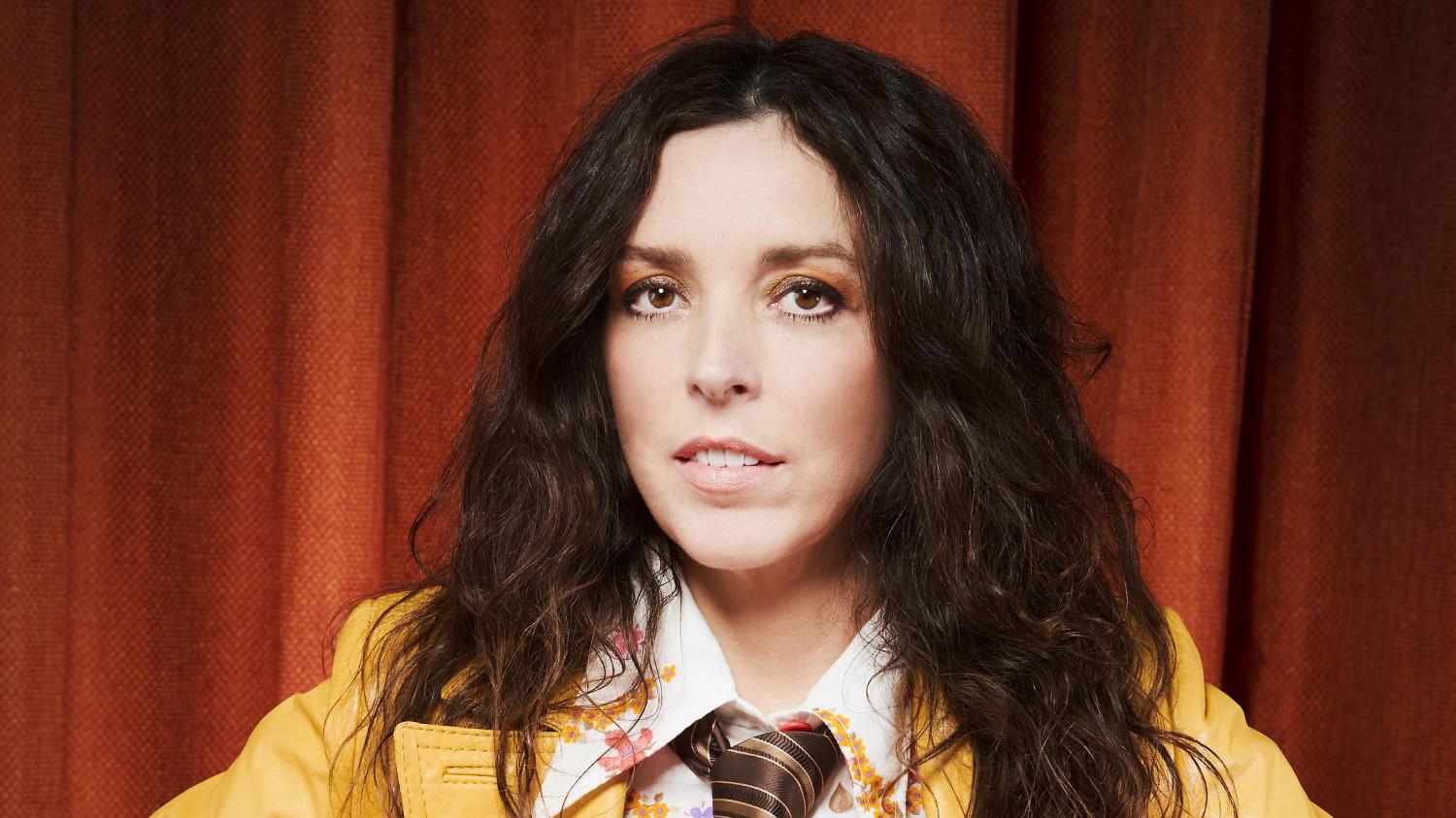 "Oh my God, I might need some HRT," Bridget Christie despairs. Channelling her menopause, the 51-year-old comic feigns forgetfulness in her latest show, Who Am I? Yet the brain fog isn't entirely an act. She's trying to describe to me the "Stand-Up Goblin" she's just mentally conjured, set to prey upon any acclaimed comic found resting on their laurels, but is struggling in vain to identify the malevolent creature. On a winding path around the paintings of Hieronymous Bosch, into early German Expressionist Cinema, we eventually alight on Nosferatu, "tapping you on the shoulder with his big, long, bony fingers, just when you think you're storming it".
It seems unlikely that Christie's career will experience such a chilling effect anytime soon, having just made hot flushes hot in The Change, her highly praised Channel 4 comedy-drama about a 50-year-old woman who takes off on her motorbike, leaving her husband and teenage kids behind. She's currently drafting scripts for a second series in the hope that it will be recommissioned. She's also returning to the Fringe a decade on from her live breakthrough, the Edinburgh Comedy Award-winning feminist polemic A Bic For Her.
"Please don't write that the stand-up goblin is after me," she protests, mindful perhaps that her hour – which also opines on climate change, childbirth and gender double standards – culminates in her confronting a flasher in the park. Christie is simply trying to convey that in the seven years it's taken to get The Change on screen, stand-up has always been there for her, lockdown notwithstanding. Just so long as she didn't take it for granted.
Unusually, Channel 4 has been mostly hands-off with Christie's debut series, backing the spirit of liberation and idiosyncrasy of British television comedy's first show with an openly menopausal lead character, and "giving me a lot of control and freedom". She was four years old when she told an aunt that she wanted to be an actress. It's only taken half a century, multiple awards, a best-selling memoir, a Netflix special and her having to write her own role to finally make her a television star.
"Writing TV is a completely different beast, hard but really enjoyable," she says. "But I will never stop doing stand-up. The whole reason I went into it was to have more freedom over what I was doing." Before the pandemic, Who Am I?'s publicity didn't even mention the menopause. And if that remains the show's chief preoccupation, she expects the subject matter to shift further over the course of Edinburgh and her subsequent UK tour. "Stand-up is such a puzzle, it's so fluid and changes every night and you're changing as well," she suggests. "It's completely addictive. You can never win though, you're constantly aware that you could fail at any moment. Interacting with the audience, thinking on your feet. There isn't anything like it to make you feel alive."
From its gender-switching Eel Festival, culturally sensitive Morris Dancers and a memorable cadre of eccentrics played by the likes of Monica Dolan, Paul Whitehouse, Omid Djalili, Tanya Moodie and Jerome Flynn, The Change reflects both Christie's fondness for weird, wonderful and occasionally creepy British folk traditions and a desire to make them relevant today, "celebrating the cycles of existence, of rebirth, combining nature with the biological stages of a woman's life". During its seven years of development, its scope broadened from revisiting the magic and myths of the Gloucester-born comic's childhood in the Forest of Dean to embracing significant changes in both her and society, touching on issues such as trans rights and environmental destruction.
The youngest of nine children from an Irish Catholic family, she recalls "not having much but we were really creative", and of being immersed in the iconography of the Church. Yet her truly formative absorption into folklore came when she first witnessed the famous Cooper's Hill Cheese Roll, in which participants hurtle pell-mell down an almost vertical gradient chasing a giant wheel of dairy. She's even kept the model she made for her 2006 solo debut Edinburgh show, The Cheese Roll, with two small figures desperately pursuing a Babybel down a slope.
Prior to the focused fury of A Bic for Her, her early Fringe shows featured her variously costumed as Charles II, an ant, a donkey, The Fire of London and The Great Plague among other things, a ritualistic dressing up that arguably anticipates the "eel children" and Whitehouse's character's annual trousers reveal ceremony in The Change. Before the series, Christie was best known on television for her guest role as the seething puritan Annie on the BBC sitcom Ghosts, and for styling herself after the Spaghetti Western spirit of Lee Van Cleef in her choice of outfit on the hit Channel 4 challenge series Taskmaster. She's totemic for a diverse audience.
"It's really interesting," she avers. "Coming out of lockdown, I really wanted to talk about the menopause on stage but there were loads of people who'd watched Taskmaster and Ghosts coming and they're much, much younger. Now, with The Change there are women my age coming up and talking about it. But I've kept the teenagers, they've been watching with their parents. So that's been fascinating, overwhelmingly positive and really heart-warming.
"Like when I wrote A Bic for Her, whenever you write something, particularly with strong opinions, you always think 'well, ok, this won't be for everyone, there's going to be loads of stuff that people hate', you just never know if it's going to land. You have to write what you want to write and leave the rest up to the universe. You plant seeds and hope."
Without wishing to sound worthy, Christie says she is seeking "to represent a demographic that I thought wasn't being represented. TV especially is orientated to young people and their sex lives. But there's a massive conversation about the menopause that's starting to happen."
Historically, she's only pulled her Fringe shows together late; "this is usually quite a tense, stressful time for me". But after years of development, she knows that Who Am I? really works and has been bowled over by the reception The Change has attracted. If it feels like she should have received her big television break earlier, Christie remains philosophical.
"We're all a bit overwhelmed to be honest and it's really exciting. I think I was just meant to be doing these shows about the menopause, at this time. Sometimes you just have to relax, be patient and things work out. All roads have led to here."
Bridget Christie: Who Am I?, The Stand's New Town Theatre, 2-9 August, 1.50pm.
Written by Jay Richardson in The Scotsman on 24th July 2023.
Filed Under: The Change, Who Am I?, Interview
---
Sign Up For Bridget's Newsletter