How to make the menopause funny - ★★★★
---
Written by Dominic Maxwell in The Times on November 17th, 2021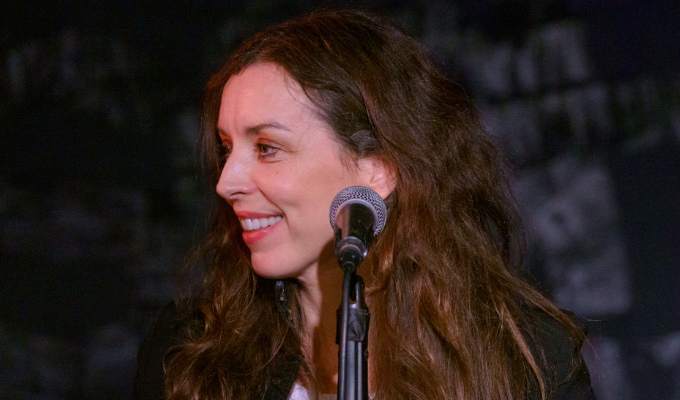 Loads of stand-ups address big issues in their comedy, but nobody finds the sweet spot between the impassioned and the knowingly ludicrous like Bridget Christie.
In 2013 she won the Edinburgh comedy award and made her name with A Bic for Her, her show about feminism; three summers later the result of the EU referendum prompted her to scrap the show she had planned and instead swiftly come up with the first (and perhaps only) great comedy show about Brexit. Never forgetting to make sure that even the most thorny ideas were comedy not lecture.
Now, aged 50, Christie is hot and bothered about the menopause. How it's affecting her, for good as well as for ill. How this "very rare" condition that "only affects one in one women" still goes under the cultural radar. How women over 50 are patronised, desexualised, misunderstood, sidelined.
And once again she has found a way to be as silly as she is heartfelt. She ropes us into her incensed yet unmoored mindset as she carefully structures her arguments while making it all feel like an off-the-cuff rant.
Has she really forgotten why she came into the room at the start after her big, overstated opening, or is this all just a thematically appropriate feint? If you think the gag is either too obvious or too obscure, she is quick to address that and any other concern you might have about her act.
She engages in a Socratic dialogue with her audience's supposed doubts and keeps the laughs coming as she splices together her material, such as the latitude given to middle-aged men — including comedians and, yes, prime ministers — and the marginal status of a middle-aged woman who will embarrass her children by spending 15 minutes beeping her car horn at a man who has cut into her parking space at Homebase.
She ropes us into her new-found fuzzy-headedness as a menopausal woman while controlling her material with exquisite finesse. However justified her complaints, her act always satirises her fury too. So this is a safe space as well as an angry, empathetic, informative and warmingly funny one. This stuff, she tells us, needs to be talked about. It needs to be joked about too. Job done, beautifully.
Written by Dominic Maxwell in The Times on 17th November 2021.
Filed Under: Who Am I?, Review
---
Sign Up For Bridget's Newsletter