Bridget Christie: Who Am I? - ★★★★
---
Review of comic's new live show about the menopause
Written by Steve Bennett in Chortle on November 17th, 2021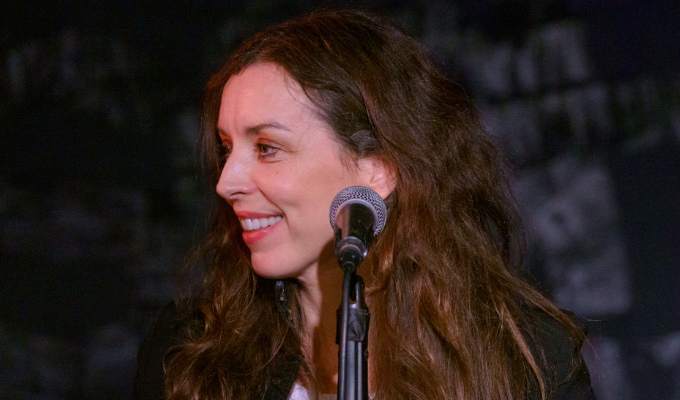 It's no revelation that a sign of ageing is forgetting why you walked into a room. Well, Bridget Christie came here to talk about the menopause – but ended up challenging the damaging double standards endemic in patriarchal society. Typical, eh?
The two are, of course, intertwined. Men of a certain age are seen to have wisdom and authority, even when it's entirely undeserved, while women affected by seismic hormonal changes are often seen as a bit batty. If they are seen at all, once past child-bearing age. This is but one agenda that underpins her new show, Who Am I?
For her part, Christie finds she longer cares about what others think now she's passed 50 – even if her lack of shame isn't shared by her perpetually embarrassed children. But she is liberated: out to own and celebrate her eccentric behaviour and angry public outbursts.
Despite this positive thinking, the excesses of her fury and her pig-headedness are intrinsically funny because they are so disproportionate, even while her underlying complaints remain valid. There's a touch of the Victor Meldrew or Basil Fawlty as she's pushed to the edge by a selfish driver or her family's laziness at household chores.
Even when she unleashes at a flasher – who you think might deserve all he gets – she contrives to make him sympathetic, again making the virulence her outburst the butt of the joke, as well as neatly tying up the hour.  But not before an outlandish bit of physical clowning imagining the roles reversed.
As is her wont, Christie adds social commentary to the silliness, highlighting how Boris Johnson and Louis CK have failed upwards despite – maybe even because of – serious and repeated moral transgressions no woman would get away with it. The analogies are laboured, and deliberately so, but the men's failings are so obvious that just repeating them, however sarcastically can be more dispiriting than hilarious. This isn't show's strongest theme, however much she playfully exaggerates  the preposterousness over the political.
Equally pointedly, Christie has a few topical swipes the supposed edginess of punching-down comics Dave Chappelle and Ricky Gervais, to argue how they are being far from brave.  This might seem only tangential to the main theme, but Who Am I? is a sprawling show that also repurposes her old routine about the Daily Mail mistaking her for Charles II, raises her jealousy at Phoebe Waller-Bridge's success and tells how she inherited her stubbornness from her mother, via a memorable routine about her birth.
It's certainly more complex than to be considered a show merely about the menopause, still a relatively taboo subject despite, as Christie wittily points out, affecting 'one-in-one women'.  Aside from a great routine about forgetfulness, she largely skimps on comments about its negative physical effects, perhaps wary of stepping on the toes of Jenny Eclair, who's long been covering such ground.
Instead, she focusses on how she's enjoying a newfound confidence in being cut loose from the tyranny of oestrogen. Such freedom is, after all, why all those awful overprivileged men have prospered all this time – so surely it's time for a playful but principled comic to enjoy the same spoils.
Written by Steve Bennett in Chortle on 17th November 2021.
Filed Under: Who Am I?, Review
---
Sign Up For Bridget's Newsletter