'Menopause has been overwhelmingly positive to me. I feel free!
---
Bridget Christie on her new Channel 4 comedy The Change
in Chortle on June 8th, 2023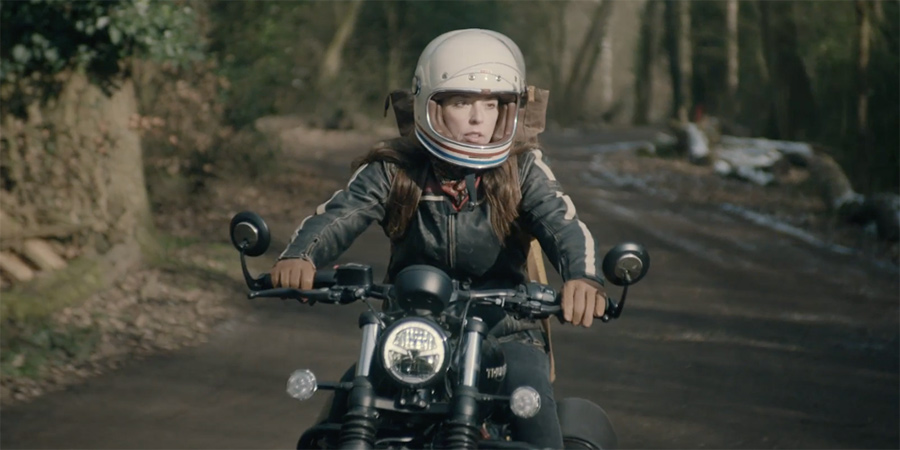 How long does it take to develop a TV show? Bridget Christie says that The Change, her new Channel 4 comedy about a menopausal woman, took so long to get to the screen that when she first wrote it, 'it was about puberty'.
It's obviously a joke, given the central role that her character's time of life has in the show. The stand-up plays Linda, a mother of two who decides to claw back some of the time she's spent doing 'invisible work' for her family over the years and heads to the Forest of Dean on her old Triumph motorbike in search of a tree she climbed as a child. And when there, she finds a close community of eccentrics with a semi-mystic connection to the woodlands, which is now under threat from changes of its own.
The 50-year-old depicts the menopause as a liberating time, in line with her own experiences, rather than the negative way it's normally portrayed.
At the press launch of the comedy yesterday, Christie was careful to say she didn't necessarily want to change the narrative 'because I know that a third of women have a really bad time of it'.
But, she adds: 'I wanted an example of that not being the case – of it being quite a liberating process – for a lot of women.
'I have found that coming out the other side of my reproductive years has just been overwhelmingly positive for me. I feel like that middle section – between 13 and 50 – can be a bit of a struggle, can't it?
'I'm infertile. I've not had a period for a couple of years, and I feel freed from it all. I feel more like myself as a child now. And I would love it if more women felt like that,
'I've got another, let's hope, 30 years to live. And I just feel sort of unencumbered by a lot of social pressures and things like that in a really overwhelmingly positive way.
'So I think this is about, you know, we can see somebody coming out of that, and having this big adventure, and let's see more women on screen doing that. And let's see more women being in charge of menopause or not accepting what has been said about it for what, 200,000 years?'
Themes of community and a ritualistic connection with the earth that Linda finds in the forest are also strong across the series. Of the scores of press events launching TV shows each year, yesterday's preview screening of The Change was surely the first to be introduced by a quartet of female Morris dancers, accompanied by a 6ft owl.
Christie says: 'I think we've been really divided since Brexit. And I think that I'd always wanted to write something, post-Brexit, that was more about how much we've got in common and less about dividing people – there's a whole industry dedicated to doing that, and I think it's really damaging.
'So I did want to write something that was humane, and to be as diverse as possible. And then, when Covid happened, we were reminded of how important community was, but also how beautiful our country was.
'I began to feel really patriotic, but not in a racist type of way. It made me think that word has taken on a new meaning, and I wanted to reclaim it.
'That's why there are folk elements in the show and why we have this community.'
She said that during lockdown she watched the historical Netflix drama The Dig and Mortimer and Whitehouse: Gone Fishing that reminded her how 'beautiful' Britain was, and wanted to tap into that.
'And also ritual. In lockdown, we all banged pans. It was the importance of ritual of for humans really, and that we need these things and that they mark time.'
Of the impact she hopes The Change will have, she says: 'I want people to watch it… and have fire in their bellies about what we're doing to the country and ancient woodlands, but also to feel hopeful for humanity and each other and that we can come together in these moments and celebrate what it is to be alive.'
The people she meets in the Forest Of Dean are a motley bunch, including The Verderer, a parody of a right-wing men's rights shock broadcaster played by Jim Howick, best known as Ghosts' super-optimistic scoutmaster Pat Butcher.
Explaining how the bitter, reactionary character departs from the sunny folk he usually plays, Howick explained: 'At the heart of him he's he represents an extreme reaction to the progressiveness. But like many people that attach themselves to these views, he's just desperately sad and lonely and angry. He represents that kind of person who hasn't experienced any change.'
Paul Whitehouse's character in the show, Tony, is also old-school in his outlook – we first meet him as he tries to chat up Linda in a mildly chauvinistic way in a pub – but seems more open to different perspectives.
'I don't often do characters or work that I haven't spent time on myself, usually,' he said, 'But this one just leapt off the page.'
He said he relished the chance to be 'politically incorrect – which is obviously a godsend these days. But with the caveat that there's an element of change within him… a possibility that he's going to progress. So I thought that's the best of both worlds, really.'
The cast also includes Motherland's Tanya Moodie as a voice of gentle, progressive reason.
She said of her character: 'She is an  outlier, but not necessarily because of her ethnicity, but because she comes from London. I've spent a lot of time in the Home Counties and I always thought that that was if you're an outlier or an outsider, the thing that's the forefront is the fact that you're from London… your ethnicity is tertiary, or not even a thing, it's because you come in with this energy.'
Two other key characters are the very peculiar 'Eel sisters', who run a café specialising in … well, guess what. Although no eels were harmed in the making of the show – they used silicone stand-ins.
Susan Lynch, who plays one of the sisters, Agnes, said: 'I live in Stroud, and it's 100 per cent, a proper community. And I think what's so amazing about The Change is that it's really reminding us that that's what being a human being is, without sounding a bit corny. That's what I really, really love about it, is that everybody comes together, men and women, through their changes.'
The setting was important for Christie, who said: 'I'm from Gloucester, which is just near the Forest of Dean. It's just always been a really magical place for me. I've never been anywhere like it.
'It's not easy to get to and it's got very strict planning laws. So it's not really been gentrified. So it has this really timeless quality to it both in terms of the buildings and the shops, but also the people as well. And I don't mean that as a criticism. I mean, as a compliment.
'They're very proud, like foresters are very proud of their land, and very proud to be foresters. In fact, they say that they're neither Welsh nor English. So it's just a very special place to me.'
Remarkably, The Change is Christie's first acting gig – even though she went to drama school.
Asked if she'd like to do more, she immediately said: 'Oh God, yes please! I love acting.
'I wanted to be an actor since I was four. I went to drama school. Graduated and got nowhere. This is my first part. I had to write it myself and cast myself.
'I'm thinking about all the auditions. I did. Some of them were bad, but some of them were really good. I don't know what's been going on.
'But I wouldn't have changed a single thing. Because if I had got lots of acting work, I wouldn't have started writing stand-up and doing that. And there's no way I would have got this commission. So everything is, as it should be. I think.
'Genuinely, I don't think this could have gone out at any other point in my life, It wouldn't have been right at all. It's one of those weird things that has just really slotted into place.'
Chortle on 8th June 2023.
Filed Under: The Change
---
Sign Up For Bridget's Newsletter