'The menopause is a huge experience that's been eliminated from storytelling'
---
The comedian, writer and actor talks about her new standup show, persistent positivity and the parallel life she could have lived
Written by Alice Saville in iNews on September 5th, 2023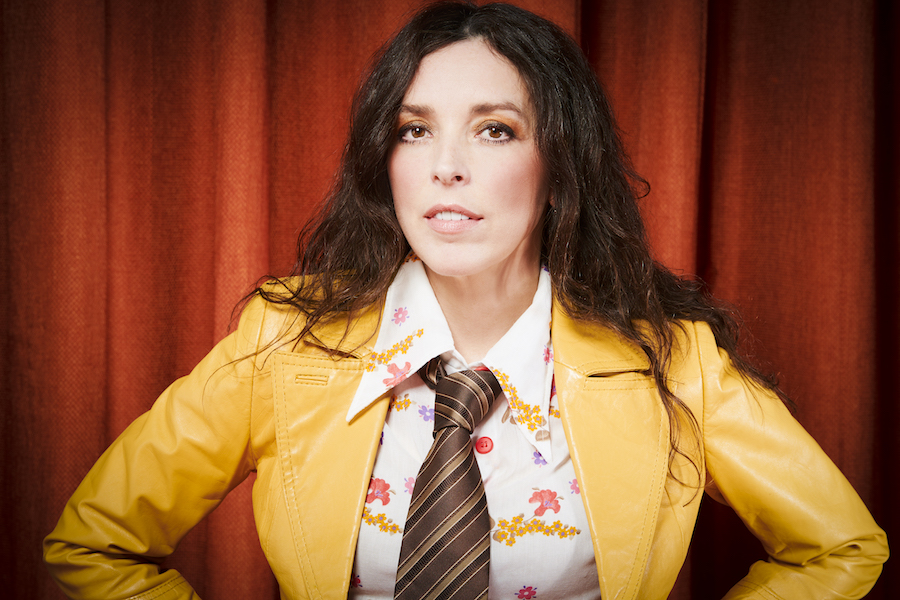 Bridget Christie, Photography Natasha Pszenicki
"You'll never win at stand-up," says Bridget Christie. With five awards, 13 hit solo comedy shows, and her new Channel 4 sitcom The Change landing rave reviews, you'd think the 52-year-old comedian was pretty much acing the game. But she quickly disillusions me in her distinctive slow, thoughtful, Gloucester-accented tones.
"The second you think you're good at it, you'll have an absolute stinker of a gig that will make you reconsider everything you've ever done," she says, with a dark chuckle, "and that's why I love it so much. I'll never, ever give up stand-up."
Christie is luxuriating in her last taste of home comforts before she sets off on an ambitious UK tour of her current show, Who Am I?, an intricately structured hour that takes in railings against the invisibility of older women, attacks on the tyranny of Tupperware, and jokes about the absurdities of the menopause.
"I've got a routine about a magnet you put in your pants that's supposed to help with menopause symptoms," she explains. "But they make it way too strong. When I was playing Leeds, a nurse came up to me afterwards and said, 'I had mine in at work, and while I was lowering a patient into bed, my groin got stuck to the metal bed frame'."
Not every audience has found it so relatable – a bewildered stag party stumbled its way into the show in Cambridge, dangling a pitcher of wine precariously over the balcony – but for Christie, that's all part of the thrill. "It's like alchemy. You'll never know why something works or doesn't work, and that's completely addictive."
Christie has been a comedy scene golden girl for nearly two decades. With her signature stream-of-consciousness style, she blends her artfully mundane observations with mock-furious political rants and bold bits of physical comedy (in Who Am I?, she even flashes a merkin in a skit about female flashers). She is such a natural performer, it's easy to forget that she came late to the game, only quitting the day job aged 38.
"It wasn't for want of trying – I just didn't get the breaks," she explains. She worked in shops and factories from the ages of 15 to 23 until she scraped together enough grants and scholarships to be able to afford drama school.
Then, she relied on a series of temp roles, including the disastrous stint on a tabloid diary desk that inspired her 2009 show My Daily Mail Hell. When I ask her what impact that slow and difficult start has had on her career, she thinks long and hard.
"I think it made me not want to compromise," she says. "It's made me feel that my work is something I want to protect, something special, something I need to put everything into – because I know there's this parallel life I could have had."
In The Change, Christie plays Linda, a 50-year-old mother of two living exactly that kind of parallel life. She's a supermarket worker in Swindon with a husband who can't so much as replace a toilet roll for himself. In quiet moments, she keeps a ledger of all the invisible, unpaid labour that fills her days, from agonising hours scrubbing the kitchen to two dull minutes having sex with her spouse.
It's pretty funny but mostly incredibly sad: something echoed in production design that Christie describes as "deliberately drab and constricting", so Linda zooms away on a motorbike to rediscover her childhood in the Forest of Dean, a place where Christie herself spent dreamy holidays with her Irish Catholic parents and eight siblings.
"When I was a child it felt so mysterious and otherworldly and exotic," she says. "It has a really special place in my heart – and I think a lot of people have a place like that, where they feel connected to the trees and the soil and the land."
Christie's work has always needled at the gendered injustices of the world, but this wilder, folksong-sound-tracked aesthetic feels like a departure for her. But as she explains, it's long been something she's interested in: "Our lives are full of admin and structure and mediocrity, but also full of wonder and awe and magic. I love blending those things together. It's quite hard to do that in a stand-up, but with television, you can really explore that."
The Change's serendipitously fashionable folk horror aesthetic, female-centric story and gently gripping storytelling have meant that it's connected with audiences of all ages.
"I'm getting hundreds of messages," says Christie. "People are saying, 'I didn't realise I needed a show about menopause and eels in my life, but now I can't stop watching'."
But its most avid fans have been older women with a sense of pent-up frustration with a mainstream culture that still – despite signs of hope from Kate Winslet's refreshingly botox-free starring role in Sky Atlantic series Mare of Easttown to Miriam Margolyes' recent Vogue cover – saves its best efforts for exploring younger women's lives.
"The menopause just doesn't feel like something that gets included in scripts," says Christie. "It's a huge experience that's been eliminated from storytelling, so I really wanted to use my voice to prompt conversations about it. Millions of women throughout the centuries have gone through it on their own, and that's really sad."
The overt feminism of The Change feels refreshing in a world where conversations about gendered inequality have faded away from the mainstream. Christie's breakout 2013 show A Bic For Her exploded on to a scene where feminism was colliding with mainstream pop culture: "There was a lot of media coverage of issues like FGM, you had voices like Laura Bates and Caitlin Moran, it seemed to be really central," she remembers. "It goes in cycles doesn't it – now, politics is really fractured, and climate change is the thing that's being talked about more, so feminism's not high up in the news agenda, unless something really awful happens."
Arguably, one of the things that has stifled discussion of feminism in the mainstream is the painful schism over trans rights that's drawn up battle lines between its most prominent voices.
Christie has quietly shown her support for trans people, most recently by including a non-binary character in The Change: "I like writing stuff that doesn't exclude people," she says. "Why make things more difficult for a small group? That's not what I'm here for. I want to unite people, not divide people."
The camaraderie and warmth that have followed The Change's success have come at a good time for Christie. She was married to comedian Stewart Lee, but in August, Lee announced the end of their 17-year marriage, after reports that he's now dating 30-something comedian Rosie Holt. Understandably, it's something she doesn't want to talk about.
For now, Christie's itching to get on tour. Partly for the work: "When you do a show like that night after night it evolves very fast. It becomes much better. I'm looking forward to living it every day." And partly for the opportunity to update her always-glam wardrobe: "I always have a wander to see if there are any charity shops. My daughter tells me, 'Mum, you're so lucky, you always find something'."
Perhaps that's because she's full of persistence and positivity, whether she's rummaging through rails of pit-stained garms or hunting for work in a TV industry she describes as "a lottery". "I would be completely devastated not to get a second series of The Change – I've got two scripts ready to go already" she says. But whatever happens, she's got plans for more writing, more stand-up, more acting, more everything.
"It's just exciting to be here, in good health, and out of my reproductive years. I just love life, know what I mean?" she says. "And I would love other women to feel like that too."
Written by Alice Saville in iNews on 5th September 2023.
Filed Under: iNews, What Now?, Feature, Interview
---
Sign Up For Bridget's Newsletter