The week in TV - ★★★★
---
Bridget Christie embarks on a hilarious menopausal mission
Written by Barbara Ellen in The Guardian on June 25th, 2023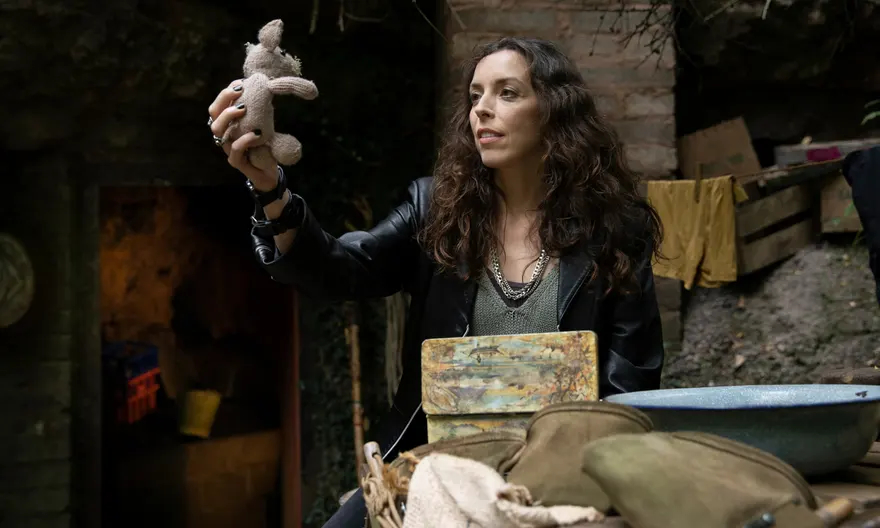 On a 'me-time odyssey': Bridget Christie as Linda in The Change. Photograph: Channel 4
The new six-part comedy, The Change (Channel 4), created by and starring comic Bridget Christie, is about a woman on a menopausal mission to rediscover herself. Wife and mother Lin (Christie) is underwhelmed by a 50th birthday party during which her husband (Omid Djalili) shows off by catching a sausage in his mouth. She cashes in all her "invisible" working hours and takes off on her motorbike on a me-time odyssey in the Forest of Dean, where she rents a dilapidated caravan.
The Change's main drive seems to be to rebrand menopause as an exciting feminine rebirth (And why not? There are more than enough takes on the male midlife crisis). Otherwise, there's an eco-theme (the trees fall under threat), Lin's childhood trauma, and local eccentrics: including Monica Dolan and Susan Lynch as the not-entirely-benign "Eel Sisters", Paul Whitehouse as a local oddball, Jerome Flynn playing a woods-dwelling "Pig Man", and Jim Howick as a radio-blowhard ("Is feminism literally killing men?").
The forest community seems overly mixed and idealised. Still, it's refreshing how Lin refuses to be riddled with maternal angst or stereotyped as a battleaxe. Ditto, The Change's defiantly mystical, folksy tone (there's music from Shirley Collins and a "folklore consultant" in the credits). When it all starts feeling too pastoral (dare I say, hippy?), Liza Tarbuck's brilliantly scathing turn as Lin's sister ("I've had enough of this whingey women's shit") cuts through the whimsy like a jet of hot sauce. Bar a few lulls, The Change is witty and unpredictable, with Lin emerging as a counterculture Shirley Valentine.
Written by Barbara Ellen in The Guardian on 25th June 2023.
Filed Under: The Change
---
Sign Up For Bridget's Newsletter