'I want a household chore revolution'
---
For Bridget Christie, the menopause came as a liberation and inspired her new comedy drama, The Change, she tells Alice Jones
Written by Alice Jones in The Times on June 19th, 2023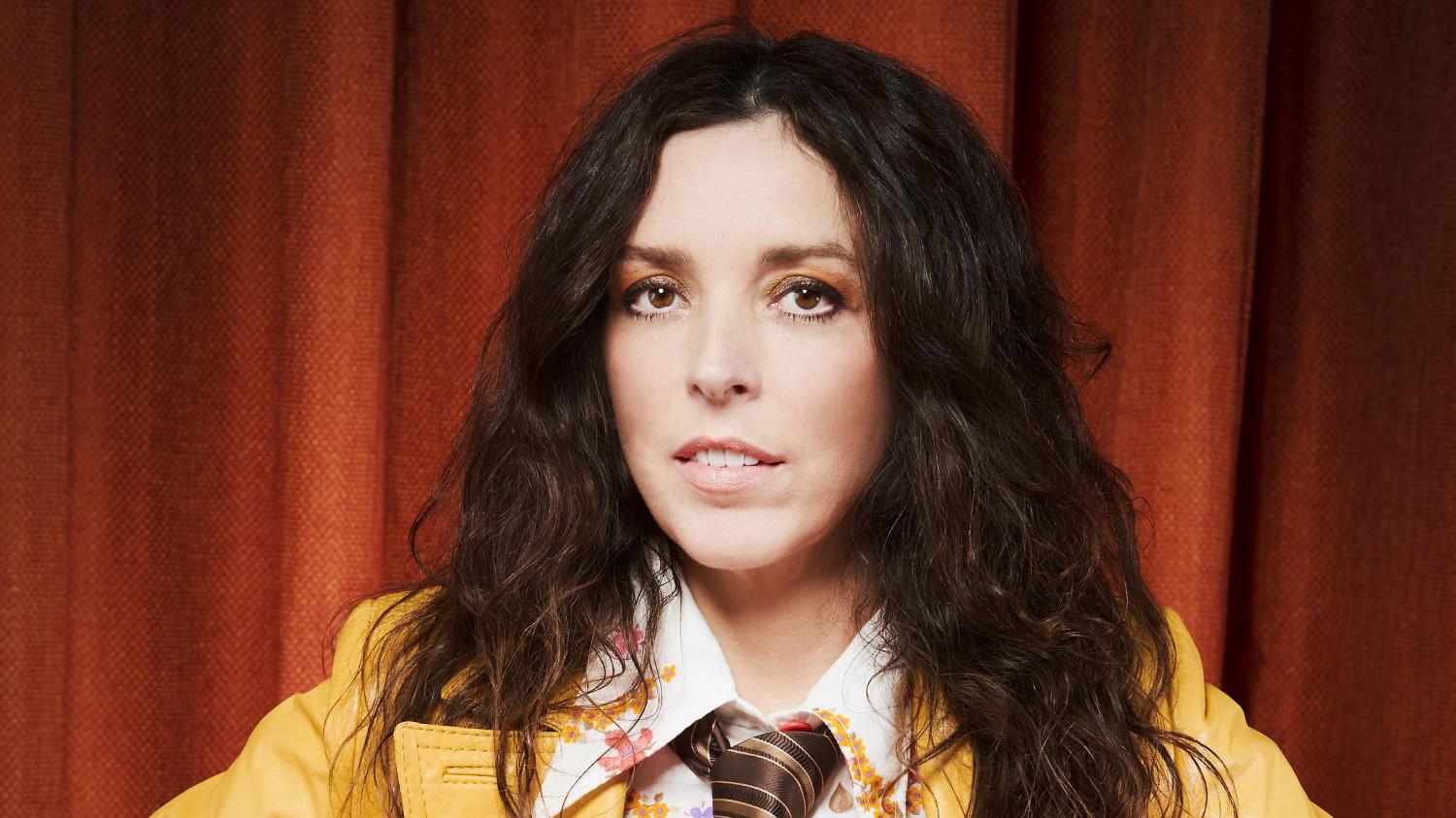 In her new comedy drama, The Change, Bridget Christie plays Linda, a supermarket worker with two children and one husband, who has spent the past 25 years secretly noting down in a ledger every minute and second she has spent doing "invisible" domestic labour. Emptied dishwasher: 2 min 10 sec. Cleaned bacon fat off grill: 3 min 45 sec. Wiped down windowsill: 30 sec. One day, shortly after her 50th birthday, she snaps.
She dusts off her Triumph motorbike and heads into the Forest of Dean, nominally to search for a time capsule she buried there as a child, but also to reclaim some of the time she has spent tidying up after others since then. About 44,000 minutes should do it, she says.
It's an arresting premise — Christie describes it, not inaccurately, as "The Deer Hunter meets Shirley Valentine meets Deliverance meets Detectorists" — which becomes more intriguing when the catalyst for Linda's departure is revealed to be the menopause. Far from embracing hot flushes and invisibility, she chooses adventure. Christie realised that she hadn't seen any shows featuring menopausal leads, despite the fact that, as she puts it, it affects "one-in-one women". "That's insane, right? There are more shows written by women now, which is brilliant. But they have tended to be young women's journeys," she says. "Let's have an inspiring story for an older woman who's in the menopause. The menopause has a really bad press. A third of women have a bad one, a third have an OK one and a third sail through. So let's hear about all the good stuff too."
The Change has been in gestation for seven years. Christie, who is 51 and best known as an award-winning stand-up, knew that she wanted to write a show about someone in midlife — "whose life hasn't perhaps turned out the way that they'd hoped" — who undergoes a rebirth. And she knew she wanted to set it in the Forest of Dean, in her native Gloucestershire, drawing on its folk traditions.
"But the world changed, I changed biologically, mentally. We had lockdown, I was perimenopausal, then I was menopausal. Now I haven't had a period for two years," Christie says. In the first episode of The Change, Linda goes to see a doctor, fearing that she has early onset dementia because she keeps forgetting words. On top of that, she reels off a litany of other self-diagnosed problems — anxiety, depression, tinnitus — until the doctor points out that they are all symptoms of the menopause. It was inspired by Christie's own experience. During lockdown she woke up at 3am "boiling hot, unable to sleep" every day for two years. She was forgetting words such as "apron" and "chandelier" and suffering heart palpitations and went to see a doctor, fearing dementia or cancer. It was neither.
"Now I'm out the other side of it, I do feel really liberated," Christie says. "I love myself much more than I have done for a very, very long time. I feel like I've wasted a lot of time not believing in myself and letting fear stop me from doing things." Like what? "I was scared of heights, I'm not now. I'd be scared of putting myself in situations where I have to be myself and I'm not now," she says. At the launch of The Change last week, as if to prove the point, she wore a full-length emerald silk ballgown, in a heatwave. When we meet, she is in denim cut-offs and a vest top, a gold B glints on a chain around her neck and her fingernails are bright blue. Like Linda, Christie rides a motorbike — a Triumph 1200cc Bonneville Bobber she bought herself for her 50th birthday, having been a biker in her youth. "My default position would always be to not do something," she says. "Now my default position is to say yes to everything. Linda taught me that."
In The Change, the Forest of Dean is a magical, timeless, somewhat sinister place, steeped in folklore and peopled with eccentrics — played by, among others, Paul Whitehouse, Monica Dolan and Tanya Moodie. It's Christie's home turf — she grew up in Gloucester and Lydney, and still goes on holiday there. She remembers going to the Cooper's Hill cheese roll as a child and had morris dancers at her wedding. The series culminates at the local (fictional) eel festival in which the townsfolk dress up as eels and celebrate the cycle of life. Christie chose eels "because they don't have a gender until they decide to reproduce . . . and then they die". Linda pretends to be childless when she arrives in the forest. "Once you say to someone you're a mother," Christie says. "You become someone else."
Like Linda, Christie has two children — Daisy, 12, and Luke, 16, and one husband, the comedian Stewart Lee. But it doesn't pay to try to match what Christie says about her private life in her comedy to domestic reality. In her stand-up she refers to Lee as "my fictional on-stage husband" and implies that he is a sexist, racist pig. In The Change Linda's husband, Steve — played by Omid Djalili — is an unreconstructed boor whose party trick is catching sausages in his mouth. When Linda leaves him he reverts to a feral, lavatory roll-less state, texting her about where the towels are kept. I interviewed Lee last summer when Christie was filming The Change. "I said [to Bridget], you know, when this comes out, everyone's going to say that that's me," he said. Christie rolls her eyes. "Oh God, right, well, I mean, he's not," she says. "Omid said that he had to do absolutely no research, so if Steve is based on anyone, it's on Omid. He basically just turned up." Lee hasn't seen The Change yet. "It's always easier to keep things separate," she says airily.
Christie has wanted to act since the age of four — a product, she thinks, of being the youngest of nine children. She went to drama school, but after years of failed auditions she turned to comedy. For ten years she performed stand-up shows to tiny audiences dressed, variously, as King Charles II, an ant and the plague. It was only in 2013 that she appeared on stage as herself — with no more complicated costume than a "Deeds Not Words" slogan T-shirt — and told brilliant jokes about sexism, that she found her voice. A Bic for Her won the Edinburgh Comedy award that year. When she went on Have I Got News for You nine months later Jack Dee introduced her "as a woman who collected her Foster's comedy award wearing a 'No More Page 3' T-shirt, but got a bigger round of applause when she took it off".
She resented being reduced to a "woman who has tits" and hasn't appeared on the show since. Deeds not words.
In August she will take her most recent show, Who Am I?, to the Edinburgh Fringe before going on tour. Like The Change, it tackles the menopause, climate change and cancel culture. Her next stand-up show will be dedicated entirely to the environment, she thinks. "What I love about writing comedy is that it's a puzzle. How can I talk about this thing that is important to me, but in a funny way? I'm kind of addicted to that," she says. "If I didn't talk about these things, I think I'd be ill. I'd definitely have a lot of stomach and back problems and my neck would go."
We return to that ledger of chores in The Change. "I want there to be a household chore revolution!" she says, bouncing out of her chair. "If we cannot sort out the distribution of household chores equally and fairly, how are we going to sort out the more complicated stuff? We're partly to blame for doing it, but if we don't do it, then what happens? It takes time and women's time is as valuable as men's."
Could The Change, then, bring about real change? "I hope that people watch it and get angry about HS2, the destruction of ancient woodlands, the lives of women and the loss of community, but that they feel hope as well. Because I feel hope and I'm really happy. I feel liberated and like
I want to embrace where I am in my life, and the future," she says. "And the menopause has done that."
Written by Alice Jones in The Times on 19th June 2023.
Filed Under: The Change
---
Sign Up For Bridget's Newsletter