Alexei Sayle Presents…
---
Alexei Sayle Presents, Soho Theatre, review
Written by Steve Bennett in Chortle on January 25th, 2012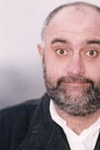 Alexei Sayle says it was a reluctant decision to return to stand-up after such a along absence, admitting that he was wary he might only be held in such high regard as a founding father of alternative comedy because so few people had actually seen him on stage.
'Diluting the legacy' his wife called his comeback– a title for a tour if ever there was one. But on the evidence of this, just his fourth gig in 16 years, Britain's pioneering anarcho-Marxist comedy star-cum-Mrs Marple actor has very little to fear.
Sure, at the age of 59, some of the feral aggression has gone, as have some of the old certainties. 'Politics is a lot more complicated now,' he says – but that could just as well be the effects of his broader life's experience, not just the blurring of the old left vs right battle lines of the Eighties.
Sayle's more recent work encompasses adverts for the Wild Bean Café, which might, he confesses, suggest a toning down of his firebrand tendencies. But hasn't abandoned his beliefs altogether, with a closing routine that carries a reference to the Sabra and Shatila massacre.
But politics is – and always was – just one ingredient in the pie, and Sayle is just as happy doing pub gags about blind hippos going in to pubs, or observational routines deconstructing Casualty. In the wrong hands either could be hack, but Sayle has strong instincts and a rascally delivery that makes this effortless and fun. And while the full-on mania has gone, it's been replaced by a more accessible, natural wit.
His own career informs much of his self-deprecating material, including a couple of well-pitched anecdotes from his brief stint as a novelty pop star, and an especially delightful piece about how Ben Elton – his successor as Comedy Store compere – got his own back after being the brunt of Sayle's festering disdain for years. A couple of these segments are old material, but he still makes them feel fresh, thanks to the timing and genial presence it's almost impossible to fake.
This isn't a full comeback, but a tentative toe in the water as he fronts a series of cross-generational showcases in the Soho Theatre's lovely basement club. And whether it's what he's doing on stage now, or the more unruly days he represents, but he engenders a playfully feisty atmosphere in the crowd, which rears its head a couple of times.
In the guise of her ant comedian, Bridget Christie largely baffles the audience, which is slightly surprising as such surreal oddness is surely a throwback to the best days of alternative cabaret. Even though her ridiculous parallels between the prejudices faced by female comedians and formic ones deserves better than this, she remains cheerfully stoic, insisting awkwardness was what she always planned as 'laughter is undignified'.
Nonetheless, the audience really get into the spirit of things when she embarks on her ant based puns, with a series of perfectly-judged heckles all ending in '-ant' – and the ensuing banter on both sides1 lifts the set.
No such disrespect is afforded Simon Munnery, who is given free rein to entertain with his pithy, oblique gags. He opens with a routine about killing dogs that's skilfully inoffensive, before re-enacting an imaginary theological debate with Richard Dawkins, who is given the voice of a particularly pedantic EL Wisty. And all that's relatively mainstream in comparison to his jauntily geeky song about the architects of the ill-fated R101 airship, which nonetheless hits the mark. His current tour, named after that track, is a return to form after a few years of treading water – and this charming, sharp set continued that winning streak.
The audience were back on their springs for Josie Long, vocally challenging her account that there was a time when people stood in front of their televisions for the National Anthem played at closedown came. But she handled it beautifully, calling up her expert witness, and creating a nice moment of spontaneity.
At the start of her set, she confessed it has been a while since she'd performed just 20 minutes – and in the event stayed on stage for what must have been about twice that, which seemed too long in the context of this showcase.
This aside, her political-tinged routine, with its key themes of fair taxation and universal free education can be a little soapboxy, but she wins through on puppyish charm and passionate conviction. But even she appeared shocked when her suggestion the Royals' heads should be on spikes was so enthusiastically endorsed by what she considered a conservative audience – indicating Sayle's fans haven't entirely softened in their advancing middle age.
For despite his reservations about putting his hat back in the stand-up ring, this is his show, and even though he had penned only a few routines for the occasion, it certainly proved he can still be relevant – and more importantly funny – after his absence. It's early days, but his legacy looks more than safe so far.
Written by Steve Bennett in Chortle on 25th January 2012.
Filed Under: Review
---
Sign Up For Bridget's Newsletter