Bridget Christie Minds The Gap
Bridget Christie: fun, feminism and the wind of change
---
With a radio show and TV roles coming up, it's time to get to know Bridget Christie
Written by Emma John in The Observer on March 3rd, 2013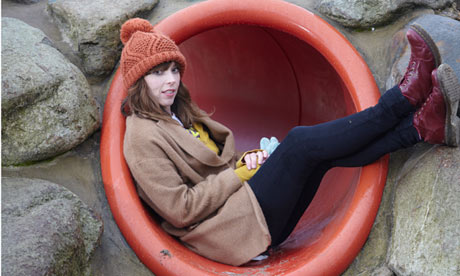 Bridget Christie's face is alight. "It's come to me in the same way, I imagine, that God comes to people," she says, excitedly. "It was like I had an epiphany." Not many people's life-defining moments come when a man farts in a bookshop. But this was a turning point for Christie, the moment when she realised she was a feminist, and it's a story told to hilarious effect in her new Radio 4 comedy series, Bridget Christie Minds the Gap.
It was the end of a trying day – a project cancelled; a particularly spiteful review – and, suffice to say, that bodily emission prompted an almost religious experience. "A lot of women don't realise that they're feminists," Christie says, exuding a convert's fervour. "The problem now is people don't really understand what feminism is or what it means because it's been stigmatised."
Christie's mission – to expose misogyny, and put the funny back in the F word – is a new direction for an avant garde comic whose oeuvre is more associated with the surreal. Her popular Edinburgh shows have involved her dressing up as plagues and viruses, a donkey, and an ant; she once delivered an entire show as "Japanese knotweed", tied up in plastic foliage. "My producer said we love you, but we have no idea what to do with you," she laughs.
But if it's taken time for Christie to get her break – she's been doing standup for nine years – her name is certainly about to become better known. Aside from her first solo radio show, she'll be seen this month alongside Kevin Eldon in his new BBC2 comedy It's Kevin, on the Channel 4 sketch show Anna & Katy, and there are appearances on Comedy Central's The Alternative Comedy Experience. She has also found a champion in Harry Hill. "He needed an ant [for his show] and there were no other ant comedians on the circuit," Christie deadpans.
As the ninth child in an Irish Catholic family, it's little wonder Christie ended up in comedy – she must have spent her whole childhood fighting for attention. She agrees. "My dad said that when I was four I walked through a room full of his friends with my nose in the air and said 'If there's one thing I hate, it's being ignored.'" She left school at 15 not because she was a rebel but because she wanted to work, and had a mortgage by the time she was 18.
Now, with two children of her own, Christie says it's time to "balance the books" with material that can educate as well as entertain. "Is this worth saying? Is it worth being away from my children? Is it worth going to this gig where my babysitter will earn more than me? It wouldn't be if I was talking about, say, kettles. But if I've stopped one person from having cosmetic surgery, or one young girl from feeling that they have to submit to peer pressure…" She catches herself becoming earnest. "Of course, I musn't forget I have to make them laugh. There's no reason I can't talk about feminism and be ridiculous as well."
Bridget Christie Minds the Gap starts on Radio 4 on 7 March, 11pm
Written by Emma John in The Observer on 3rd March 2013.
Filed Under: Bridget Christie Minds The Gap, Interview
---
Sign Up For Bridget's Newsletter