Bridget Christie Minds The Gap
Why we're all getting funny about feminism
---
The 'F' word now has a new set of role models
in Stylist.co.uk on March 1st, 2013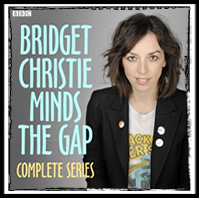 When comedian Bridget Christie's new radio show quietly launched earlier this month, few people believed her modern take on feminism would be so funny. Cue a Twitteravalanche of praise, the Radio 4 Comedy Of The Week award and a surge of support from Harry Hill, Sarah Millican and Katy Brand. Here, Bridget tells Stylist what the point of feminism is in 2013
"Feminism's not new and it's not modern. But it is big and it is clever. It's been around for a long time, if not in name, then certainly in practice. Way before French philosopher Charles Fourier invented the word feminist in 1837, Mary Wollstonecraft (regarded as the inventor of modern feminism) was championing women's rights with the publication of A Vindication Of The Rights Of Woman in 1792. And before her, Boudica was fighting Romans and destroying London. Even cavewomen grunted that when their cave art got reviewed, all the critics talked about was the size of their breasts. Probably.
Previous waves of feminism have thrown up some hugely inspirational women. Activists like Emmeline Pankhurst, Emily Wilding Davison and Millicent Garrett Fawcett, who won us the vote in 1928, writers such as Simone de Beauvoir, Virginia Woolf, Germaine Greer and Naomi Wolf, and I salute them all. But we can't keep showing our daughters sepia photos of the suffragettes, because young girls can't relate to them. Young girls can vote and vajazzle and vomit at weekends now. A woman in a big hat and a corset holding a placard doesn't mean anything to them.
Feminism's taken a real pasting over the last 20 years. It's become a dirty word. But it's all changing, thanks to a new generation of feminists who speak to young women in ways that they can understand – by talking about female emancipation in less than 140 characters. People like Lena Dunham, Caitlin Moran, Pussy Riot and Laurie Penny talk about sex and pubic hair and political reform. They protest. And they're unembarrassed. Plus, they've got dyed hair and cool clothes, which helps.
I love all these women, but for me, the real feminist heroine of our times is Malala Yousafzai, the 15-year-old Pakistani schoolgirl shot by the Taliban for wanting the same thing Wollstonecraft did 221 years ago – the right for girls to be educated. We might look modern, but our battles are anything but."
Stylist.co.uk on 1st March 2013.
Filed Under: Bridget Christie Minds The Gap, Feature
---
Sign Up For Bridget's Newsletter