Bridget Christie at Leicester Square Theatre review: Her comic potency remains undiminished - ★★★★
---
The highly accomplished stand-up's new show deserves to be seen by as many people as possible
Written by Bruce Dessau in Evening Standard on December 15th, 2021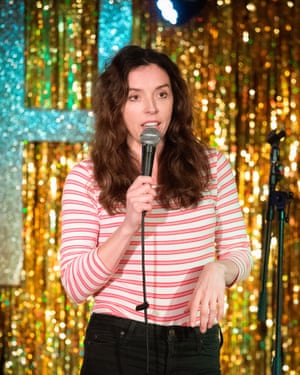 As theatres are hit by Covid outbreaks the live comedy industry looks on anxiously. Stand-up shows tend to be smaller scale productions so let us hope that they can weather this latest storm. Bridget Christie's run opened last night and deserves to be seen by as many people as possible.
Who Am I? has been described by some as a show about the menopause, but that barely does it justice. The award-winning comic starts off by announcing that at the age of 50 she is waist deep in the menopause trenches, all hot flushes and hormone changes. But her hilarious monologue is about so much more, from sexism to politics to the correct way to sort out your tupperware.
Firstly though Christie addresses the process which "affects one-in-one women." She is particularly entertaining about her memory lapses, at one point delivering a frenetic word association game trying to name a particular actor. Of course she could use Google, but that would be cheating. And nowhere near as comical.
As the set evolves the menopause becomes a way to discuss the way society sidelines women. When men age they acquire gravitas, while women become invisible. This familiar observation is given an unfamiliar twist. She has to wear hi-vis cycling gear to get served in shops. Halfords has become her fashion outlet of choice.
Scores are settled with figures as diverse as Boris Johnson, Ricky Gervais and – it is not just men in her crosshairs – Phoebe Waller-Bridge, but points are never laboured. She gets to her pay-off and moves on.
While there are overtly serious asides, most notably a tribute to her formidable mother who had nine children, this is essentially a mischievously subversive work full of laugh-out-loud gags. Some clever, some silly, some both. When the phrase "pulling out" is used it is inevitable a contraception punchline is coming, but she still surprises with the precision of her wit.
Christie's delivery ranges from mild exasperation to full-blown rage, her arms waving about wildly as she recalls a Homebase car park incident or her brain-fogged attempts to remember ingredients when baking.
The performance ends with an account of being flashed at, a young man "presenting it like it was a Fabergé egg." It is a beautifully crafted finale leading to an exquisite piece of physical humour and a striking image that is hard to unsee.
It is worth underlining that this show is not solely aimed at women of Christie's age. The first night audience was predominantly young, not just female and everyone was laughing. The star's oestrogen levels might be lowering, but her comic potency is clearly undiminished.
Written by Bruce Dessau in Evening Standard on 15th December 2021.
Filed Under: Who Am I?, Review
---
Sign Up For Bridget's Newsletter