Little Newsletter – 28th March 2018

Posted 6 years ago on March 28th, 2018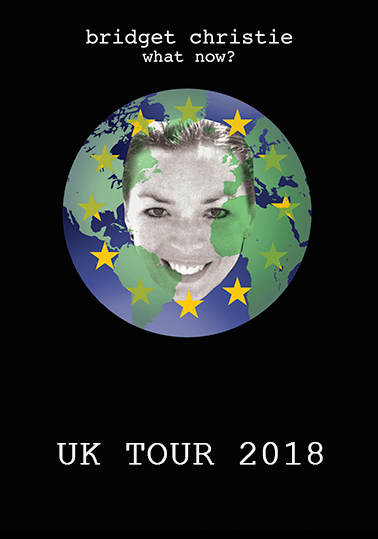 Hello Everyone,
This is just a quick email to say thanks for coming to Glasgow & Liverpool & kicking off the tour for WHAT NOW?
If you scroll down this email, you'll see the rest of the dates currently booked in.
On top of the tour shows, I'm also doing;
25th April – Josie & Jonny's gig.
11th April – David Reed's "Inside The Comedian" Podcast.
17th April – Shaun Keaveney's "Show & Tell" podcast.
Durham
If you know anyone in Durham tell them to come and that I will be doing a very special type of show just in Durham that will never be repeated, so they must come to Durham.
Most of the other dates for my 2018 tour are on sale now, too – listed below,
There will be a few more, too, once finalised – so do keep an eye on the gigs page, but in the meantime…
Bridget
---
Live Dates
April 2018
Wednesday 18th – WHAT NOW? – (W-I-P) Museum Of Comedy, LONDON – 8.30pm – 020 7534 1744 – TICKETS
Thursday 19th – WHAT NOW? – (W-I-P) Museum Of Comedy, LONDON – 7pm – 020 7534 1744 – TICKETS
---
Saturday 21st – WHAT NOW? – Gala Theatre, DURHAM – 7.30pm – 03000 266600 – TICKETS
Saturday 28th – WHAT NOW? – Old Vic, BRISTOL – 8pm – 0117 987 7877 – TICKETS
May 2018
Thursday 3rd – WHAT NOW? – The Dukes, LANCASTER – 8pm – 01524 598500 – TICKETS
Friday 4th – WHAT NOW? – The Lowry, SALFORD QUAYS – 8pm – 0843 208 6000 – TICKETS
Saturday 5th – WHAT NOW? – The Lowry, SALFORD QUAYS – 8pm – 0843 208 6000 – TICKETS
Wednesday 9th – WHAT NOW? – Festival Marquee, Custom House Square, BELFAST – 8pm – 028 90 246609 – TICKETS
Thursday 17th – WHAT NOW? – Truck Theatre, HULL – 7.30pm – 01482 323638 – TICKETS
Friday 18th – WHAT NOW? – The Dome, BRIGHTON – 7.30pm – 01273 709 709 – TICKETS
Sunday 20th – WHAT NOW? – Courtyard, West Yorks Playhouse, LEEDS – 7.45pm – 0113 2137700 – TICKETS
Monday 21st – WHAT NOW? – Courtyard, West Yorks Playhouse, LEEDS – 7.45pm – 0113 2137700 – TICKETS
Tuesday 22nd – WHAT NOW? – Derby Theatre, DERBY – 8pm – 01332 593939 – TICKETS
Thursday 24th – WHAT NOW? – Sherman Theatre, CARDIFF – 7.45pm – 029 2064 6900 – TICKETS
June 2018
Saturday 2nd – WHAT NOW? – Hay Festival, HAY – 9.45pm – 01497 822 629 – TICKETS
Monday 4th – WHAT NOW? – Crucible Theatre (Studio), SHEFFIELD – 7.45pm – 0114 249 6000 – TICKETS
Tuesday 5th – WHAT NOW? – Crucible Theatre (Studio), SHEFFIELD – 7.45pm – 0114 249 6000 – TICKETS
Saturday 9th – WHAT NOW? – Comedy Hall, TIVERTON – 8pm – 07443 502523 – TICKETS
Monday 18th – WHAT NOW? – The Stand, NEWCASTLE – 8.30pm – 0191 300 9700 – TICKETS
Tuesday 19th – WHAT NOW? – The Stand, NEWCASTLE – 8.30pm – 0191 300 9700 – TICKETS
Thursday 21st – WHAT NOW? – Playhouse, NOTTINGHAM – 8pm – 0115 941 9419 – TICKETS
Wednesday 27th – WHAT NOW? – Picturehouse, HEBDEN BRIDGE – 7pm – 01422 842807 – TICKETS
Friday 29th – WHAT NOW? – Playhouse, OXFORD – 7.30pm – 01865 305305 – TICKETS
Saturday 30th – WHAT NOW? – Playhouse, OXFORD – 7.30pm – 01865 305305 – TICKETS
September 2018
Monday 10th – WHAT NOW? – Leicester Square Theatre, LONDON – 7pm – 020 7734 2222 – TICKETS
Tuesday 11th – WHAT NOW? – Leicester Square Theatre, LONDON – 7pm – 020 7734 2222 – TICKETS
Wednesday 12th – WHAT NOW? – Leicester Square Theatre, LONDON – 7pm – 020 7734 2222 – TICKETS
Thursday 13th – WHAT NOW? – Leicester Square Theatre, LONDON – 7pm – 020 7734 2222 – TICKETS
Thursday 20th – WHAT NOW? – Leicester Square Theatre, LONDON – 7pm – 020 7734 2222 – TICKETS
Friday 21st – WHAT NOW? – Leicester Square Theatre, LONDON – 7pm – 020 7734 2222 – TICKETS
Saturday 22nd – WHAT NOW? – Leicester Square Theatre, LONDON – 7pm – 020 7734 2222 – TICKETS
October 2018
Tuesday 2nd – WHAT NOW? – Leicester Square Theatre, LONDON – 7pm – 020 7734 2222 – TICKETS
Wednesday 3rd – WHAT NOW? – Leicester Square Theatre, LONDON – 7pm – 020 7734 2222 – TICKETS
Thursday 4th – WHAT NOW? – Leicester Square Theatre, LONDON – 7pm – 020 7734 2222 – TICKETS
Tuesday 9th – WHAT NOW? – Leicester Square Theatre, LONDON – 7pm – 020 7734 2222 – TICKETS
Wednesday 10th – WHAT NOW? – Leicester Square Theatre, LONDON – 7pm – 020 7734 2222 – TICKETS
Thursday 11th – WHAT NOW? – Leicester Square Theatre, LONDON – 7pm – 020 7734 2222 – TICKETS
Friday 12th – WHAT NOW? – Leicester Square Theatre, LONDON – 7pm – 020 7734 2222 – TICKETS
Tuesday 30th – WHAT NOW? – Leicester Square Theatre, LONDON – 7pm – 020 7734 2222 – TICKETS
Wednesday 31st – WHAT NOW? – Leicester Square Theatre, LONDON – 7pm – 020 7734 2222 – TICKETS
November 2018
Thursday 1st – WHAT NOW? – Leicester Square Theatre, LONDON – 7pm – 020 7734 2222 – TICKETS
Friday 2nd – WHAT NOW? – Leicester Square Theatre, LONDON – 7pm – 020 7734 2222 – TICKETS
Saturday 3rd – WHAT NOW? – Leicester Square Theatre, LONDON – 7pm – 020 7734 2222 – TICKETS
Tuesday 6th – WHAT NOW? – Leicester Square Theatre, LONDON – 7pm – 020 7734 2222 – TICKETS
Wednesday 7th – WHAT NOW? – Leicester Square Theatre, LONDON – 7pm – 020 7734 2222 – TICKETS
Thursday 8th – WHAT NOW? – Leicester Square Theatre, LONDON – 7pm – 020 7734 2222 – TICKETS
Friday 9th – WHAT NOW? – Leicester Square Theatre, LONDON – 7pm – 020 7734 2222 – TICKETS
Saturday 10th – WHAT NOW? – Leicester Square Theatre, LONDON – 7pm – 020 7734 2222 – TICKETS
---