May Newsletter

Posted 6 years ago on May 1st, 2018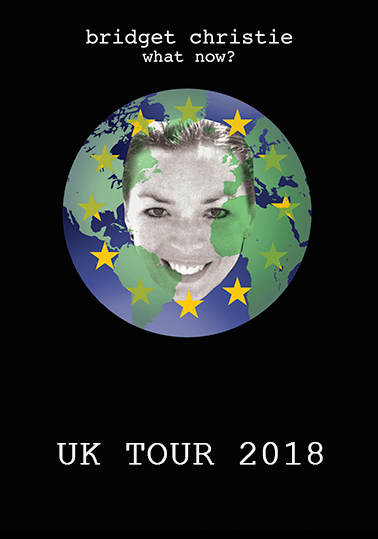 Helloooo!!
My orange cat has outwitted the cat flap. He has worked out how to get out when it's set to "entry only" by using his left paw to push the button down whilst simultaneously getting his right claws underneath the flap and then pulling it towards himself. Does anyone know if orange cats are particularly clever? Anyway, it's GREAT fun to watch.
The other two dumb boats watch him doing it but can't manage it themselves. They are siblings. They have had the same access to education and upbringing so just wondering if it was an orange-related thing.
Tour – What Now?
Thank you for coming to the Glasgow, Liverpool, Durham and Bristol shows!!!! You were all brilliant.
Tour kicks in properly from mid-May AND I EXPECT TO SEE YOU ALL THANK YOU VERY MUCH.
REMEMBER LIVE WORK IS MY MAIN SOURCE OF INCOME AND IF YOU DON'T COME I'LL HAVE TO GIVE 2 OF THE CATS AWAY AND IT WON'T BE THE ORANGE ONE.
It is a brand new show. I take all of my clothes off at one point, so you won't want to miss that will you? I will also be divulging some VERY JUICY TOP SECRET CELEBRITY GOSSIP. I have also managed to convince an A list Hollywood star who's never done stand up before to open for me, naked, and you won't want to miss that either will you?
Dates at the bottom of this email . Or on the website here.
Physical CDs for sale: Utopia/Minds the Gap Series 1 and 2
Very excitingly, I've had CDs made of all my BBC Radio 4 series and will be signing copies after shows (they should be ready mid-May), along with the old book of course, so I look forward to looking into your eyes and taking even more of your hard-earned money off you then.
You can also get them as digital downloads, here;
The odd circuit gig or festival
Laugh Out London, The Old Queen's Head, Angel – 14th May – TICKETS
Latitude Festival, Southwold, Suffolk – 13th July – TICKETS
Radio
I'll be on Radcliffe and Maconie on Weds 16th May
Steve Wright interview LISTEN HERE.
THANKS!
Bridget
---
WHAT NOW? UK TOUR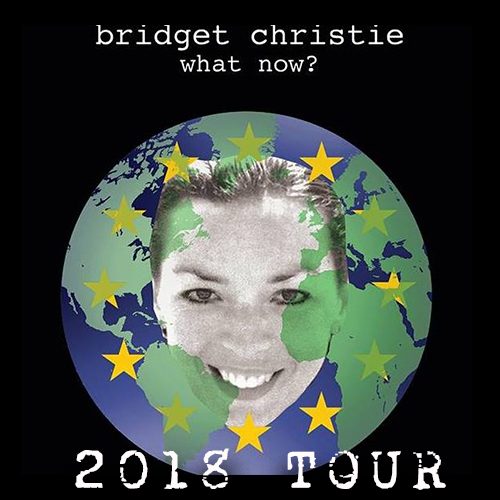 May 2018
Thursday 3rd – WHAT NOW? – The Dukes, LANCASTER – 8pm – 01524 598500 – TICKETS
Friday 4th – WHAT NOW? – The Lowry, SALFORD QUAYS – 8pm – 0843 208 6000 – TICKETS
Saturday 5th – WHAT NOW? – The Lowry, SALFORD QUAYS – 8pm – 0843 208 6000 – TICKETS
Wednesday 9th – WHAT NOW? – Festival Marquee, Custom House Square, BELFAST – 8pm – 028 90 246609 – TICKETS
Thursday 17th – WHAT NOW? – Truck Theatre, HULL – 7.30pm – 01482 323638 – TICKETS
Friday 18th – WHAT NOW? – The Dome, BRIGHTON – 7.30pm – 01273 709 709 – TICKETS
Sunday 20th – WHAT NOW? – Courtyard, West Yorks Playhouse, LEEDS – 7.45pm – 0113 2137700 – TICKETS
Monday 21st – WHAT NOW? – Courtyard, West Yorks Playhouse, LEEDS – 7.45pm – 0113 2137700 – TICKETS
Tuesday 22nd – WHAT NOW? – Derby Theatre, DERBY – 8pm – 01332 593939 – TICKETS
Thursday 24th – WHAT NOW? – Sherman Theatre, CARDIFF – 7.45pm – 029 2064 6900 – TICKETS
June 2018
Saturday 2nd – WHAT NOW? – Hay Festival, HAY – 9.45pm – 01497 822 629 – TICKETS
Monday 4th – WHAT NOW? – Crucible Theatre (Studio), SHEFFIELD – 7.45pm – 0114 249 6000 – TICKETS
Tuesday 5th – WHAT NOW? – Crucible Theatre (Studio), SHEFFIELD – 7.45pm – 0114 249 6000 – TICKETS
Saturday 9th – WHAT NOW? – Comedy Hall, TIVERTON – 8pm – 07443 502523 – TICKETS
Monday 18th – WHAT NOW? – The Stand, NEWCASTLE – 8.30pm – 0191 300 9700 – TICKETS
Tuesday 19th – WHAT NOW? – The Stand, NEWCASTLE – 8.30pm – 0191 300 9700 – TICKETS
Thursday 21st – WHAT NOW? – Playhouse, NOTTINGHAM – 8pm – 0115 941 9419 – TICKETS
Wednesday 27th – WHAT NOW? – Picturehouse, HEBDEN BRIDGE – 7pm – 01422 842807 – TICKETS
Friday 29th – WHAT NOW? – Playhouse, OXFORD – 7.30pm – 01865 305305 – TICKETS
Saturday 30th – WHAT NOW? – Playhouse, OXFORD – 7.30pm – 01865 305305 – TICKETS
September 2018
Friday 7th – WHAT NOW? – Tobacco Factory, BRISTOL – TBCpm – 0117 902 0344 – ON SALE SOON
Saturday 8th – WHAT NOW? – Tobacco Factory, BRISTOL – TBCpm – 0117 902 0344 – ON SALE SOON
Monday 10th – WHAT NOW? – Leicester Square Theatre, LONDON – 7pm – 020 7734 2222 – TICKETS
Tuesday 11th – WHAT NOW? – Leicester Square Theatre, LONDON – 7pm – 020 7734 2222 – TICKETS
Wednesday 12th – WHAT NOW? – Leicester Square Theatre, LONDON – 7pm – 020 7734 2222 – TICKETS
Thursday 13th – WHAT NOW? – Leicester Square Theatre, LONDON – 7pm – 020 7734 2222 – TICKETS
Thursday 20th – WHAT NOW? – Leicester Square Theatre, LONDON – 7pm – 020 7734 2222 – TICKETS
Friday 21st – WHAT NOW? – Leicester Square Theatre, LONDON – 7pm – 020 7734 2222 – TICKETS
Saturday 22nd – WHAT NOW? – Leicester Square Theatre, LONDON – 7pm – 020 7734 2222 – TICKETS
October 2018
Tuesday 2nd – WHAT NOW? – Leicester Square Theatre, LONDON – 7pm – 020 7734 2222 – TICKETS
Wednesday 3rd – WHAT NOW? – Leicester Square Theatre, LONDON – 7pm – 020 7734 2222 – TICKETS
Thursday 4th – WHAT NOW? – Leicester Square Theatre, LONDON – 7pm – 020 7734 2222 – TICKETS
Friday 5th – WHAT NOW? – Theatre Royal, WINCHESTER – 8pm – 01962 840 440 – TICKETS
Saturday 6th – WHAT NOW? – Corn Exchange, EXETER – 7.30pm – 01392 665938 – TICKETS
Tuesday 9th – WHAT NOW? – Leicester Square Theatre, LONDON – 7pm – 020 7734 2222 – TICKETS
Wednesday 10th – WHAT NOW? – Leicester Square Theatre, LONDON – 7pm – 020 7734 2222 – TICKETS
Thursday 11th – WHAT NOW? – Leicester Square Theatre, LONDON – 7pm – 020 7734 2222 – TICKETS
Friday 12th – WHAT NOW? – Leicester Square Theatre, LONDON – 7pm – 020 7734 2222 – TICKETS
Tuesday 30th – WHAT NOW? – Leicester Square Theatre, LONDON – 7pm – 020 7734 2222 – TICKETS
Wednesday 31st – WHAT NOW? – Leicester Square Theatre, LONDON – 7pm – 020 7734 2222 – TICKETS
November 2018
Thursday 1st – WHAT NOW? – Leicester Square Theatre, LONDON – 7pm – 020 7734 2222 – TICKETS
Friday 2nd – WHAT NOW? – Leicester Square Theatre, LONDON – 7pm – 020 7734 2222 – TICKETS
Saturday 3rd – WHAT NOW? – Leicester Square Theatre, LONDON – 7pm – 020 7734 2222 – TICKETS
Tuesday 6th – WHAT NOW? – Leicester Square Theatre, LONDON – 7pm – 020 7734 2222 – TICKETS
Wednesday 7th – WHAT NOW? – Leicester Square Theatre, LONDON – 7pm – 020 7734 2222 – TICKETS
Thursday 8th – WHAT NOW? – Leicester Square Theatre, LONDON – 7pm – 020 7734 2222 – TICKETS
Friday 9th – WHAT NOW? – Leicester Square Theatre, LONDON – 7pm – 020 7734 2222 – TICKETS
Saturday 10th – WHAT NOW? – Leicester Square Theatre, LONDON – 7pm – 020 7734 2222 – TICKETS
Saturday 24th – WHAT NOW? – Nuffield Theatre (NST City), SOUTHAMPTON – 7.30pm – 023 8067 1771 – TICKETS
---