End Of July Mini-news – Edinburgh Fringe

Posted 7 years ago on July 28th, 2016
Dear everyone,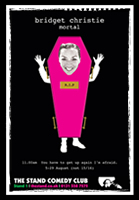 This is just a quick newsletter to remind you all / plug the fact that I will be back in Edinburgh again as of this time next week.
The show starts on the 5th August and half the dates are now sold out already, The Stand tell me the rest are close to selling out too, so if you wanted to get tickets, now might be the time.
For those of you not coming to the fringe, but are London-based, I've got 3 more previews next week, at the Museum of Comedy & The Cutty Sark.
Hope to see you at one of them, or in Scotland. Full, proper newsletter on the way soon!
1st – Museum of Comedy work in progress for 'Mortal' 7pm – TICKETS
2nd – Museum of Comedy work in progress for 'Mortal' 7pm – TICKETS
3rd – Cutty Sark work in progress for 'Mortal' 7.45pm – TICKETS
---