'Normal sex' is not having sex in a box in front of a studio audience.
Written by Bridget Christie in The Guardian on September 24th, 2013
If we need Channel 4's Sex Box to tell us how to have sex, we're better off not having it.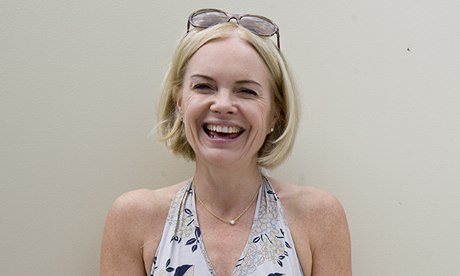 Let's talk about sex … Mariella Frostrup. Photograph: Martin Argles for the Guardian
In the past year, MPs, peers and staff in the Houses of Parliament tried to view sex 309,316 times. But they don't have sex in the Houses of Parliament. Not any more. Even I know that. They should've looked online instead. There's loads of sex on the internet. Or they could've just popped out to the newsagents and got some there. Or looked at some advertising. But the internet is best.
In fact there is so much sex on the internet and on our high streets that Diane Abbott MP is worried about how all this fake sex is affecting our children and our own sex lives. If Abbott knew the impact the smouldering, highly charged sexual chemistry she shared with Michael Portillo on This Week had on my own sex life and the sex lives of millions of ordinary, innocent people (not to mention its effect on Andrew Neil's hair), she might not be so outspoken on the subject.
Luckily, Channel 4 have also noticed how much sex there is everywhere and so, to counteract this "explosion of online pornography", they've commissioned a new show. That's got sex in it. How to boost your ratings while pretending to help society? Fight sex with sex! It's almost genius.
Anyway, in the show, called Sex Box, which sounds like an X-rated games console fronted by Tom Jones, three couples will have sex, in a box, in front of a studio audience, and then talk to Mariella Frostrup about it immediately afterwards. There won't be time for a cup of tea or a wash or to cry or lie about anything.
Channel 4's head of factual programming, Ralph Lee, said there was "nothing salacious" about the show and that "strangely it's quite a chaste programme – there's no sex in it". Eh? No sex?! I thought they were doing it in the box?
Can I just ask – does the box constitute a bedroom? Presumably it will have a bed in it. Will Channel 4 be liable for the bedroom tax? Will the couples be turfed out, moved to another TV studio that doesn't have a box and be made to do it on a sofa in reception?
Mariella, whose voice has been voted the sexiest in Britain, won't watch them doing it in the box, or read out a list of M&S products to them through a tube to get them going, but she will have to pretend to take the whole thing seriously after they come out of the sex box and look like she's not trying to avoid making any physical contact with them. I wouldn't imagine she'd want to shake their hands, will she? How will she greet them but avoid physical contact? Will she wear gardening gloves? Or curtsy? Will she bow? Or perform a Maasai dance? In 2007, Frostrup chaired a Q&A session with Gordon Brown at the Labour party conference in Bournemouth, so if she's used to that level of awkwardness, I'm sure she can handle a sweaty couple who've just been going at it in a box.
Looking at the publicity photographs, it's quite a big box, made out of wood or something. It's not a cardboard box. They should've called it Sex in a Box, and have whichever one climaxes first ejected out of the top of the box, while McFly (the house band) plays Pop Goes the Weasel. Apparently there is a sequel in development, called Sex in a Cardboard Box. A moving, insightful and not at all exploitative documentary about the sex lives of the homeless.
The programme's part of a season on Channel 4 called the Campaign for Real Sex, like the Campaign for Real Ale, but with less ale and more sex, and hopes to "reclaim sex from pornography". Lee said that the show is an opportunity for people who feel that their sex lives are not represented in the media to show the public what normal sex is like. I'm sorry, Ralph, I don't know what kind of sex you have, but "normal sex" is not having sex in a box in front of a live studio audience and then talking to Mariella Frostrup about it afterwards.
Even she doesn't do that. And since the bedroom tax, affordable housing shortage and massive rise in property prices, who's got a spare room to keep this massive sex box in anyway?
I like sex as much as the next person, but porn has monopolised sex. Showing more sex isn't necessarily the answer, even if it is inside a box. Internet service providers need to do more to stop children seeing inappropriate content and we need to look at how we use sex in advertising, and invest in proper sex education. And that doesn't mean Michael Gove telling teenagers that instead of sexting, they should send each other poems (using a commercially available app created by his wife's friend).
If we've got Channel 4 and Michael Gove telling us how to have sex, then we're better off not having it. Surely we all know what to do by now? We've been here for about 200,000 years. My own parents had nine children, without Channel 4 or the secretary of state for education breathing down their necks, giving them tips.
Having said all that, I'll definitely be watching Sex Box.
It sounds hilarious.
---
---
Sign Up For Bridget's Newsletter