Radio Recordings & Tour Dates

Posted 6 years ago on December 14th, 2017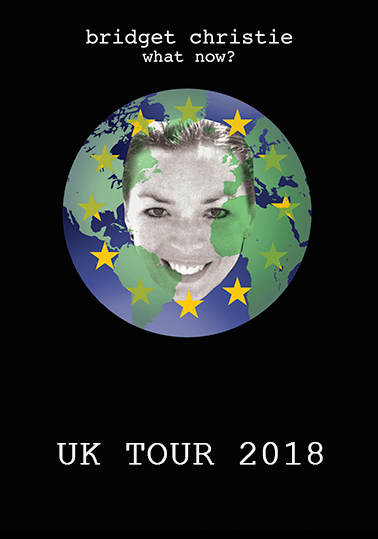 Ho Ho Ho!
Merry Christmas everyone!
Wow. What a year.
Highlights for me are getting 3 kittens, whooping cough, early osteoarthritis in both hips and a weird interstellar object ending up in our solar system.
I don't normally want anything for Christmas but this year I've asked Santa for aliens, a hip replacement, Trump's impeachment and a fungal nail treatment.
Have a great Christmas and Happy New Year!
BBC RECORDINGS!
Important info. The new link is up now for the rescheduled radio recordings.
It's here – BBC TICKETS
If you got a ticket to the June recordings you should've received an email from the BBC offering you tickets for the January dates. They've now put an extra recording in so there are now 3 dates to choose from.
It's for my new radio series; "Bridget Christie's Utopia", the dates are;
12th January – 7.15pm
17th January – 4.45pm
19th January – 7.15pm
and here's the BBC blurb;
"Bridget Christie is back on BBC Radio 4 with a brand new series. As she struggles to come to terms with world events over the last twelve months she goes in search of other ways of living, ways which might make her happier. Or not. Join this multi award-winning comic as she tries to find her own Utopia.

Admission to these recordings are on a first-come, first-served basis. Please note that as not everyone who asks for tickets uses them, to make sure we have a full house we send out more tickets than there are places. We do our best to get the numbers right, but unfortunately we occasionally have to disappoint people so please arrive early."
BE QUICK THESE GO VERY QUICKLY!
Most of the dates for my 2018 tour are on sale now, too – listed below, along with work in progress shows that are generating material for the radio show & the tour.
There will be a few more, too, once finalised – so do keep an eye on the gigs page.
Bridget
---
Live Dates
December 2017
DEC 14 (9.30pm); W-I-P – Battersea Arts Centre, London – TICKETS
DEC 16 (9.30pm); W-I-P – Battersea Arts Centre, London – TICKETS
January 2018
Monday 8th – WHAT NOW? (WORK-IN-PROGRESS) – Soho Theatre, LONDON – 7.30pm – 020 7478 0100 – TICKETS
Wednesday 10th – WHAT NOW? (WORK-IN-PROGRESS) – Soho Theatre, LONDON – 7.30pm – 020 7478 0100 – TICKETS
Thursday 11th – WHAT NOW? (WORK-IN-PROGRESS) – Soho Theatre, LONDON – 7.30pm – 020 7478 0100 – TICKETS
Saturday 13th – WHAT NOW? (WORK-IN-PROGRESS) – Soho Theatre, LONDON – 7.30pm – 020 7478 0100 – TICKETS
Sunday 14th – WHAT NOW? (WORK-IN-PROGRESS) – Soho Theatre, LONDON – 7.30pm – 020 7478 0100 – TICKETS
Monday 15th – WHAT NOW? (WORK-IN-PROGRESS) – Soho Theatre, LONDON – 7.30pm – 020 7478 0100 – TICKETS
Tuesday 16th – WHAT NOW? (WORK-IN-PROGRESS) – Soho Theatre, LONDON – 7.30pm – 020 7478 0100 – TICKETS
Wednesday 17th – WHAT NOW? (WORK-IN-PROGRESS) – Soho Theatre, LONDON – 7.30pm – 020 7478 0100 – TICKETS
Thursday 18th – WHAT NOW? (WORK-IN-PROGRESS) – Soho Theatre, LONDON – 7.30pm – 020 7478 0100 – TICKETS
Saturday 20th – WHAT NOW? (WORK-IN-PROGRESS) – Soho Theatre, LONDON – 7.30pm – 020 7478 0100 – TICKETS
Monday 29th – WHAT NOW? (WORK-IN-PROGRESS) – Battersea Arts Centre, London – 9.30pm – 020 7223 2223 – TICKETS
Tuesday 30th – WHAT NOW? (WORK-IN-PROGRESS) – Battersea Arts Centre, London – 9.30pm – 020 7223 2223 – TICKETS
Wednesday 31st – WHAT NOW? (WORK-IN-PROGRESS) – Vault Festival, LONDON – 9.30pm – 07598 676 202 – TICKETS
February 2018
Thursday 8th – WHAT NOW? (WORK-IN-PROGRESS) – Vault Festival, LONDON – 9.30pm – 07598 676 202 – TICKETS
Wednesday 28th – WHAT NOW? (WORK-IN-PROGRESS) – Vault Festival, LONDON – 9.30pm – 07598 676 202 – TICKETS
March 2018
Monday 5th – WHAT NOW? (WORK-IN-PROGRESS) – Leicester Square Theatre, LONDON – 8.30pm – 020 7734 2222 – TICKETS
Tuesday 6th – WHAT NOW? (WORK-IN-PROGRESS) – Leicester Square Theatre, LONDON – 8.30pm – 020 7734 2222 – TICKETS
Wednesday 7th – WHAT NOW? (WORK-IN-PROGRESS) – Leicester Square Theatre, LONDON – 8.30pm – 020 7734 2222 – TICKETS
Friday 9th – WHAT NOW? (WORK-IN-PROGRESS) – Leicester Square Theatre, LONDON – 8.30pm – 020 7734 2222 – TICKETS
Saturday 10th – WHAT NOW? (WORK-IN-PROGRESS) – Leicester Square Theatre, LONDON – 8.30pm – 020 7734 2222 – TICKETS
Friday 16th – WHAT NOW? – Citizen's Theatre, GLASGOW – 8pm – 0844 873 7353 – TICKETS
Saturday 17th – WHAT NOW? – Citizen's Theatre, GLASGOW – 8pm – 0844 873 7353 – TICKETS
Saturday 24th – WHAT NOW? – Playhouse, LIVERPOOL – 7.30pm – 0151 709 4776 – TICKETS
April 2018
Saturday 21st – WHAT NOW? – Gala Theatre, DURHAM – 7.30pm – 03000 266600 – TICKETS
May 2018
Thursday 3rd – WHAT NOW? – The Dukes, LANCASTER – 8pm – 01524 598500 – TICKETS
Friday 4th – WHAT NOW? – The Lowry, SALFORD QUAYS – 8pm – 0843 208 6000 – TICKETS
Saturday 5th – WHAT NOW? – The Lowry, SALFORD QUAYS – 8pm – 0843 208 6000 – TICKETS
Wednesday 9th – WHAT NOW? – Festival Marquee, Custom House Square, BELFAST – 8pm – 028 90 246609 – TICKETS
Thursday 17th – WHAT NOW? – Truck Theatre, HULL – 7.30pm – 01482 323638 – TICKETS
Friday 18th – WHAT NOW? – The Dome, BRIGHTON – 7.30pm – 01273 709 709 – ON SALE SOON
Sunday 20th – WHAT NOW? – Courtyard, West Yorks Playhouse, LEEDS – 7.45pm – 0113 2137700 – TICKETS
Monday 21st – WHAT NOW? – Courtyard, West Yorks Playhouse, LEEDS – 7.45pm – 0113 2137700 – TICKETS
Tuesday 22nd – WHAT NOW? – Derby Theatre, DERBY – TBCpm – 01332 593939 – ON SALE SOON
Thursday 24th – WHAT NOW? – Sherman Theatre, CARDIFF – 7.45pm – 029 2064 6900 – TICKETS
June 2018
Saturday 2nd – WHAT NOW? – Hay Festival, HAY – ON SALE SOON
Saturday 9th – WHAT NOW? – Comedy Hall, TIVERTON – 8pm – 07443 502523 – TICKETS
Monday 18th – WHAT NOW? – The Stand, NEWCASTLE – 8.30pm – 0191 300 9700 – TICKETS
Tuesday 19th – WHAT NOW? – The Stand, NEWCASTLE – 8.30pm – 0191 300 9700 – TICKETS
Thursday 21st – WHAT NOW? – Playhouse, NOTTINGHAM – 8pm – 0115 941 9419 – TICKETS
Friday 29th – WHAT NOW? – Playhouse, OXFORD – TBCpm – 01865 305305 – ON SALE SOON
Saturday 30th – WHAT NOW? – Playhouse, OXFORD – TBCpm – 01865 305305 – ON SALE SOON
---