DEAR NEWSLETTER SUBSCRIBERS
I am doing April's newsletter a bit early because I don't think I will want to do one in April.
CHORTLE AWARDS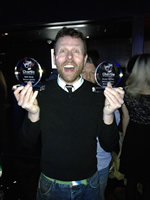 Thanks for voting for me in the Chortle Awards. I assume it was you lot???? Anyway, I was absolutely flabbergasted to have won anything at all, let alone 2 awards, especially as all the other nominees are much better than me. I wasn't at the awards myself because I was doing a work in progress show so Michael Legge, who is so funny he is almost a woman, accepted the awards for me. Thanks again.
A BIC FOR HER
There are a few more outings of this at various festivals before I put it to bed for the summer and resume it again for the autumn tour. I'll be doing an edited version of Bic, followed by an interval and then the next show, which is called Bridget Christie: An Ungrateful Woman. Once all the dates are confirmed I'll let you know. Be great to get out and about around the country. Thanks for coming to the show in Glasgow by the way everyone. AND EVERYONE WHO CAME TO THE SHOW AT SOHO THEATRE.
AN UNGRATEFUL WOMAN
See gigs list for all the new material nights and work in progress shows. Please come down and help me shape the show.
BRIDGET CHRISTIE MINDS THE GAP – SERIES 2 RECORDING
I'll be recording the first episode of the new series up in Edinburgh. I'll post a link up to it when it's done so you can book tickets nice and early if you fancy it. Or you could just wait until it's on, if my face annoys you.
THE BOOK
……………………
OTHER
The zip's gone on my winter jacket. I took it into my local dry cleaner's (where I've been going for many years) who refused to fix it and told me that I should be able to zip it up once I'd found the knack to it. I didn't understand what they were talking about really but left anyway because it was obvious they just wanted rid of me and had bigger zips to fix than mine. The area I live in has become very gentrified in the last few years and I got the impression they were lumping me in with all the City twats who've moved in spoiled it. "Here comes another twat who can't even zip up their own jacket" was the vibe I was getting. So I'm on my own here. I manage to zip it up about once every two weeks. It just randomly decides to work sometimes. Normally on really boiling hot days. I have to remember to keep it zipped up and lift the jacket up over my head like a jumper. The problem is, it makes my hair go all static, which makes me look stupid. I often get stuck in it as well, half way through getting it off, because my joints have stiffened up since I've had children because I don't have time to do stretches or anything. Then what happens is I go out and get drunk to forget about my zip problems, forget the zip is broken and unzip my jacket all the way down when I get home! Then I can't do it up again in the morning! I don't really know how to break this cycle I'll be honest with you. When will it end? The summer, I suppose, when I start wearing my thin waterproof jackets again. Then next winter I'll have to decide whether to keep the jacket, or get the zip replaced. Anyway, I'll be sure to let you know.
OTHER OTHER
My cat killed something grey, but removed the head, tail and legs, so I don't know whether it was a rat or a squirrel or the fattest, longest mouse in Europe. He then left this torso (which was in two parts) on the living room floor next to my 3 year old daughter's toys to discover when she got up. I was so completely horrified and disgusted, but had to pretend to find it hilarious and "interesting" so that she didn't freak out. We then went on a "treasure hunt" to find the missing parts so that we could complete the puzzle. We couldn't find them.
---
HELLO RICE CRISPIES
CHORTLE AWARDS
I am up for 2 isn't that nice? Best Show for A Bic for Her and Best Radio for Bridget Christie Minds the Gap. You could vote for me if you fancy, or you could just write to the Chortle Awards panel of judges and ask them why Michael Legge has yet again been overlooked for each and every category. Thanks chums. I don't know why they do the public vote thing.
Here is a link for you. Chortle Awards.
DAILY MAIL / CHARLES II
It's been ever such a fun week.
Last Thursday (or Friday) The Daily Mail ran a piece about a lush expensive house that King Charles II lived in or visited or looked at or something.
Anyway, it's up for sale (£5m – just over my comfortable price range), and they mistakenly used a photograph of me that I had knocked up for my 2006 Edinburgh show, The Court of King Charles II – The Second, thinking it was him!
Isn't it wonderful? Here it is.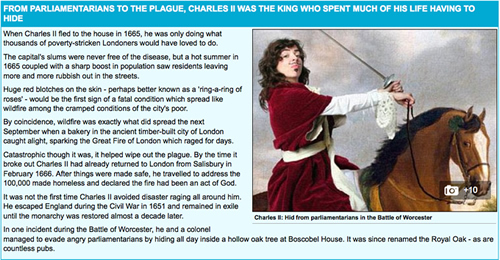 It came from this page – but they've corrected it now.
INTERNATIONAL WOMEN'S DAY EVENTS – BIRMINGHAM 8TH MARCH AND BELFAST 9TH MARCH
I'll be doing 2 gigs for International Women's Day, but if you can't get to either of these, get yourselves down to Southbank Centre's Women of the World Festival.
It's always AMAZING. I'd be there if I wasn't away.
Please do go to an event if you can get there or if you can afford it over the IWD weekend. Most places with have something going on.
Anyway, I think there are still tickets for the gigs I'm doing and both bills are amazing.
Birmingham is with Shazia Mirza, Grace Petrie, Lucy Porter and Fred Macaulay and the Belfast show (Stand up for Choice) is with Josie Long, Robin Ince, Gemma Hutton and Mark Thomas.
Here's a link https://www.wegottickets.com/comedy/event/257241#.Uw5VcxPivIU
BUG PRESENT – WHAT'S A LIBERAL ALLOWED TO LAUGH AT?
DISCUSSION WITH MIRANDA SAWYER AND RICHARD HERRING – 5 MARCH
I think there might be a couple (but not many at all) tix left for this on Wednesday. I'm looking forward to this one.
DILEMMA
I'll be recording this great R4 show on Friday at the Drill Hall from 7.30pm.
I think all the tickets have gone now, but I'll let you know when it goes out. I'm going to do my absolute best to be witty and entertaining.
SOHO THEATRE – A BIC FOR HER 11-19 MARCH
The first week has all sold out now, so be quick if you fancy coming along. I won't be doing it in London again, as I need to crack on with everything else.
There are just tickets available for the last 3 nights. Thanks so much for all of you who came.
Genuinely delighted and privileged to have such great crowds.
OTHER
There's been an avocado in the fridge for about 5 months now, in a plastic tray.
I find that avocados are always very hard during the winter months, so I leave them for a bit until they soften up and then I might have one in a sandwich or on its own even, if I'm feeling a bit rebellious.
Anyway, I think I let this one go just a day or so over, because it was all grey and fluffy and moved by itself this morning as I was getting the milk out.
I didn't think much of it at the time because I'd just got up, but now that I've thought about it a bit I think I'm going to chuck it out as that's not normal is it?
Oh, the other slightly unusual thing about it is that through a gap in the fluff I can very clearly see the face of Jesus on its skin.
BYE THEN XXXX
---